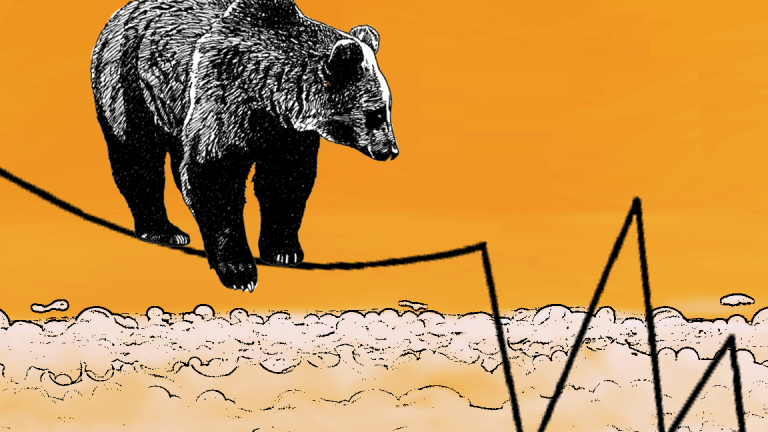 The Bears Have it Backwards: Cramer's 'Mad Money' Recap (Monday 9/24/18)
Jim Cramer says traders hate hearing about long-term investing because they want instant payoffs.
This market wants growth and it wants it fast, Jim Cramer told his Mad Money viewers Monday, and that's why the two most dreaded words on Wall Street have become "long" and "term."
No one on Wall Street wants to hear about your company's long-term plans, Cramer said, they just want to know if you'll be making money for them over the short term.
Case in point: JPMorgan Chase (JPM) , which today announced it's opening 50 new branches in Philadelphia. Those branches, CEO Jamie Dimon admitted, won't be money-makers in the short term, but they will be in the future. Investors panned the announcement, sending shares lower.
The same pattern emerged after Comcast (CMCSA) won the bid for Europe's Sky Communications. Cramer said the deal gives Comcast a foothold in a growing market with fabulous assets, including the Premiere League Soccer. Yet investors responded to the deal by sending shares down 6%, despite Comcast having completed other large deals in 2001 and 2009, both with fabulous results. In fact, Comcast has seen a compound annual growth rate of 17% for the past 48 years.
Cramer and the AAP team have something to say about the Apple (AAPL) - Salesforce (CRM) partnership. Find out what they're telling their investment club members and get in on the conversation with a free trial subscription to Action Alerts PLUS.
Executive Decision: Jamie Dimon
In his "Executive Decision" segment, Cramer sat down with Jamie Dimon, chairman and CEO of JPMorgan Chase, which has committed to investing $20 billion over the five years across the country. Cramer caught up with Dimon in Philadelphia, where the bank has pledged $3 billion in lending.
Dimon explained that while the JP Morgan brand is known as a leader in global investment banking, the other side of their business, Chase, is known as a retail banking leader by more than 60 million households. Over a million people visit their branches every day, and even millennials visit, on average, three times a quarter.
Dimon said that investments into neighborhoods takes time, so their new branches won't see profits for the next five or six years. But eventually they will, he added, as Chase offers credit cards, mortgages, auto loans, private banking, small business services and more.
When asked about his political aspirations, Dimon said he has no plans to run for public office. He said he's not a "political person" and will remain at the helm of JP Morgan for another five years. Dimon felt that business does need to take a larger role in politics however, especially when it comes to setting policy for issues like affordable housing and income inequality. For those issues, government can't do it alone.
Elanco Animal Health
The humanization of pets remains a major, long-term secular growth theme, Cramer told viewers, but does that mean shares of the newly-minted Elanco Animal Health (ELAN) are a buy? Cramer did the homework and weighed in with an opinion.
Elanco spun off from Eli Lilly (LLY)  on Thursday, and shares instantly spiked 50%. But as Cramer dug into the details, some problems emerged. First, Lilly still owns 80% of Elanco, a position that will eventually be distributed to current Lilly shareholders. Second, Elanco isn't really a pet play, as 63% of the company's sales stem from livestock health. Sales have been essentially flat for the past three years. That's not something you like to see with an IPO.
However, most troubling for Cramer was Elanco's valuation, now at 68 times earnings. That's far more expensive than rival Zoetis (ZTS) at 27 times earnings, yet the company sports slower growth than IDEXX Labs (IDXX) . Cramer said he'd stick with either of those two names until either Elanco's growth accelerates or its valuation comes back to earth.
A Question of Values
Some things more important than money, Cramer reminded viewers, as he sat down with Adam Schefter, ESPN commentator and author of the new book, The Man I Never Met, a tribute to Joe Maio, Schefter's wife's first husband and the Director of Equity Derivatives at Cantor Fitzgerald, who died Sept. 11, 2001 in the terrorist attacks on the World Trade Center.
Schefter explained that the book grew out of a story he did on Maio, which appeared on ESPN during the 15th anniversary of 9/11. That story was so moving, he said, that people wanted to learn more about Joe and his wife and 15-month-old son that were left to deal with the tragedy.
Schefter said the book was not only a memoir of Joe, but also a tribute to the notion that life does go on and there can be hope after grief. Maio was one of of the 658 Cantor Fitzgerald employees who perished that day. While Schefter never met Maio, he's become an important part of his life and he will always be a part of his family.
The Truth About Buybacks
In his "No-Huddle Offense" segment, Cramer said he continues to be outraged at journalists who assume that individual investors are too dumb to understand the stock market. Story after story reports that individuals are getting "duped" by stock buybacks that artificially inflate earnings.
Cramer said money managers are wise to these techniques and are quick to call out any artificial earnings engineering. But more important are the effects buybacks have on the market overall. Stocks operate on simple supply and demand, and buybacks shrink the supply of stocks and therefore take prices higher. So while yes, buybacks do inflate earnings in the short-term, over the long-term, they help the market as well as individual investors and no one's being "fooled" in the process.
Over on Real Money, Cramer talks about the power stock buybacks have on the S&P 500. Get more of his insights with a free trial subscription to Real Money.
Lightning Round
In the Lightning Round, Cramer was bullish on Bluebird Bio (BLUE) , Gilead Sciences (GILD) , Total SA (TOT) and Nucor (NUE) .
Cramer was bearish on U.S. Silica Holdings (SLCA) , International Paper (IP) , Nokia (NOK) and Alibaba (BABA) .
Search Jim Cramer's "Mad Money" trading recommendations using our exclusive "Mad Money" Stock Screener.
To watch replays of Cramer's video segments, visit the Mad Money page on CNBC.
To sign up for Jim Cramer's free Booyah! newsletter with all of his latest articles and videos please click here.
At the time of publication, Cramer's Action Alerts PLUS had a position in AAPL, CRM, JPM, CMCSA, NUE.