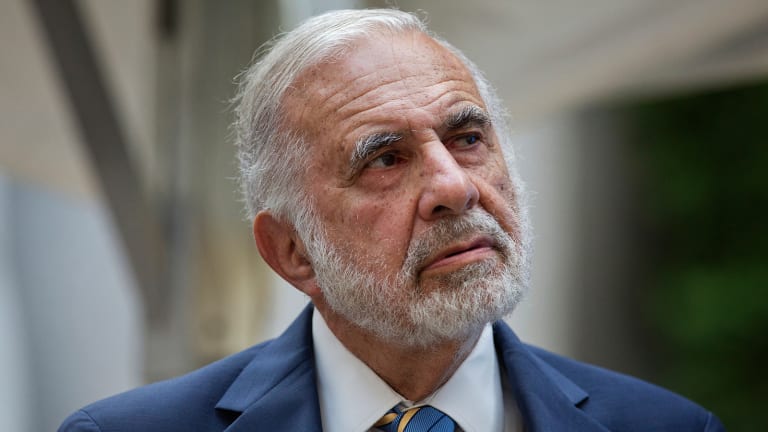 Stock Market Could Struggle on Weak Earnings Growth
The CNBC 'Fast Money Halftime' traders say investors should focus on individual stocks, rather than the broader market, as the latter will struggle with meager earnings growth.
NEW YORK (TheStreet) -- Hedge fund manager Carl Icahn recently released a video that urges investors to be cautious, while also explaining the impact that interest rates near zero have had on the stock market. Rather than using the cheap funds made available by the Fed's policy to build infrastructure and buy new assets, most corporations used that low-interest financing to acquire other companies and buy back their own stock. 
On Tuesday's CNBC "Fast Money Halftime" show, Josh Brown, CEO and co-founder of Ritholtz Wealth Management, said Icahn is "spot on," but also pointed out that Icahn has been one of the advocates behind buybacks as well, most notably with Apple (AAPL) .
Brown explained that stock buybacks have been responsible for about 20% of corporate EPS growth since the zero-interest rate policy had been instituted several years ago. That's why higher interest rates have investors worried, as it will likely slow earnings growth. 
There's nothing to stop investors from seeking out opportunities in individual stocks, while also managing their risk at the same time, said Joseph Terranova, senior managing partner at Virtus Investment Partners. That's precisely what Icahn has been doing, and it looks to be paying off. 
Pete Najarian, co-founder of optionmonster.com and trademonster.com, pointed out that Icahn has recently upped his position in beaten-down stocks like Freeport-McMoRan (FCX) and Cheniere Energy (LNG) . These energy plays are likely long-term, multi-year investments, he said, explaining that a recovery in these names is a long way off, until China and commodity prices begin to recover. 
Analysts at Goldman Sachs cut their earnings estimates for the S&P 500 to $120 for 2016. Given a 17.5 P/E ratio, that leaves the index at 2,100, suggesting investors will earn meager returns over the next 15 months. 
In an environment like the one we're facing, look for high-quality companies with good balance sheets and cash flows, advised Stephanie Link, portfolio manager at TIAA-CREF. Companies that rely mostly on the U.S. for their sales will do the best, she added, pointing out that AutoZone (AZO) , General Mills (GIS) and RedHat (RHT) have done "quite well" on earnings so far. 
Companies that have more than 50% of sales coming from overseas have underperformed those with less overseas exposure, Brown added. Calls such as Goldman Sachs' tend to be a better indication of current sentiment, rather than anticipated market direction. 
Jeremy Siegel, professor of finance at the Wharton School of the University of Pennsylvania, says stocks are in an "earnings recession." While stocks may trade down to the recent lows made in August, he doesn't expect U.S. equities to decline 20%, partly because interest rates will still be very low, even if the Fed does begin to raise rates. He also doesn't see the U.S. falling into a recession, as GDP growth is strong. 
Earnings growth has certainly slowed, but a lot of that can be attributed to the fall in oil prices and the rise of the U.S. dollar, Siegel said. While oil might not rally all that much, and the U.S. dollar may remain strong in 2016, the same type of moves won't repeat themselves next year. That is to say, oil and the dollar shouldn't have the same negative impact on S&P 500 earnings that they did this year. 
The conversation turned to biotech, which has been hammered over the past few weeks, but the iShares Biotech ETF (IBB) is seeing a slight bounce on Tuesday. 
Jeff Jonas, health care and wellness portfolio manager at Gabelli Funds, says the recent political chatter surrounding the sector has caused a lot of pain to investors. And while there might have been some bubble-like valuations assigned to small-cap biotech companies, many of the larger companies are actually quite cheap, valuation-wise. 
He likes Gilead Sciences (GILD) and Allergan (AGN) .
Brown reminded investors that biotech is a very volatile sector, and that these types of selloffs, historically, have been decent buying opportunities. Over the long term, this sector has outperformed the broader market.
This article is commentary by an independent contributor. At the time of publication, the author held no positions in the stocks mentioned.