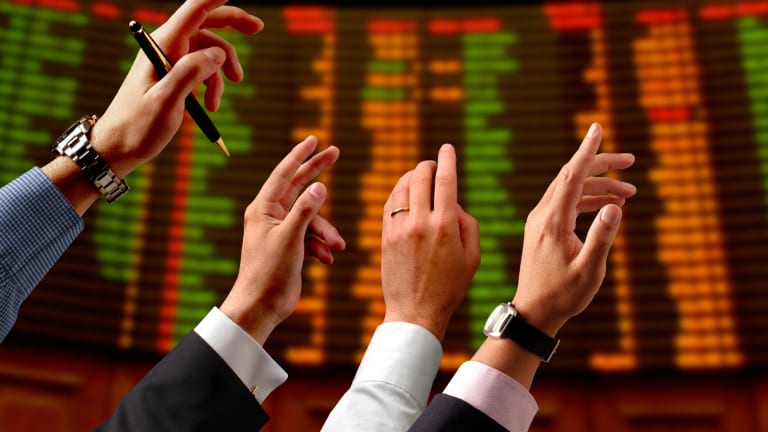 Publish date:
Stock Correction May Be Coming, Citigroup Remains Attractive Buy
The CNBC 'Fast Money Halftime' traders look at expected data this week and wonder if Goldman Sachs analysts were correct in upgrading Citigroup.
The CNBC 'Fast Money Halftime' traders look at expected data this week and wonder if Goldman Sachs analysts were correct in upgrading Citigroup.
NEW YORK (TheStreet) -- The S&P 500 is higher Monday but the CNBC "Fast Money Halftime" traders wondered if that will change after this week's expected economic and jobs data. 
"I remain bearish," said Joseph Terranova, chief market strategist for Virtus Investment Partners. The said the May labor report Friday will be one of the most important events. It's critical to see how investors react to the unemployment results and to a possible Greek debt solution, he said. 
Regardless of these two events, Terranova believes a sizable correction is likely for U.S. stocks in the near term. 
"The market is expensive," added Savita Subramanian, head of U.S. equity and quantitative strategy at Bank of America Merrill Lynch. With that being said, valuation is not typically a good indicator for stock direction in the short term, she acknowledged. 
But if investors don't buy stocks, what else is there? Subramanian says bonds aren't attractive given the low yields and commodities remain questionable. Instead, she likes large-cap U.S. stocks, which have decent valuations and are of high quality. 
Stephen Weiss, founder and managing partner of Short Hills Capital Partners LLC, added that stocks in developed European countries are also attractive. He expects a rising U.S. dollar to hurt emerging-market stocks with the exception of Indian stocks, which seem likely to go higher. 
Large-cap technology stocks also look attractive and the sector "has more upside," said Pete Najarian, co-founder of optionmonster.com and trademonster.com. 
Merger activity in the tech sector seems likely to increase, Weiss added. He expects deals in the health care and industrial sectors to increase as well. Companies are feeling pressed to make deals in order to boost growth and to secure financing before the Federal Reserve raises interest rates, he explained. 
As the dollar continues to rally, U.S. companies could also consider buying foreign companies as well, he said. 
"I love big-cap tech," Subramanian said, calling it one of her "favorite" sectors. These companies tend to have a lot of cash earning zero return, so often times, acquisitions make sense. That's apparent when the acquiring company also rallies on news of a recent deal, she said. 
The conversation turned to financial stocks after analysts at Goldman Sachs upgraded shares of Citigroup (C) - Get Report to buy from hold and raised their price target to $61 from $57. They cited a low valuation and low expectations as catalysts to push the stock higher. 
Weiss, who has been long Citigroup for several years, said the stock will eventually trade higher when interest rates increase, but the payoff could take some time. With 5% to 10% downside and 30% to 40% upside, Citigroup has an attractive risk-to-reward ratio, he reasoned. 
Najarian agreed, saying he expects the stock to move to $60 relatively soon. So does Terranova. "Expectations for Citigroup are so low," he added, but investors will likely need to be patient. 
This article is commentary by an independent contributor. At the time of publication, the author held no positions in the stocks mentioned.