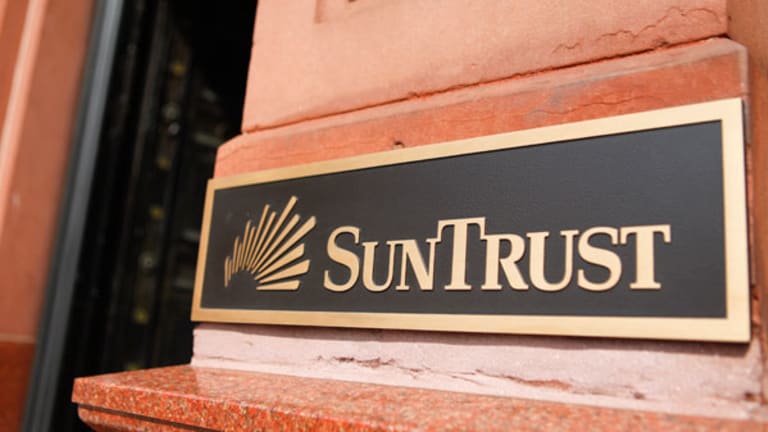 NEW YORK (TheStreet) -- The bank stocks continue to be laggards following the disappointing 1Q results, a flurry of management missteps (think Bank of America's (BAC) - Get Bank of America Corp Report capital change) and the flat yield curve. Since the March 21 high, the KBW Bank Index is off 6.8% with the regionals down 8.9% and the money centers off 4%. Keep in mind the S&P 500 is up 1.1% in that same timeframe - so there's been serious relative and absolute underperformance over the last few months. There have been some pockets of decent results but these have been pretty much few and far between. One regional bank that has caught my eye for a catch up trade is SunTrust Bank (STI) - Get SunTrust Banks, Inc. Report. I like its regional exposure to the southeast - one of the fastest growing areas in the country, the cost structure improvements and above average loan growth.
Based in Atlanta, Georgia, STI is the 8th largest bank in the U.S. with $173 billion in assets. It offers what other large regionals do - a wide array of financial products in deposit and credit services, capital markets and investment management to both institutional and retail clients. It has a concentrated regional focus in the southeast with the top 5 market share in Florida, Georgia, Virginia, Tennessee, and Washington D.C. Florida is its most important region, accounting for 21% of total revenue, 19% of total loans and a third of its total deposit base. While this was one of the hardest regions of the country hit during the most recent downturn it also offers possibly the greatest upside growth potential. Florida has seen an average nonfarm payroll growth over the past decade of 16% vs. the 1% national average. The most recent March figures showed 3% nonfarm payrolls - the highest rate since mid-2006 and that compares to the national average of 1.7%. Georgia and Virginia have also seen above average growth relative to the national average and population growth also exceeds the rest of the country.
Clearly the banks need rates to rise, the yield to steepen and the economy to show growth improvements for them to outperform. I'm of the belief that we will see a U.S. recovery to the 3% level by the end of the year and that rates will be higher, yields will move (slowly) higher and profitability and loan growth will improve. STI also has company specific issues that it is addressing to deliver better earnings - cost cutting efforts, efficiency ratio improvements and new revenue drivers. Once known as having one of the most bloated cost structures in the industry, the company has gotten religion and has a game plan to reduce its efficiency ratio to a 60% level over time (its goal is to get to 64% or below this year). It peaked at 70% and was far higher than most of its competitors. So the combination of lower costs and a gradually rising revenue base and better loan growth should lead to positive operating earnings leverage this year.
Last year the stock lagged its peer group rallying "just" 29.8% vs. the regional average up 45.2%. This was because of its high concentration in mortgages - around 12% of total revenue and 22% of total loans. The 10-year bond yield troughed in May 2013 at 1.63% and rallied steadily to 3.03% at the end of the year. As a result mortgage refi activity collapsed - across the industry. Again, because of STI's high exposure to this segment and its higher cost structure, it was hit harder than most. I think this is now pretty well known at this point, earnings have troughed and the company is driving new interest and noninterest income drivers for top line growth. Loans are on the rise and should also be above industry average given its geographic presence and as its expenses fall, the bottom line has upside. Interestingly enough, even with double digit mortgage-related exposure the company beat the consensus estimates in its 1Q and had encouraging commentary about loan growth and expense management. The highlight was the cost cutting result with an efficiency ratio of 64.9% from 66% seen in its 4Q. This is particularly noteworthy given SunTrust's troubled past in higher costs. It also showed better than industry average loan growth at 6.4% vs. the industry average at 1.2% driven by the strong loan book mix and in particular -- C&I (Commercial & Industrial - 45% of loans), Commercial Real Estate (5% of total but a big emphasis at the company) and Residential loans (19% of total). In CRE, the company is positioned well for continued market share growth as it expands its vertical base - focusing on five end markets in regional homebuilders, REITs, Institutional Real Estate (equity funding), and multifamily on the low to mid end markets. In Residential loans, the growth will come from auto, credit cards, and super prime unsecured loans. Net Interest Income fell 1% in the quarter and NIM (Net Interest Margin) declined 1 bps to 3.19% -- better than most of its peers. Away from the spread business, the company is driving its investment banking relationships and cross selling with its Wholesale platform. It is also working on further penetration in retail and PWM (Private Wealth Management) opportunities. Mortgages will still be important at the company but recent commentary from management suggests a pickup both seasonally and given the drop in bond yields.
The company has a Tier 1 common equity ratio of 9.7% Basel III. Credit costs have improved and they will remain well below the levels seen at the downturn. Dividends and buybacks are expected as it easily passed the CCAR (Comprehensive Capital Analysis and Review) stress tests - at the time the company announced a doubling of its dividend and a new $450 million buyback (2% of shares outstanding). As earnings recover and the interest rate normalizes, I expect more capital allocation going forward. And as loan growth remains strong and costs continue to come down, I think earnings have upside. If we get some help on the yield curve, all the better. But trading at 1.5x TBV, the valuation isn't demanding and I like the risk/reward - especially in the mid $30s with a target over the next year in the mid $40s.
--Written by Stephanie Link in New York
Action Alerts PLUS, which Link co-manages as a charitable trust, was long BAC at time of publication.
Chief Investment Officer, Co-Portfolio Manager of Jim Cramer's Charitable Trust, and Director of Research at The Street. Stephanie performs all portfolio management functions which includes developing a macro outlook and market strategy, thorough analysis and careful stock selection while managing the fund in a manner that allows subscribers to follow and emulate her thoughts and actions. She also writes a weekly summary report of the portfolio, highlighting strategy, latest analysis and ranking of each stock in the fund. Stephanie promotes the product through weekly videos, both independently and with Jim Cramer, which are featured on The Street's website. As Chief Investment Officer, she oversees all premium content which includes RealMoney, RealMoney Pro, OptionsProfits as well as other premium newsletters including Breakout Stocks and Stocks Under $10. Stephanie is a CNBC contributor and regularly appears on Fast Money Halftime, Closing Bell, Squawk Box and The Kudlow Report.