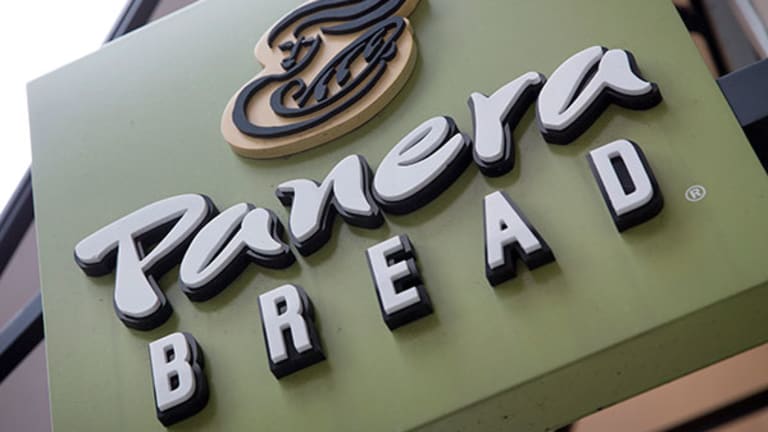 Stephanie Link: Why I'm Not Giving up on Panera
I am sticking with my recommendation of a Panera turnaround - and think this multi-year restructuring will eventually lead to better earnings and growth. It may not happen in the next quarter or two, but I believe it will happen and for those who have a little longer term horizon the stock is a buy.
NEW YORK (TheStreet) -- I wrote about the recovery potential at Panera Bread (PNRA) a little over a month ago, on Feb. 21. At the time the stock was at $181.18 and I liked the risk reward for the turnaround story in 2014. The company held its analyst meeting on Tuesday and although it reiterated 2014 earnings and revenue targets, it suspended the longer term guide of 15% to 20% which sent shares spiraling lower by 8.5% on the day. I am an investor and I care very much about my recommendations and I own up to the good and the bad. Obviously, after Wednesday, a follow up is needed.
I think the stock overreacted Wednesday fueled by the quarter and month end selling pressure by PMs as well as just a complete bashing of high multiple stocks (Facebook (FB) - Get Report, Google (GOOG) - Get Report, Twitter (TWTR) - Get Report, Priceline (PCLN) , Netflix (NFLX) - Get Report, etc.). I don't think 20x forward estimates are considered a "high flyer", but it tends to trade with that group. Clearly, the news wasn't what folks were looking for, but when I issued my first recommendation in the stock, I wasn't looking for a "beat and raise" analyst meeting. I just liked the high quality assets, management team, strong balance sheet and depressed share price. Is it cheap? Not considering the 2% to 4% same-store sales it will put up this year. But it is attractive looking out to 2015 when a lot of the investments kick in and lead to better results.
I am sticking with my recommendation of a turnaround - and think this multi-year restructuring will eventually lead to better earnings and growth. It may not happen in the next quarter or two, but I believe it will happen and for those who have a little longer term horizon the stock is a buy.
So what happened? The company held its long awaited analyst meeting on Tuesday and laid out the "Panera 2.0" strategy where it outlined a more holistic customer experience with mobile and online order capabilities at the forefront of its investment spend (will be in 100 stores this year and the rest of the base in 2015/2016). It also talked about "2.0" expanding its delivery "hub" model, which will go from the existing three to 25 this year, catering initiatives, and capacity/throughput improvements. And additional plans to increase its marketing spend by 30% year-over-year skewed more towards national TV which some will poo-poo, but I think will increase national and brand awareness - especially since PNRA is at the low end of marketing spend in the group.
But while all of these efforts will improve the customer experience, which is a positive the stock crashed Wednesday as it was clear that these investments will continue for much of 2014 and into 2015 - longer and more than expected. In short form, limited operating leverage to earnings until late 2015 most likely. I think investors could have handled the removal of the long term earnings commitment but the continued spending and predominant rollout of these initiatives being skewed toward 2015 was a clear disappointment. What went totally unnoticed was that the 2.0 concept works so far - in the four Boston stores that were tested over the last 12-18 months they saw double digit same-store sales -an encouraging sign - one of the main reasons I think the shares will recover as it gets through the bulk of the investments. May take longer, but I think it happens. I'd much rather see a company spend to grow vs. not and/or just buy back its stock. Also, I think there are enough growth drivers currently (mentioned above) that should lead to its 2% to 4% same-store sales guide and mid to upper single-digit revenues and earnings this year which includes the Rapid Pick Up expansion (rolling out over the next three quarters), the pick-up in national TV spend, additional labor, and kitchen displays with more flexible menu options.
Clearly it remains a show me story and investment spending will cap earnings upside in the near term. But unit growth remains bullish, same-store sales continue to chug along at 2% to 4% and penetration can easily increase in existing and new markets. At 20x forward estimates and the sharp pullback in the shares, I am not giving up. The company is going after the growth, which is a positive for the long run.
--Written by Stephanie Link in New York.
Action Alerts PLUS, which Link co-manages as a charitable trust, is long FB and GOOG.
Chief Investment Officer, Co-Portfolio Manager of Jim Cramer's Charitable Trust, and Director of Research at The Street. Stephanie performs all portfolio management functions which includes developing a macro outlook and market strategy, thorough analysis and careful stock selection while managing the fund in a manner that allows subscribers to follow and emulate her thoughts and actions. She also writes a weekly summary report of the portfolio, highlighting strategy, latest analysis and ranking of each stock in the fund. Stephanie promotes the product through weekly videos, both independently and with Jim Cramer, which are featured on The Street's website. As Chief Investment Officer, she oversees all premium content which includes RealMoney, RealMoney Pro, OptionsProfits as well as other premium newsletters including Breakout Stocks and Stocks Under $10. Stephanie is a CNBC contributor and regularly appears on Fast Money Halftime, Closing Bell, Squawk Box and The Kudlow Report.