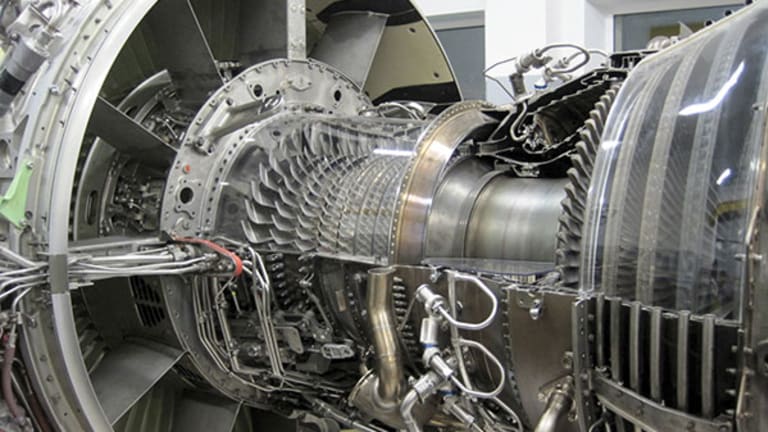 NEW YORK (TheStreet) -- Some of the aerospace stocks have stalled recently after a putting up stellar performance last year, including one of my long time favorites - Precision Castparts (PCP) . I like it here on the pullback and see a few catalysts to move the shares back up to its highs. The stock was a champ last year, rallying 42%, so it's understandable that there would be profit taking early in the year. But the 6.2% selloff from its January highs sets up well into the upcoming quarter, which will be strong and among the highest organic growth stories in the group.
The company makes complex metal components mainly for the aerospace and power generation industries and operates in three segments - investment castings (32% of total sales), forged products (41% of total sales) and fastener systems (27% of total sales). By end market, aerospace accounts for 65% of total sales, power generation is 20% and "other" general industrial is 15%. The company's products are used in very important areas of the aircraft like the wings, brakes, fuselage, etc. To like PCP you have to be bullish on the aerospace cycle - which I am. This isn't exactly an undiscovered theme but one that I think has legs driven by the replacement cycle story, fuel efficiency and standard changes and the long term growing need from emerging markets. The global fleet is north of 11 years old and the combination of high maintenance costs and fuel efficiency needs, as well as the robust backlogs at the key OEMs (Boeing (BA) - Get Boeing Company Report and Airbus collectively have 6 years of production in their backlogs) PCP has strong earnings and revenue visibility, especially given its long term structural contracts.
I expect the company to report a solid fiscal 4Q and that organic growth will see improvement from the 1% seen in its fiscal 3Q which was impacted from 200 bps in customer delays. The seasonality factor alone should lift growth and the customer delays have been fixed - so mid-single digit organic growth is expected and should continue over the next several quarters. In addition, the company should see synergies from some of its recent acquisitions - it's made 7 separate deals in the aerostructure/component segment, increasing its size and scale and with its cost advantages, making the barriers to entry even higher against its competitors.
The combination of solid organic growth and acquisition synergies should lead to mid-teens earnings growth this year and next. The upside could come from two recent acquisitions - Titanium Metals Corporation (TIMET) and ADI. In January, the company completed the purchase of TIMET and it expects to see synergies of $150-$200 million over the next 2 years and it will enable the company to improve scrap and utilization rates and bottlenecks. More importantly, the deal should lead to higher penetration and market share with Boeing. On March 20 the company announced the acquisition of ADI, a leading tier 1 aerospace supplier of structural and sub-assemblies (bulkheads, panels, etc.) with expertise in large, complex titanium parts. This will be accretive to earnings immediately and is a nice fit with the 6 other deals completed. With $2 billion in free cash flow generation expected over the next year the company has ample room for further M&A and higher buybacks - it has a $1.3 billion program underway and $1.1 billion left.
So the combination of the stock price weakness, expected acceleration in organic sales, and accretion from recent deals, I think it's a good time to take this flight.
--Written by Stephanie Link in New York.
Chief Investment Officer, Co-Portfolio Manager of Jim Cramer's Charitable Trust, and Director of Research at The Street. Stephanie performs all portfolio management functions which includes developing a macro outlook and market strategy, thorough analysis and careful stock selection while managing the fund in a manner that allows subscribers to follow and emulate her thoughts and actions. She also writes a weekly summary report of the portfolio, highlighting strategy, latest analysis and ranking of each stock in the fund. Stephanie promotes the product through weekly videos, both independently and with Jim Cramer, which are featured on The Street's website. As Chief Investment Officer, she oversees all premium content which includes RealMoney, RealMoney Pro, OptionsProfits as well as other premium newsletters including Breakout Stocks and Stocks Under $10. Stephanie is a CNBC contributor and regularly appears on Fast Money Halftime, Closing Bell, Squawk Box and The Kudlow Report.