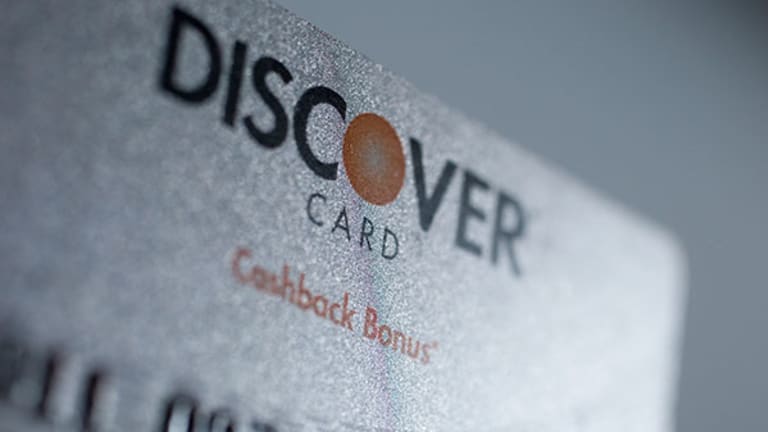 NEW YORK (TheStreet) - I have followed Discover Financial (DFS) - Get Discover Financial Services Report since the days when it was spun off from Morgan Stanley (MS) - Get Morgan Stanley (MS) Report in July 2007.
It issues both credit and debit cards, provides other loans and operates one of four major payment networks that process and clear point-of-sale purchases in the U.S.  As I wrote in an earlier blog this week, recommending M&T Bank (MTB) - Get M&T Bank Corporation (MTB) Report, I like the financials because I think the U.S. economy is on the mend, which will lead to higher loan growth, profitability and capital positions.
DFS is a well-run company with strong management, conservative lending practices, strong underwriting skills and an improving balance. I think the valuation gap between DFS and the other players will narrow over time as it continues to execute well. Currently it trades at a discount to the group at 11x vs. the sector average at 17.3x. Because of that, I see opportunity. 
I'm confident the company will continue to see solid loan growth and an uptick in margins in 2014 on top of the impressive 2013 results. Last year, the company posted strong results in its credit card division with 4% loan growth, which was at the high end of its 2% to 5% guidance and well above the 1% to 2% growth seen in the industry. This was driven by both an increase in wallet share/market share from existing customers (which grew 100 bps y/y) and new account growth (up 9% y/y). I expect as the economy improves, consumer confidence builds, momentum from its Discover It card (cash rewards program) and the focus on the prime revolver market that the results will continue to show improvement. At its analyst meeting late last month the company gave some details on recent trends, which support the momentum it is seeing, with 21% in application volume growth, 9% new account growth and 21% fewer customers with a balance transfer. Based on these trends and the improvement in the economy, I think 5% to 6% digit loan growth is doable, if not conservative.
Beyond credit cards, the company has  growth opportunities in the non-card segment, which accounts for 20% of its total loans vs. 7% five years ago. The growth in this segment last year was also strong with 11% growth led by student loans, which increased 5%, and 27% growth in personal loans. This year will be a continuation in these segments and improved penetration in home loans and personal loans. On payments, the company expects to see 10% volume growth long term and is in the process of building partnerships to further strengthen its product offering. It also plans to increase its domestic and international presence and add new Diners franchises. So far, the PayPal venture to date has led to 61 new merchant signings and enabled 1.2 million merchant locations.  
Net interest margins are impressive at 9.8% (most of the banks are in the 3% range), but there is room for improvement, especially as the yield curve steepens, interest expense declines, charge offs and delinquency rates improve against a better pricing backdrop. I don't have NIM going materially higher, but I think there is upside here.  It has a strong capital position with the highest Tier 1 Common ratio in the industry at 14.3% and estimated Basel III ratio of 14%.  Card reserves are well positioned and stand at 2.65% of loans and losses at a well managed 2.09%.  The company is a proponent of distributing its cash and we expect the regulators to approve the company for further distribution.  In 2013 it paid out $1.6 billion in dividends and buybacks where it bought back 5% of its shares outstanding.   
I like the financial sector for 2014 driven by the improving macroeconomic environment. This will lead to stronger spending, higher loan growth and higher profitability. Regulators will approve the company to return more cash to shareholders and the discounted valuation makes this an attractive risk/reward.
--Written by Stephanie Link in New York.
Chief Investment Officer, Co-Portfolio Manager of Jim Cramer's Charitable Trust, and Director of Research at The Street. Stephanie performs all portfolio management functions which includes developing a macro outlook and market strategy, thorough analysis and careful stock selection while managing the fund in a manner that allows subscribers to follow and emulate her thoughts and actions. She also writes a weekly summary report of the portfolio, highlighting strategy, latest analysis and ranking of each stock in the fund. Stephanie promotes the product through weekly videos, both independently and with Jim Cramer, which are featured on The Street's website. As Chief Investment Officer, she oversees all premium content which includes RealMoney, RealMoney Pro, OptionsProfits as well as other premium newsletters including Breakout Stocks and Stocks Under $10. Stephanie is a CNBC contributor and regularly appears on Fast Money Halftime, Closing Bell, Squawk Box and The Kudlow Report.