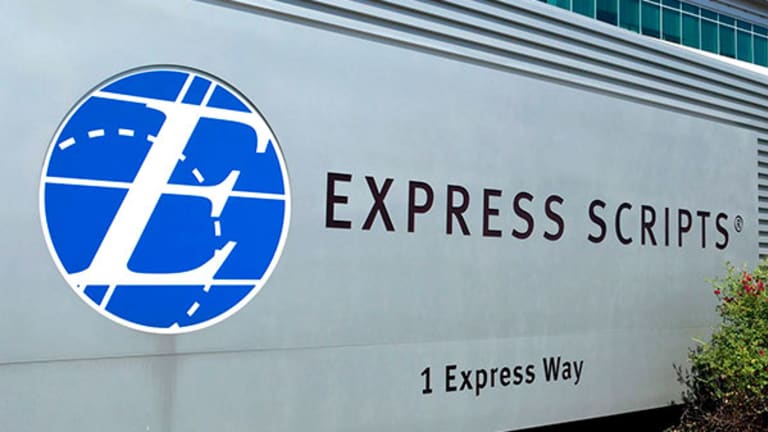 Stephanie Link: Express Scripts Has a Prescription For Growth
Express Scripts is one of the largest PBM (Pharmacy Benefit Management) companies in the U.S. with over 1.5 billion in administered prescriptions a year. It is an industry bellwether, has a strong new management team and a solid balance sheet. 2013 was a decent year for the company and the stock gained 30% but I think the story gets better in 2014...
NEW YORK (TheStreet) -- Express Scripts (ESRX) is one of the largest PBM (Pharmacy Benefit Management) companies in the U.S. with over 1.5 billion in administered prescriptions a year. It is an industry bellwether, has a strong new management team and a solid balance sheet. 2013 was a decent year for the company and the stock gained 30% but I think the story gets better in 2014 and another year of strong stock returns.
The company is positioned well to see better volumes, sales and earnings - and, importantly, operating leverage in 2014 from implementation of health care exchanges, increased mail order delivery, continued generic drug penetration, and further benefits from specialty drug exposure. It also stands to benefit as the synergies kick in from its 2012 acquisition of its largest rival, Medco Health.
Express Scripts held its analyst day meeting earlier this week and management laid out a good game plan for solid long term results, as well as a pretty compelling case for 2014 improvement. It expects to see 10% to 20% earnings growth over the next 10 years driven by the strong secular trends in health care as its key customers look to outsource various services to the PBM sector and the PBMs increase their level of product offerings. Cost containment services are the critical component for its customers, and this will only increase in importance as payers look to reduce drug plan benefit costs over time.
The company also believes that with Medco, it will be able to increase its current 27% script market share over time. While the long term is favorable, given these secular trends, the short term is also pretty interesting, with the company guiding EBITDA per script (a key metric in the industry that shows profitability) this year at 14% to 16% and EBITDA at 7% to 10%, driven by specialty pharmacy market share increases, a more narrow network offering and better utilization of its formulary management. The company has made it very clear it will drop certain clients that aren't profitable, which should also drive higher EBITDA per script over time. And finally, management remains committed to return at least 50% of its free cash flow - which means further buybacks and dividends.
One of the key issues surrounding the company has been the slower claims volume over the last few quarters (fourth quarter adjusted claims fell 2.8%) and the company's expectation for similar type of results in the first quarter. These declines have put pressure on organic growth and have capped the multiple on the stock that investors are willing to pay. Much of the slower volume is a reflection of the weak economy and lower utilization rates - people don't want to pay out a copay or coinsurance if they don't have to, especially in a challenging environment. This should start to change as the economy improves and exchanges (both public and private) see an increase in volumes from the Affordable Care Act. The company expects both public and private exchanges to be a positive - again the need for expense management, negotiating leverage and PBM expertise, which is critical for its customers.
Also, I think that the company's aggressive efforts to improve the integration efforts at Medco will be another area that should lead to better volumes, utilization rates and ultimate organic growth. Following disappointing client retention rates of below 95% in its most recent quarter, the CEO has made some big management changes to make sure the results from Medco improve. Part of this effort will be run by the new CFO, who just joined the company on Jan. 14 from Wal-Mart (WMT) - Get Free Report and the new President/COO who assumed the new role (he was SVP and president of sales and account management at Medco before ESRX bought the company) on Jan. 28.
Beyond fixing utilization rates, volumes and getting more juice from Medco, the growth will come as it transforms into a more complete plan-services company vs. a rebates/generics one. In doing so, the company plans the expansion of more tiered pharmacy networks and offering a variety of copayment and coinsurance options for its customers. This flexibility should help reduce its clients' expenses by "hundreds of millions annually" and improve ESRX's margins over time. The other growth driver will be its specialty pharmaceutical business. The company currently has 11 specialty distribution centers and 70 specialty pharmacies and is well positioned to capitalize on this growing trend. Currently, specialty meds account for 35% of total drug spend, a number which is expected to reach 50% over the coming years. With just 1% of these now being processed, the growing need for cost containment and management programs will rise.
I think a simpler growth story will attract new investors to this name - better volumes, an acceleration to organic sales and double digit earnings growth as the company capitalizes on the strong secular industry trends. Plus, improved Medco synergies, continued expense management and further buybacks should lead to 15% to 20% bottom line year-over-year growth this year. It will end 2014 with $4.7 billion to $4.9 billion of cash flow from operations - which is a nice cash cushion. Trading at 14.7x forward estimates, the stock is attractive. If shares get back to its 10-year historical multiple it could see mid $80s in the next twelve months.
--Written by Stephanie Link in New York.
Chief Investment Officer, Co-Portfolio Manager of Jim Cramer's Charitable Trust, and Director of Research at The Street. Stephanie performs all portfolio management functions which includes developing a macro outlook and market strategy, thorough analysis and careful stock selection while managing the fund in a manner that allows subscribers to follow and emulate her thoughts and actions. She also writes a weekly summary report of the portfolio, highlighting strategy, latest analysis and ranking of each stock in the fund. Stephanie promotes the product through weekly videos, both independently and with Jim Cramer, which are featured on The Street's website. As Chief Investment Officer, she oversees all premium content which includes RealMoney, RealMoney Pro, OptionsProfits as well as other premium newsletters including Breakout Stocks and Stocks Under $10. Stephanie is a CNBC contributor and regularly appears on Fast Money Halftime, Closing Bell, Squawk Box and The Kudlow Report.