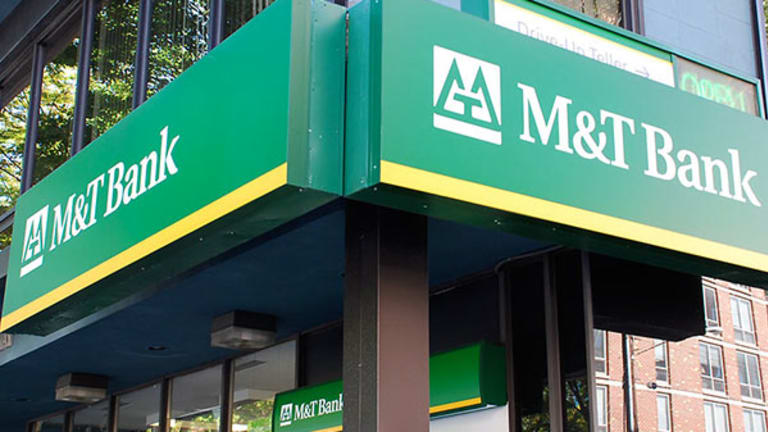 NEW YORK (TheStreet) -- The financials have had a rocky start to 2014 after starting the year strong out of the gate. I like the sector because I think the U.S. economy is on the mend and as the data improves, so will loan growth. Plus, a better economy should lead to a steeper yield curve, helping to lift Net Interest Income and Net Interest Margins - in turn, helping profitability levels.
We own and like several financials in Action Alerts Plus - like J.P. Morgan (JPM) - Get JPMorgan Chase & Co. (JPM) Report, Bank of America (BAC) - Get Bank of America Corp Report, KeyBank (KEY) - Get KeyCorp (KEY) Report, U.S. Bancorp (USB) - Get U.S. Bancorp Report and Hartford Financial (HIG) - Get Hartford Financial Services Group, Inc. (HIG) Report. One that I've kept my eye on for a while is M&T Bank (MTB) - Get M&T Bank Corporation (MTB) Report. It's one of the 20 largest banks in the U.S. with $84 billion in total assets and branches in New York, Pennsylvania, West Virginia, Virginia, Maryland, Delaware and New Jersey. Its portfolio is well balanced, with Commercial Real Estate accounting for 41% of its lending portfolio, its Residential real estate segment is 14% and C&I is 28%. The management team is strong and I've always liked their methodical approach to the business - they know it's a commodity business, and a competitive one, so they've focused on providing exceptional service, expense management, excellent underwriting and an emphasis on quality growth.
Its conservatism has enabled the company to maintain its dividend since 2008 - no small feat considering the crisis the industry just went through, as well as the ability to pursue tuck-in growth acquisitions and to generate sector leading returns. They've consistently been able to produce above industry loan growth and I expect this to continue - low single digits this year, but should be able to put up sequential growth in each quarter this year, with a higher bump next year as it integrates the $3.7 billion Hudson City acquisition that it announced in August of 2012.
In addition to a strong management team with conservative practices, MTB, historically, has also had one of the lowest efficiency ratios in the sector. But over the past year, this has changed because of the higher costs associated with completing the Hudson City deal. While the acquisition will increase MTB's presence in the Northeast, with 135 branches in New Jersey and New York, add $39 billion to its asset base, and add 5% to 10% to its TBV and 30 to 40 bps additive to its Tier 1 common ratio (with 24% cost savings expectations or $55 million annually), the transaction has meant the company needs to increase its compliance systems under the new Federal anti-money laundering and Bank Secrecy Act requirements. This, in turn, has led to a push out in the approval process. Bank regulators have to be much more deliberate in approving acquisitions in the bank sector - a major consequence of the financial crisis.
Unfortunately for MTB, the combination of the compliance standard changes it has had to make and the delay in closure, has led to a spike up in expenses - just last quarter, operating expenses rose 7% quarter-on-quarter and its efficiency ratio rose to 62% from 56.9% in its third quarter - historically it's been in the mid-50s - and one of the industry leaders. But I think this is temporary and that we likely will see one or two more quarters of elevated expenses from there begin to drift lower.
I think there is a good chance the company can get its efficiency ratio back down to between 54% and 55% by the end of the year and achieve the company's stated goals of 50% to 55% in 2015. If it does, the stock will react favorably. Also in 2015 will be the synergy benefits from the Hudson City deal and positive operating leverage, higher earnings and stronger capital generation and dividends.
In the meantime, capital levels have been improving and in the most recent quarter its tangible common equity ratio rose 29 bps to 8.39%, Tier 1 common ratio rose 14 bps to 9.22% and return on average tangible common equity was 14.1% - at the high end of the sector range. Shares are attractive at 1.7x TBV, it has top tier returns (14.1% in 4Q) and a strong 2.4% dividend yield. After lagging the sector and the S&P 500 last year with just 15.5% gains, I think 2014 will be a better year for the company. I suspect, so does Warren Buffett - as he is one of their largest shareholders. I like the stock here, but should shares pull back to the $110 or below, it's even more compelling.
--Written by Stephanie Link in New York.
Action Alerts PLUS, which Link co-manages as a charitable trust, is long BAC, HIG, JPM, USB and KEY.
Chief Investment Officer, Co-Portfolio Manager of Jim Cramer's Charitable Trust, and Director of Research at The Street, Stephanie performs all portfolio management functions which includes developing a macro outlook and market strategy, thorough analysis and careful stock selection while managing the fund in a manner that allows subscribers to follow and emulate her thoughts and actions. She also writes a weekly summary report of the portfolio, highlighting strategy, latest analysis and ranking of each stock in the fund. Stephanie promotes the product through weekly videos, both independently and with Jim Cramer, which are featured on The Street's website. As Chief Investment Officer, she oversees all premium content which includes RealMoney, RealMoney Pro, OptionsProfits as well as other premium newsletters including Breakout Stocks and Stocks Under $10. Stephanie is a CNBC contributor and regularly appears on Fast Money Halftime, Closing Bell, Squawk Box and The Kudlow Report.