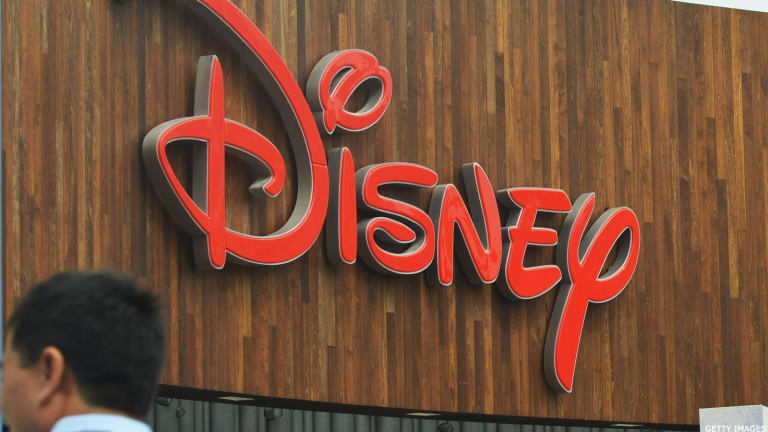 NEW YORK (TheStreet) -- Shares of Disney (DIS) - Get Walt Disney Company Report are getting crushed, down 5% and leading the Dow Jones Industrial Average lower on Thursday. The index is down 1.35% on the day and has fallen 2.5% in the past three sessions.
Investors are worried about the subscriber loss at Disney, which has pounded the stock over the past few weeks. The stock is down 16.5% since Aug. 4, and Bernstein senior analyst and vice president Todd Juenger downgraded the stock today to market perform and assigned a $114 price target.
This seems like another "me too" move, Josh Brown, CEO and co-founder of Ritholtz Wealth Management, said in regards to the analyst being cautious. Investors now are just rethinking the valuation. Cord-cutting fears could abate soon, though, especially with the professional and college football seasons scheduled to start within a month, Brown said.
Rich Greenfield, media analyst at BTIG, downgraded Disney back in March. Other media stocks, such as Viacom (VIAB) - Get Viacom Inc. Class B Report and Discovery Communications (DISCA) - Get Discovery, Inc. Class A Report, have been hit hard over the past year. However, companies like Time Warner (TWX) and Disney haven't been sold off until recently.
That's likely because investors thought the companies' strong content and sports exposure would make them immune to cord-cutting and subscriber loss. That's clearly not the case, Greenfield said. In fact, all providers are exposed.
With all that being said, Greenfield isn't calling Disney a short. In fact, he said he finds much of its content pipeline to be very strong. Instead, he views a company like Netflix (NFLX) - Get Netflix, Inc. (NFLX) Report as more attractive and believes the stock's 7.4% pullback on Thursday is a buying opportunity.
Turning more broadly to the market, Joseph Terranova, senior managing partner at Virtus Investment Partners, said investors should watch to see how stocks trade late in the session. So far, big selloffs like these have tended to rebound late in the day. If they don't, it could be the start of a sustained correction, he said.
Brown added that the market has been deteriorating under the surface for the past eight months, despite the S&P 500 remaining relatively stable and always within a few percentage points of all-time highs.
He also pointed out that the high-yield market has been trading very poorly, which is becoming a concern.
The emerging market is coming under "great stress," which will eventually hurt U.S. companies with exposure to these economies, said Richard Saperstein, chief investment officer at HighTower Treasury Partners. Investors should be cautious and aware -- but not panicked -- and should keep some cash on the sidelines, he said.
Saperstein's top buys right now are bank stocks, homebuilders and consumer discretionary companies. 
Investors are starting to get concerned about a U.S. recession, but that fear is overblown, according to Jim Lebenthal, president of Lebenthal Asset Management. "There's very little chance of a U.S. recession in the near-term," as housing and the labor market remain strong, he said. 
The economy is not what's holding the Fed back from hiking interest rates, Lebenthal added. It's the fact that it will further increase the strength of the U.S. dollar, at a time when other nations' currencies are falling. This will only exacerbate the situation and make things worse, he said. 
Ed Yardeni, president of Yardeni Research, said the Fed already should have raised rates, so that in the event of a global slowdown, it would have the power to again cut interest rates. The Fed seems trapped now as a rate hike could make things worse abroad, he said, but failure to hike will hurt its credibility. 
With that being said, Yardeni does view the U.S. economy as the strongest in the world right now. China's economy is slowing, which is making the collapse in the commodity "bubble" even worse, he said, as there are fewer buyers for the already oversupplied market. Junk bonds look shaky, but the housing market looks strong, he said.
This article is commentary by an independent contributor. At the time of publication, the author held no positions in the stocks mentioned.