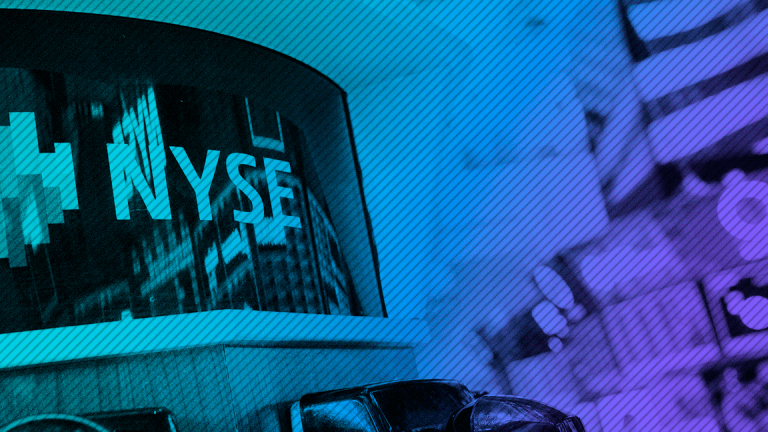 Reason Replaces Panic: Cramer's 'Mad Money' Recap (Wednesday 5/30/18)
Jim Cramer says Italy's woes have very little to do with the price-to-earnings ratio of Facebook or Amazon.
Jim Cramer says Italy's woes have very little to do with the price-to-earnings ratio of Facebook or Amazon.
"America is not Italy," Jim Cramer reminded his Mad Money viewers Wednesday. That's why selling everything into a European-induced panic, like we saw Tuesday, is never a good idea. Fortunately, panic was replaced by reason today and markets roared back to life.
Cramer reiterated that Italy's problems are Italy's, and they have nothing to do with U.S. or our banks. Italians need a government that works, they need a banking system that works and they likely need a local currency that isn't the euro. But none of these things have anything to do with the booming U.S. economy.
Unlike 2008, this time U.S. banks are flush with cash, Cramer told viewers, and our economy is strong with low unemployment. There are huge investments being made in infrastructure, especially in Louisiana and Texas, where cheap natural gas means more pipelines, storage, chemical, export terminals and more.
But beyond infrastructure, America is also booming because of deregulation. No matter how bad some people felt under the Obama administration, Cramer said it's still nothing compared to the regulations in Europe and the rest of the world.
So the next time the markets are selling on Italy, smart investors should be buying, Cramer concluded, because eventually, the market always comes to its senses, just like we saw today. 
Cramer and the AAP team are trimming their position in Constellation Brands (STZ) - Get Report . Find out what they're telling their investment club members and get in on the conversation with a free trial subscription to Action Alerts PLUS.
Executive Decision: PVH
For an "Executive Decision" segment, Cramer  again sat down with Manny Chirico, chairman and CEO of apparel-maker PVH (PVH) - Get Report , which just posted an 11-cents-a-share earnings beat. Shares of PVH are up 15% so far this year after gaining 50% in 2017.
Chirico said plainly that business around the globe is the strongest he's seen in 25 years. PVH continues to make investments in their brands and those investments are paying off. The company is seeing strength in Europe, Asia and North America, leaving only South America, and mainly Brazil, as the sole pocket of weakness.
When asked about the health of retail, Chirico noted that retailers are keeping their planning very tight with lean inventories. That has led to fresh inventory on the selves and fewer markdowns and promotions, which is adding to their bottom lines. Online sales continue to be their fastest growing channel.
Turning to the topic of tariffs, Chirico said he's still playing it day-by-day but overall, he feels better today than he did two or three months ago.
When asked about guidance for the remainder of the year, Chirico said he's staying conservative and is not building many of the current trends into the model. PVH will adjust its guidance as business develops, he noted, but for now, it's prudent to stay conservative given the volatility in currencies.
No-Huddle Offense: Salesforce
In his "No-Huddle Offense" segment, Cramer said we're always hearing about how early we are in the cloud adoption story, but yesterday, we saw exactly how early with the earnings report from Salesforce.com (CRM) - Get Report .
Not only was Salesforce the first software company to hit $13 billion in revenues, but the company has a new metric, "Remaining Transaction Price," which represents the amount of unrecognized revenues from existing contracts. That number stands at a staggering $20.4 billion as of Tuesday.
Cramer added that two accounts stood out to him in this quarter's results, the U.S. Department of Agriculture and the Veteran's Administration. These two entities have tremendous budgets, he noted, and they prove just how far the cloud still has to reach.
Salesforce is not alone in the cloud, as both Workday (WDAY) - Get Report and ServiceNow (NOW) - Get Report both also posted another round of strong results.
Over on Real Money, Cramer says Salesforce's (CRM) - Get Report strong quarter is even better than it looks. Get more of his insights with a free trial subscription to Real Money.
Valuation and Expectations: Auto Parts Retailers 
Valuation matters, Cramer reminded viewers, as he took a fresh look at the auto parts retailers to see which one comes out on top.
The auto parts cohort has been lagging the market for years. Only O'Reilly Automative (ORLY) - Get Report has been a stand-out performer, up 150% over the past five years. The other players, mainly Advanced Auto Parts (AAP) - Get Report and AutoZone (AZO) - Get Report , have not faired nearly as well.
But after a mild winter and fears of competition from Amazon (AMZN) - Get Report abated earlier this year, Advanced Auto Parts has rocketeted 29%, while AutoZone has slipped 8%.
Why the disparity? Cramer said it's partly because AutoZone began its recovery in 2017 and Advanced Auto Parts is playing catchup. Largely, he said, the difference is in expectations.
While both companies posted mixed results earlier this year, AutoZone's quarter failed to meet Wall Street's expectations, while Advanced Auto was viewed as a turnaround story which beat expectations. When the companies reported last week, Advanced shares again soared, while AutoZone's shares plunged 9.5%, only to recover slowly thereafter.
Cramer said the choice comes down to valuation, and AutoZone trades at 11 times earnings, compared to 16 times for Advanced Auto Parts. Given that AutoZone has historically been the better operator, Cramer said his money's in the Zone. 
Executive Decision: New Relic
In his second "Executive Decision" segment, Cramer also welcomed back Lew Cirne, founder and CEO of New Relic Inc.  (NEWR) - Get Report , the network monitoring platform with shares that are up 127% over the past 12 months.
Cirne said that a company's digital success now depends on platforms like New Relic to ensure that systems are up and running and problems are caught quickly. CNBC, he noted, uses New Relic to monitor their digital properties, which are growing in importance every day as more and more content is delivered on their website and via their mobile apps.
Cirne added that companies today don't have time for complicated tools, which is why New Relic is a suite of easy-to-use tools that entire teams can work with to make sure their projects succeed.
New Relic has partnered with IBM (IBM) - Get Report , which is now reselling the company's platform, and is a vital part of Domino's Pizza (DPZ) - Get Report , which Cirne described as not just a pizza company, but rather a technology company.
Lightning Round
In the Lightning Round, Cramer was bullish on Procter & Gamble (PG) - Get Report , Penn National Gaming (PENN) - Get Report , MGM Resorts (MGM) - Get Report , Wynn Resorts (WYNN) - Get Report , Citigroup (C) - Get Report and Pepsico (PEP) - Get Report .
Cramer was bearish on NCR Corp (NCR) - Get Report , Coca-Cola FEMSA (KOF) - Get Report and Fitbit (FIT) - Get Report .
Expert Advice for a Risky Market. We asked top experts from Bank of America (BAC) - Get Report , Fisher Investments, Invesco and Wells Fargo (WFC) - Get Report what smart investors should do right now. Click here and register for free to watch what these market watchers recommend.
Search Jim Cramer's "Mad Money" trading recommendations using our exclusive "Mad Money" Stock Screener.
To watch replays of Cramer's video segments, visit the Mad Money page on CNBC.
To sign up for Jim Cramer's free Booyah! newsletter with all of his latest articles and videos please click here.
At the time of publication, Cramer's Action Alerts PLUS had a position in STZ, AMZN, C, PEP.