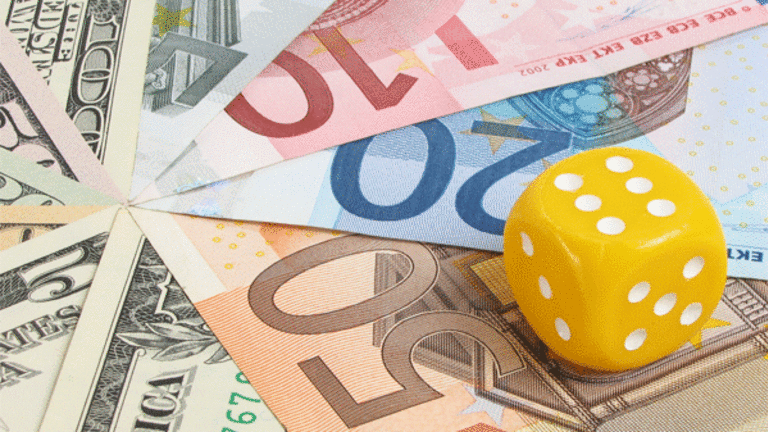 Potential Chinese Stimulus Boosting Stocks, Consolidation in Food Industry to Continue
The CNBC 'Fast Money Halftime' traders meet with leaders at the Morgan Stanley Wealth Management Alternatives Conference in New York City to discuss different strategies.
Correction: This story has been updated to correct the amount of assets managed by York Capital to $26 billion.
NEW YORK ( TheStreet) -- After bouncing slightly on Friday, the S&P 500  roared higher on Monday, up 1.3% as investors cheered the potential monetary easing from the People's Bank of China.
The central bank party continues, Joseph Terranova, chief market strategist for Virtus Investment Partners, said on CNBC's "Fast Money Halftime" show, which took place at the Morgan Stanley Wealth Management Alternatives Conference in New York City.
While the major stock indices have done well the past few years, alternative investments offer a low correlation to help buffer some of the volatility generally seen in stocks, Terranova added. 
Stephen Weiss, founder and managing partner of Short Hills Capital Partners LLC, agreed, adding that "it's been a relatively easy market cycle" for investors, given the added liquidity from the Federal Reserve and other global central banks. He says investing will likely get much tougher going forward, but investors should still keep their portfolio overweighted toward equities.
Much of Monday's rally could also be from "window dressing," when fund managers want to get into stocks before the end of the quarter and get ready for the rest of the year, said Josh Brown, CEO and co-founder of Ritholtz Wealth Management. 
There's also the all-important non-farm payrolls report on Friday. While Terranova didn't speculate what the report would say about the labor market in March, he did say stocks seem likely to rally in the days after the report is released.
If one thing is certain, there's going to be much less certainty going forward than there has been the past few years, according to Colbert Narcisse, global head of alternatives at Morgan Stanley Wealth Management (MS) - Get Report. Already, there's uncertainty surrounding the Fed's policy on interest rates, oil prices and the European recovery. 
The past few years of low volatility and steady gains in the stock market have made it tough to push alternative investments like private equity and private real estate into investors' portfolios, he said. But with the increase in uncertainty going forward, it would be wise for investors to consider the asset group for part of their allocation. 
Broadly speaking, Jamie Dinan, founder and CEO of York Capital, which has $26 billion in managed assets, says the U.S. economy has good growth, but not great growth. Nevertheless, stocks can continue higher, as investors continue to demonstrate impressive "price discipline," as the S&P 500 trades at roughly 17 times earnings. 
The Federal Reserve will be very calculated in when and how often it raises interest rates, but ultimately higher rates will be healthy for the economy, Dinan reasoned. U.S. citizens are upbeat about the economy, which is also a good thing. He believes the rally in Japanese equities can continue and he's positive about Europe, especially considering the current, low oil prices. 
Regarding biotech stocks being in a bubble, Dinan says it's "hard to say." Some companies have rich valuations, but shouldn't be sold short due to their acquisition potential. As for the ETFs, those are also hard to sell short due to the high quality companies in the funds. There seem to be better opportunities in the market then selling short biotech stocks, he said. 
Some of those opportunities include Kraft Foods Group (KRFT) and J.M. Smuckers (SJM) - Get Report, the latter of which has a 20% upside from current levels. "There's going to be a lot of consolidation in the food industry," he said. 
Brown said Restoration Hardware (RH) - Get Report and Nike (NKE) - Get Report have momentum. He said that Restoration Hardware is a "fantastic company" and although it has superior growth to its peers, it also has a higher valuation. However, Brown is not a buyer of the stock. 
Terranova added that analysts at Goldman Sachs (GS) - Get Report upgraded Restoration Hardware to a buy. He said that he would own the stock with put options as downside protection. The athletic apparel trade continues to carry stocks like Nike, Under Armour (UA) - Get Report, Foot Locker (FL) - Get Report, Finish Line (FINL) and Dick's Sporting Goods (DKS) - Get Report higher.
This article is commentary by an independent contributor. At the time of publication, the author held no positions in the stocks mentioned.