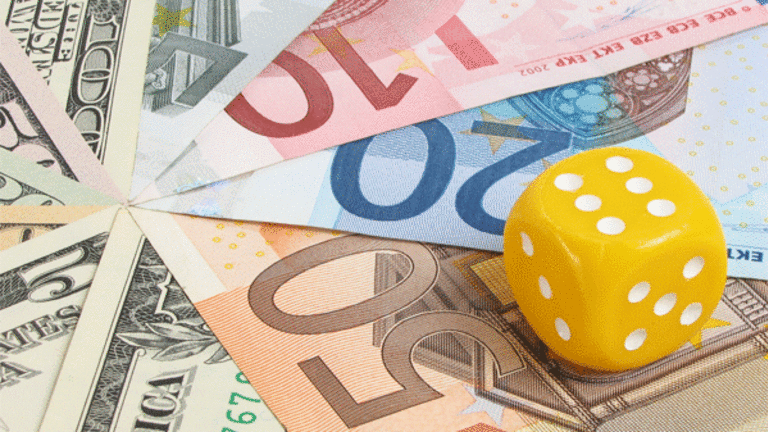 Publish date:
Oil Prices Rally, Rate Hike Seemingly Off the Table for Fed
The CNBC 'Fast Money Halftime' traders discuss the stock market's performance after the much worse-than-expected labor results for March. 
The CNBC 'Fast Money Halftime' traders discuss the stock market's performance after the much worse-than-expected labor results for March. 
NEW YORK (TheStreet) -- The stock market opened lower on Monday, but quickly rallied to session highs, with the S&P 500 up 0.9%.
"I believe" in the reversal, Joseph Terranova, senior managing director at Virtus Investment Partners, said on CNBC's "Fast Money Halftime" show.  
He reasoned that stocks may continue to climb for the next several weeks as investors shift their focus from the labor report to corporate earnings for the first quarter of 2015. The bar for earnings has been set quite low and can be cleared, Terranova said. 
The labor report for March was much worse than expected, which is pulling on the U.S. dollar. According to Steve Grasso, director of institutional sales at Stuart Frankel, that's also helping to push equities higher. If the S&P 500 fails to close above 2,088, it could be headed back down to 2,063. 
The disappointing jobs report gives the Federal Reserve a lot more flexibility, as it doesn't have to raise rates in June now, said David Albrycht, president and CIO at NewFleet Asset Management. There's no fundamental reason for an increase at present, and any eventual hike may be a one-and-done maneuver, he said. U.S. bonds still look more attractively priced than European bonds, he added.  
When the market opens significantly lower, as it did Monday morning, it creates excellent buying opportunities, said Pete Najarian, co-founder of optionmonster.com and trademonster.com. In particular, energy equities may outperform, he said, and he likes stocks such ConocoPhillips (COP) - Get Report, Chevron (CVX) - Get Report and Exxon Mobil (XOM) - Get Report. 
Pete Najarian reasoned that buying the CBOE Crude Oil Volatility Index (OVX) below $50 is a good idea. 
Jon Najarian, also a co-founder of optionmonster.com and trademonster.com, said it may be a good idea to take profits on a day where oil prices and energy stocks are rallying so much. The "horrific" jobs data probably delays the rate hike from the Fed until September or October.
It's obvious that the long U.S. dollar trade has become crowded, as investors plow into more risky assets like the iShares MSCI Emerging Markets ETF (EEM) - Get Report and SPDR S&P Oil & Gas Exploration & Production ETF (XOP) - Get Report. Josh Brown, CEO and co-founder of Ritholtz Wealth Management, pointed out that those ETFs are outperforming U.S. large-cap and small-cap stocks. 
It seems like every investor is itching to buy oil, but is waiting for it to go lower, Terranova said. He thinks a breakout to $60 per barrel is on the table in the near future. Halliburton (HAL) - Get Report looks attractive on the long side. 
Investors could start a small energy position and look to add to it over time, Pete Najarian added. 
Oil prices should start to recover in the second half of 2015, according to Helima Croft, head of commodity strategy at RBC Capital Markets. She remains "very, very positive" on 2016, adding that the additional oil production from Iran will take a while to have an effect on the global supply. She reminded investors that the Iranian sanction agreement isn't a done deal, meaning oil production may not necessarily be in the cards. 
The conversation turned to McDonald's (MCD) - Get Report, after Jon Najarian said he likes the stock on the long side. It's one of the largest global real estate owners, and could consider adopting a REIT structure, something investors would love. He also likes the company's plan to test offering its breakfast menu throughout the day and its lofty dividend yield of 3.5%. 
A REIT structure will not happen any time soon, according to Terranova.
"They need a strategy and they don't have one," he added.
While investors shouldn't short the stock, it's not attractively priced, despite being flat over the past three years, Brown said. The U.S. dollar and wage increases will weigh on profitability, and revenues continue to decline. There's no reason to buy the stock. 
McDonald's is shareholder-friendly though, Najarian said, pointing out that it bought back $6 billion worth of stock last year and pays an attractive dividend.