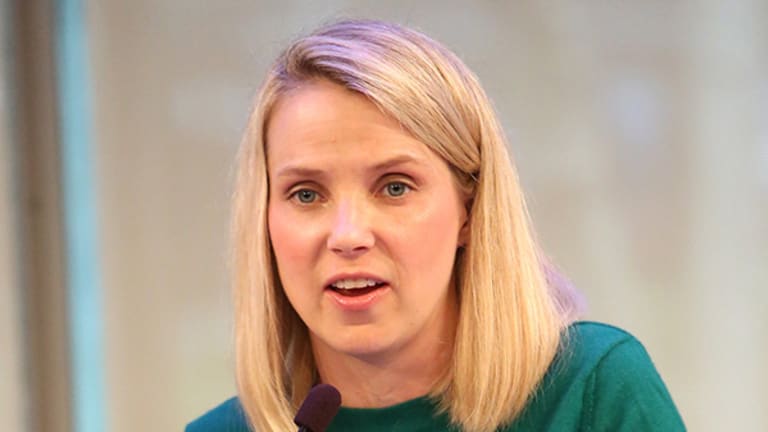 Publish date:
Oil Prices March Higher; What Will Yahoo!'s Marissa Mayer Do Next?
The CNBC 'Fast Money Halftime' traders look at oil and former Yahoo! interim CEO Ross Levinsohn discusses the company's outlook.
The CNBC 'Fast Money Halftime' traders look at oil and former Yahoo! interim CEO Ross Levinsohn discusses the company's outlook.
NEW YORK (TheStreet) -- The S&P 500 is up 0.7% Wednesday but the CNBC "Fast Money Halftime" traders are more interested in the rally in crude oil. West Texas Intermediate prices are higher by 5% on the session and have rallied 23.85% over the past month. 
A month ago, not many investors would have believed that such a rally was in the cards, said Josh Brown, CEO and co-founder of Ritholtz Wealth Management. He pointed out energy is the third-best-performing sector in the S&P 500. Certain industries, like oil and gas exploration and production companies, are up by double digits. 
Rising oil prices cut both ways -- helping energy companies but hurting others with rising expenses, according to Pete Najarian, co-founder of optionmonster.com and trademonster.com. He pointed out that integrated oil stocks, like Chevron (CVX) - Get Report, Exxon Mobil (XOM) - Get Report and ConocoPhillips (COP) - Get Report, continue to outperform. 
The recent rally in U.S. stocks has been much more broad-based, Najarian added. Health care stocks continue to do well while the financials are doing better as well. With the CBOE Volatility Index I:VIX near its year-to-date lows, investors should stay long stocks and buy portfolio protection, he reasoned. 
Oil prices seem likely to stay rangebound between $45 to $60 per barrel according to Jon Najarian, co-founder of optionmonster.com and trademonster.com. With prices approaching the upper end of that range, investors should be prudent and consider taking profits. 
As far as earnings go, Jon Najarian said Intel (INTC) - Get Report did a "nice job" and reported pretty good results given the weakness in the PC market. 
Netflix (NFLX) - Get Report reports earnings on Wednesday after the close. Ross Levinsohn, executive chairman of Scout, is a "huge fan" of the company. He expects it to report good earnings and also expects Time Warner's (TWX) HBO streaming product to be received well by consumers. 
Levinsohn, once interim CEO at Yahoo! (YHOO) , also focused on his former employer. He said Yahoo!'s core business has a lot of potential especially if its other assets are spun off. Yahoo!'s stake in Alibaba (BABA) - Get Report is worth almost $31 per share, he said. Its stake in Yahoo! Japan is worth rough $5 per share. That leaves its core business valued at nearly $9 per share. 
CEO Marissa Mayer has the chance to spin off assets and return the core business to growth, Levinsohn said. In the post-spinoff world, core business growth would be very rewarding to shareholders. But if growth remains stagnant, Yahoo! becomes an attractive takeover target because it has so much cash on its balance sheet. 
If Yahoo! isn't acquired by another company in the next 12 months -- such as by Softbank or a private equity company -- then it may be time for CEO Mayer to move, Levinsohn said. While the stock has appreciated nearly 200% under Mayer's leadership, he attributes most of these gains to the company's ownership in Alibaba, which happened before Mayer was at the helm. 
Shake Shack (SHAK) - Get Report shares soared 12% on Tuesday on no apparent news, but Brown attributed this type of price action to a large short-seller looking to cover a position. The stock has a short-interest of at least 15%, he reasoned, which is relatively high. Brown has been long since the day of the IPO and doesn't plan on selling anytime soon, as he believes in its long-term potential. 
Despite shares falling 2.5% on Wednesday, investors should wait for a larger pullback before getting long the stock. At some point, the valuation will play a larger role in the stock's price and since it is overvalued, a pullback at some point is likely in the cards, he concluded.