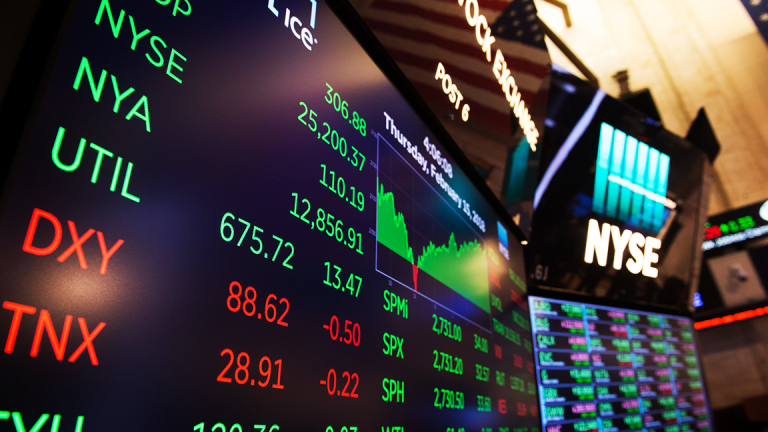 Not Thankful for Fridays: Cramer's 'Mad Money' Recap (Friday 4/20/18)
Jim Cramer says analysts and trade woes put a damper on buying ahead of the weekend. So let's get the game plan for next week.
Jim Cramer says analysts and trade woes put a damper on buying ahead of the weekend. So let's get the game plan for next week.
Next week is chock full of earnings news, Jim Cramer told his Mad Money viewers Friday. Let's just hope that unlike today, those earnings actually matter.
Cramer said his game plan starts on Monday with earnings from Kimberly-Clark (KMB) - Get Report . Even with shares off 25% from their highs, the stock's 4% yield might not offer a lot of protection from rising interest rates. Then there's Alphabet (GOOGL) - Get Report , which just needs to meet expectations to send its stock soaring.
On Tuesday, we'll hear from Caterpillar (CAT) - Get Report and United Technologies about the effects of the escalating trade war with China. Coca-Cola (KO) - Get Report will also provide an update on its restructuring efforts.
Wednesday brings earnings from Boeing (BA) - Get Report , Facebook (FB) - Get Report , an Action Alerts PLUS holding, and Qualcomm (QCOM) - Get Report . Cramer said Boeing should report great earnings, but the question remains if investors are willing to pay up for those earnings. Facebook will have to let us know whether there was any loss of business or increased costs from its scandals. If not, Cramer said the stock could be cheap at these levels.
Then on Thursday, it's earnings from Amazon (AMZN) - Get Report , which announced 100 million Prime members this week, along with Microsoft (MSFT) - Get Report , which along with Amazon, are in the race to be the first company to hit the $1 trillion valuation mark.
Finally, on Friday, it's Colgate-Palmolive (CL) - Get Report reporting and Cramer said like the other packaged goods stocks, it will likely be under pressure.
Cramer and the AAP team say the main factor contributing to Friday's weakness was Apple (AAPL) - Get Report . Find out what they're telling their investment club members and get in on the conversation with a free trial subscription to Action Alerts PLUS.
Over on Real Money, Cramer says there's a big hate on hardware and he doesn't see what's going to change that. Get more of his insights with a free trial subscription to Real Money.
A Decade of Energy Changes 
It was a decade ago that then-citizen Donald Trump appeared on "Mad Money" and railed against OPEC for sending oil prices to $100 a barrel. Today however, Cramer said, oil prices are rising for another reason, good old supply and demand.
A lot has changed over the past decade, Cramer explained, and thanks to the oil shale revolution, OPEC is a shadow of its former self. OPEC no longer controls the price of oil, he said, although Saudi Arabia does have extra capacity to lower prices slightly if it wanted to.
Rising oil prices are simply what happens when global demand is rising. The U.S. is on a path to break free from even Saudi Arabia, he concluded, but we're not there yet. We just need to keep investing in our oil pipelines, renewable energy and electric cars and we'll soon be in control of our own energy destiny.
How to Play the Cannabis Indsustry
When investing in controlled substances such as cannabis, Cramer told viewers, it's important to play it safe. The cannabis industry is changing and there are now countless ways to invest in the industry, but there are only two that worth considering.
Since cannabis is only completely legal in nine states and legal for medicinal use in 29, most of the cannabis companies are located in Canada. But these stocks are too thinly traded, too volatile and highly overvalued to make for solid investments. The only pure-play company that trades in the U.S. is Cronos Group (CRON) - Get Report , but Cramer cautioned that this company is also too risky and trading at 13 times sales.
Instead, Cramer suggested GW Pharmaceuticals (GWPH) - Get Report as a safer alternative, along with Constellation Brands (STZ) - Get Report , an Action Alerts PLUS holding that recently took a stake in a Canadian cannabis grower.
But before viewers dive in, Cramer cautioned that any time cannabis is made legal, prices plummet, so if you feel more legalization is coming, be careful.
Executive Decision: Waste Management
For his "Executive Decision" segment, Cramer spoke with Jim Fish, president and CEO of Waste Management (WM) - Get Report , which just posted an eight-cents-a-share earnings beat, but saw shares decline as investors worry over the impact of trade wars with China on the company's recycling business.
Fish said that only a tenth of their business is recycling, but it is true that China is getting stricter about the amount of contamination they will accept in the recycled materials they import. That is leading to more education about what is and isn't recyclable and may ultimately lead to higher fees for clients that don't comply.
Outside of recycling however, business is strong at Waste Management. Fish said that their commercial business is fantastic, industrial and landfill is strong and only residential is showing softness. He added that it's hard to find a geography that isn't performing well, but Florida, Texas and California are among the standouts.
Executive Decision: First Horizon National 
In his second "Executive Decision" segment, Cramer also sat down with Bryan Jordan, chairman, president and CEO of First Horizon National (FHN) - Get Report , the Tennessee-based regional bank that just posted a three-cents-a-share earnings beat with net interest margins up 52 basis points.
Jordan first confirmed that the sky will not be falling once the 10-year Treasury hits 3%, as many bears would have you believe. He said that investors have equated rising rates with an economic slowdown, but that's not what First Horizon has been seeing. His bank is seeing good customer activity across the board.
A steepening yield curve is the natural result of rising interest rates, Jordan added, and banks do better when the yield curve steepens.
When asked what driving the economic activity, Jordan said that deregulation is having an impact, and the December tax reforms are also starting to kick in as well -- all of which makes him very optimistic about the next three to six months and beyond.
Shares of First Horizon Nationals are up 3.2% for the year. 
Lightning Round
In the Lightning Round, Cramer was bullish on Align Technology (ALGN) - Get Report , Regions Financial (RF) - Get Report , Edwards Lifesciences (EW) - Get Report , Qualys (QLYS) - Get Report and HEICO (HEI) - Get Report .
Cramer was bearish on Applied Materials (AMAT) - Get Report .
Search Jim Cramer's "Mad Money" trading recommendations using our exclusive "Mad Money" Stock Screener.
To watch replays of Cramer's video segments, visit the Mad Money page on CNBC.
To sign up for Jim Cramer's free Booyah! newsletter with all of his latest articles and videos please click here.
At the time of publication, Cramer's Action Alerts PLUS had a position in AAPL, GOOGL, FB, AMZN, MSFT, STZ.