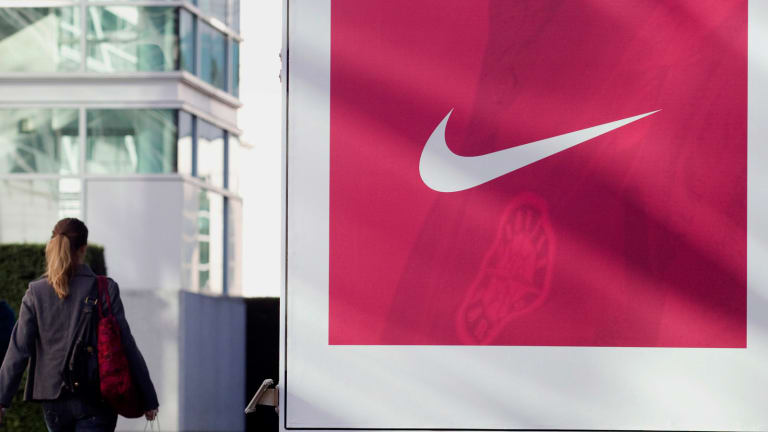 Nike Can Run Long Term; Stock-Market Bubble May Be Brewing
The trading panel sees Nike and Foot Locker as attractive stocks and debate the potential bubble forming in the stock market.
NEW YORK (TheStreet) -- Stocks have taken a turn for the worse on Friday, falling on the day. The CNBC "Fast Money Halftime" traders, however, are focusing on one of the market's bright spots -- Nike (NKE) - Get Free Report. 
The company topped earnings-per-share and revenue estimates, driving the stock to an all-time high. In the long term, investors should be long Nike, according to Michael Block, chief strategist at Rhino Trading Partners. The time to buy, though, was last quarter when the stock wasn't trading as well. While the stock doesn't have a low valuation, the company has above-average growth, he explained. 
"The fitness craze is really broad," giving a boost to many fitness-related companies, said Jim Lacamp, vice president of investments at UBS. He likes Nike, a company that has strong earnings growth and is doing well internationally. 
Jim Lebenthal, president of Lebenthal Asset Management, also likes the stock, but said he would wait for shares to drop to $95 to $100 before getting long. And while Under Armour (UA) - Get Free Report has superior growth, he isn't a buyer of that stock either, given its current valuation. 
A pair of stocks Lebenthal does like include Finish Line (FINL) and Foot Locker (FL) - Get Free Report. The stocks are "fairly priced" and should benefit from the prospering athletic companies, he said. 
Josh Brown, CEO and co-founder of Ritholtz Wealth Management, agreed, calling Foot Locker a "home-run" stock that pays a nice dividend and has huge earnings growth and a reasonable valuation. As for Nike, investors should wait for a temporary negative catalyst to weigh on the stock price, such as forex or inventory issues, he said.
The conversation turned to the broader market, as the traders discussed Jeremy Grantham's recent comments about a bubble in stocks. Grantham, the highly respected chief investment strategist of Grantham Mayo van Otterloo (GMO), stated, "Another 5% or 10%, and we'll hit the necessary condition on value.... we'll be at the minimum level associated with a bubble."
"It makes complete sense," Dan Greenhaus, chief global strategist at BTIG Research, said of Grantham's concerns. Investors should pay attention when big-time, reputable investors such as Grantham and Carl Icahn start talking about being cautious. It might not mark the top, but it's certainly something to note. 
The "biggest bubble of all time" is in the bond market, after the Federal Reserve's quantitative-easing measures took place, Lacamp said. Because the Fed bought so many bonds, it also gave stocks a lift. He doesn't believe, however, that the stock market rally is over quite yet. 
Investors should adhere to the warning signs, Block cautioned. He's not calling a top in stocks, but said to watch for excessive valuations and mergers and acquisitions, as well as a flood of IPOs.
Brown, however, argued that it's almost impossible to predict a market top. Bull markets never end well, and so this one is likely to go out with a bang as well. But that doesn't mean the market can't keep going higher for the next few years.
Turning to Facebook (FB) - Get Free Report, the traders discussed a stock that recently broke out to all-time highs, becoming one of the largest companies in the world by market capitalization. 
Neil Doshi, Internet analyst at Mizuho Securities, initiated the stock with a buy rating and a $104 price target. "The stock has had a big run, but we think there's a lot more upside potential," he said. Doshi cited Instagram, WhatsApp and the increase in video views as catalysts.
This article is commentary by an independent contributor. At the time of publication, the author held no positions in the stocks mentioned.