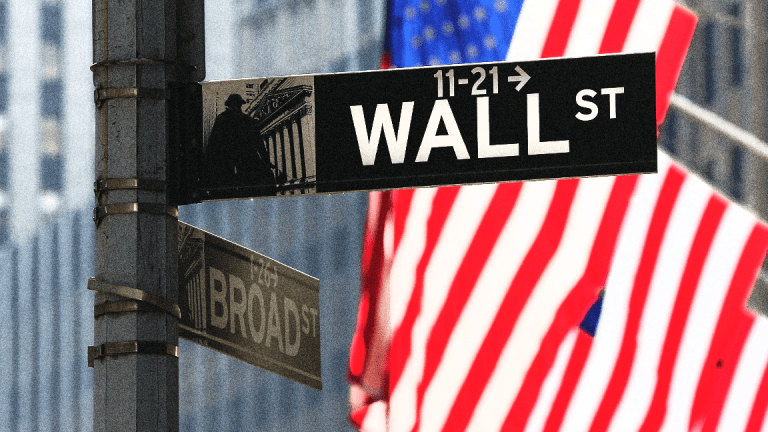 New Rules of the Road: Cramer's 'Mad Money' Recap (Thursday 6/7/18)
Jim Cramer's new rules of the road will help investors stay on course and avoid common mistakes.
Jim Cramer's new rules of the road will help investors stay on course and avoid common mistakes.
The stock market isn't always a friendly place, Jim Cramer told his Mad Money viewers Thursday in a special episode dedicated to the rules of the road that will help every investor stay on course and avoid the most common mistakes.
Cramer's first rule for individual investors was to always buy the stocks of best-of-breed companies. When shopping for a car, you always want the best you can afford, Cramer explained, but when it comes to stocks, the allure of penny stocks or the "hot tip of the day," somehow seems to win out over logic and discipline. Avoid this urge.
Cheap stocks are not bargains. In fact, they're often the opposite. When the stocks of a high-quality company like Johnson & Johnson (JNJ) - Get Report gets pulled down as part of a larger market decline, that's the true bargain. At the end of the day, there are very few genuine bargains out there, Cramer admitted, but with a high-quality company, you can afford to pay up for shares and you'll almost never regret it.
Investing takes patience, Cramer reminded viewers, but fortunately, you're not a hedge fund manager and don't need to show gains every week, month and quarter or risk losing everything. You can afford to take a long-term approach. Cramer recommended buying Apple (AAPL) - Get Report at $93 a share in 2016 after interviewing CEO Tim Cook and realizing the negativity surrounding the stock was untenable. Giving up on the value created by the stock's decline would have been a classic mistake.
Cramer's next rule for investors was, if you want to know where the stock market is headed, keep your eye on bonds. Yes, to many people, bonds are about as boring as it gets, but they are an important part of how stocks trade.
Younger investors may not realize that bonds signaled the softening economy in 2000, right near the dot-com peak. Competitive bond rates also helped usher in the massive sell-off in 2001. And it was the Federal Reserve raising interest rates 17 times that directly led to the financial crisis of 2008. Even in 2018, when yields on the 10-year Treasury broke out above 3%, the market reacted swiftly and definitively. Cramer told viewers the yield on the 10-year Treasury is the one to always keep an eye on.
What's another thing investors watch for? At a micro level, Cramer said, he worries anytime he sees unexplained resignations of key executives at a company.
To put it bluntly, Cramer said, when the chiefs resign, you should, too.
Why are resignations a problem? CEOs don't quit "for personal reasons" -- not if they want to keep their bonuses. That means there's almost always something going on at the company and it usually isn't good news. Resignations equals sell, Cramer concluded. In the worst-case scenario, you can always buy the shares back once the market truly learns what's going on.
To be a good investor, you must first be a realistic investor, Cramer proclaimed as his next rule. Too many people are either unrealistic or allow emotions to cloud their judgment, he said, and that's a big problem.
The inevitable truth is that stocks sometimes go down. Market corrections are like rain, they're gong to happen. Yet it's surprising to see how sell-offs catch so many investors off guard and unprepared. The most brutal sell-offs happen when everyone is euphoric, Cramer said, which is why you need to sell into strength and raise cash so you'll be ready to buy more when the declines occur.
Investors looking for a way to gauge market sentiment can turn to indicators like the Standard & Poor's Oscillator, which shows overbought and oversold conditions. Anything +5 five or greater means the market has move too far, too fast, while -5 or below is usually a good time to buy.
Another cardinal sin of investing is "hope," Cramer explained. Hope is fine in sports and religion, but it has no place in investing. Hope is nothing more than emotion, and emotion clouds your decision-making and allows you to ignore discipline and logic. "Hope is never part of the equation," Cramer often says, don't forget it.
Do Your Homework
When it comes to investing, the Internet has become a doubled-edged sword. On one hand, limitless information about a company is now at our fingertips 24 hours a day. But on the other hand, technology has made investing a very solitary affair.
Cramer has long advised that you should never buy a stock unless you can explain why you like it to another human being and that's never been more true than in the Internet age. If you can't explain why you like a stock, what's making it go higher and what your edge is, you probably have no business owning it.
This is especially true in biotech, where far too many investors buy on the hype without having any idea what the company actually does or where it is in the development process.
Speaking of hype, Cramer reminded viewers that just because someone says something on TV, it doesn't mean it's true. While a company's executives cannot lie to shareholders without consequences, the "pundits" that pepper the airwaves can have all sorts of ulterior motives for getting you to think one way or another.
Always do your own homework and always beware of the hype.
Good Investors and Bad Investors
What's the difference between a good investor and a bad one? It's how they handle their losers. Whether you're a professional or an amateur, everyone hates selling their losers. It's far too easy to rationalize the weakness and just "hope" things turn around soon. But while that's all well and good, things change quickly when you the need the money.
Bad stocks tend to stay bad, Cramer said, and they usually continue to head lower. So while you might be inclined to sell your winners to subsidize your losers, it's actually the losers that should be the first to go. Many people feel that if a stock goes low enough, the company may catch a takeover bid, but Cramer warned that bad companies rarely get acquired, and if they do, the price isn't likely to get you back to even.
That's why Cramer cautions investors should never speculate on a takeover with companies that have bad fundamentals. You'll be waiting far too long for your bets to pay off, if they ever do at all.
Cramer and the AAP team provide updates on Apple (AAPL) - Get Report , Amazon (AMZN) - Get Report and Comcast (CMCSA) - Get Report . Find out what they're telling their investment club members and get in on the conversation with a free trial subscription to Action Alerts PLUS.
Expert Advice for a Risky Market: We asked top experts from Bank of America (BAC) - Get Report , Fisher Investments, Invesco and Wells Fargo (WFC) - Get Report what smart investors should do right now. Click here and register for free to watch what these market watchers recommend.
Search Jim Cramer's "Mad Money" trading recommendations using our exclusive "Mad Money" Stock Screener.
To watch replays of Cramer's video segments, visit the Mad Money page on CNBC.
To sign up for Jim Cramer's free Booyah! newsletter with all of his latest articles and videos please click here.
At the time of publication, Cramer's Action Alerts PLUS had a position in AAPL, AMZN, CMCSA.