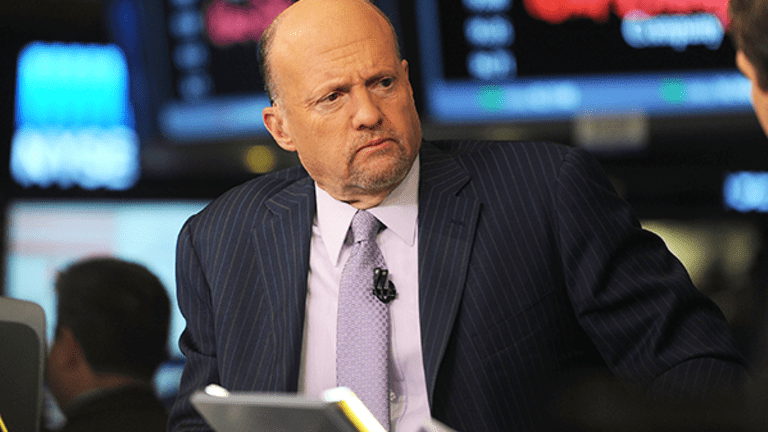 Markets Down? Get Used to It: Cramer's 'Mad Money' Recap (Wednesday 5/17/17)
First serious down day in ages? Jim Cramer says it's as normal as rain; and he has an umbrella for you.
Yes, it's true, stocks can go down as well as up, Jim Cramer reminded his Mad Money viewers Wednesday. Selloffs are a natural occurrence however, so investors shouldn't be heading for the exits.
Cramer said he has three simple rules for days like today.
The first is, stay away from the blast zone.
To do that, Cramer said, investors must first determine the root cause of the market's decline. In today's case, it's President Trump's ongoing Comey-Russia scandal that has put his economic agenda on hold.
That means the Federal Reserve likely won't be able to raise interest rates as they expected, which in turn hurts the financials.
Cramer's second rule is to invest in the best-yielding secular growth stocks you can find. These stocks act as magnets when investors panic and are always a safe place to wait out your next move.
Your next move will be Cramer's third rule, which was to "Keep the bat on your shoulder." Don't be too anxious to buy back the market's former winners, as it takes time for a selloff to work through the entire shareholder base.
Your fellow shareholders can be your worst enemy, Cramer said, as they tend to only panic more the lower the markets go. Be patient.
On Real Money, Cramer says don't be so quick to panic because the futures guys woke up and realized that the president's in trouble. Get more on his insights with a free trial subscription to Real Money.
Where to Look For Opportunity
As the markets get pounded over the next few days, buying opportunities will be created, Cramer told viewers, like the one just created in Stanley Black & Decker (SWK) , the toolmaker with shares that are now off $5 from their highs of the year.
There's a lot to like about Stanley, Cramer said, as the company is in the red-hot tool market and delivered a three-cents-a-share earrings beat in January followed by a nine-cents-a-share beat last month. Stanley is forecasting 4% organic growth for 2017.
Beyond the great organic growth, Stanley has also recently completed two acquisitions, buying the tool division of Newell Brands (NWL) and also the rights to Craftsman from Sears Holding (SHLD) for $900 million.
Shares of Stanley have been falling, however, after the company announced that it will be offering equity units to help pay for these two transformative deals, and investors might not understand what these units are.
Cramer explained that they aren't convertible into regular shares until May 2020, so there won't be any dilution for another three years. The units also don't cost the company anything on their bottom line.
This makes Stanley Black & Decker common shares worth owning, given they trade at just 17 times earnings and the company has a 12% long-term growth rate.
Don't Let Fear Force You Out of Good Stocks
"No one ever made a dime panicking," Cramer reminded viewers. Big selloffs like today will try your skills and your patience, but if you don't let fear force you out of good stocks, you'll reap long-term gains.
Cramer said as the markets nosedived early this morning, he noticed that Starbucks (SBUX) , an Action Alerts PLUS holding, was still up, and was tempted to lock in a gain.
But then Cramer remembered that Starbucks was already down on a bad quarter, as customers ordering via their phones overwhelmed baristas. Panera Bread (PNRA) had similar issues and the stock zoomed once those issues were resolved. And Starbucks is still a great long-term story.
In the end, Cramer said he stuck with Starbucks and will be better for it over the long-term. Sticking with winners is how you catch great stocks like Apple (AAPL) , another Action Alerts PLUS name, and Amazon.com (AMZN) , which has exploded over the past few years.
Executive Decision: TRI Pointe Group
For his "Executive Decision" segment, Cramer sat down with Doug Bauer, CEO of TRI Pointe Group (TPH) , the California-based homebuilder that has seen its shares rise 8% so far in 2017.
Bauer explained that TRI Pointe is not as sensitive to interest rate moves as some homebuilders because they span the entire market, with 30% of sales being entry level, 40% move-ups and the remaining 30% luxury homes. TRI Pointe is seeing growing demand in all those segments, Bauer said, which is helping them achieve a 17% annual growth rate.
When asked about the March 17 announcement that Starwood Capital is selling their remaining stake in the company, Bauer said that Starwood had been with TRI Pointe for eight years, and their exit has nothing to do with the performance of his company. TRI Pointe feels shares are undervalued by as much as 20%, he said, and is actively buying back shares.
Turning to the issue of labor, Bauer said the key to solving the labor shortage is to work more with high schools and get back to teaching vocational skills. Not everyone needs to go to college, he said, and trades people can earn a great living and keep a lid on their student debt.
Cramer said TRI Pointe is underappreciated by the market and has land in all the right places.
Executive Decision: DexCom
In his second "Executive Decision" segment, Cramer also sat down with Kevin Sayer, president and CEO of DexCom (DXCM) , a stock that had been under pressure on fears of rising competition, before a surprise ruling that the company's glucose monitoring products would be covered under Medicare rallied the stock last year. Since then however, shares have given up most of those gains.
Sayer explained that there are many steps to being covered under Medicare and while DexCom received the decision that it will be covered, they are not yet "in the system" where patients can get the products. Those steps are being completed, Sayer said, and patients will soon be able to file their claims.
When asked about increased competition from Medtronic (MDT) and others, Sayer said that the so-called artificial pancreas has been under development for years, but right now what's most important to patients is continual glucose monitoring, and that's what DexCom provides.
Sayer was also upbeat about his company's partnership with Verily, the medical technology arm of Alphabet (GOOGL) , saying that the first products under the partnership are under development and they're excited about what will come.
Cramer continued his recommendation of DexCom.
Lightning Round
In the Lightning Round, Cramer was bullish on Mazor Robotics (MZOR) .
Cramer was bearish on Momo (MOMO) , Under Armour (UA) , E*TRADE Financial (ETFC) and iRobot (IRBT) .
Cramer and the AAP team say they're looking to Europe, and want to get in on the euro. Find out what they are telling their investment club; get a free trial subscription to Action Alerts PLUS.
This article is being updated. Please refresh for the latest version.
Search Jim Cramer's "Mad Money" trading recommendations using our exclusive "Mad Money" Stock Screener.
To watch replays of Cramer's video segments, visit the Mad Money page on CNBC.
To sign up for Jim Cramer's free Booyah! newsletter with all of his latest articles and videos please click here.
At the time of publication, Cramer's Action Alerts PLUS had positions in NWL, SBUX, AAPL, GOOGL.