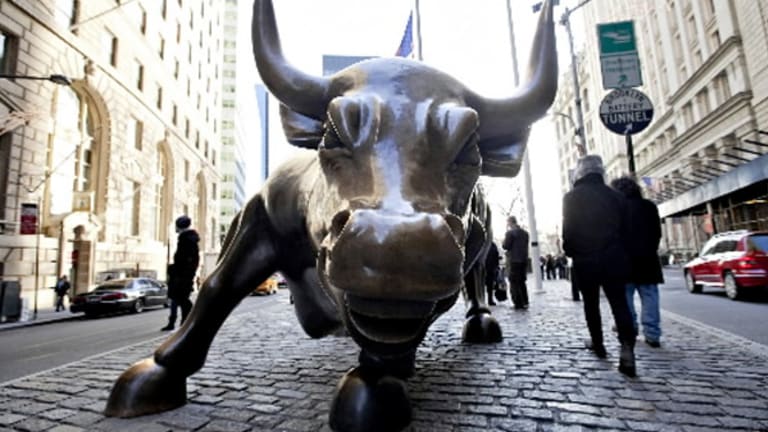 Market Stays Strong in the Fight: Cramer's 'Mad Money' Recap (Friday 4/7/17)
Even with a trifecta of worries, stocks hold tight thanks to decisive U.S. action in Syria, says Jim Cramer.
Given that the U.S. government launched a surprise missile attack on Syria, the U.S. non-farm payrolls report came in vastly below economists' expectations and President Donald Trump had a risky meeting with China's president, one would have thought the markets would have taken a big hit Friday. But that wasn't the case, TheStreet's Jim Cramer told his Mad Money viewers. 
Instead, the markets were mostly flat on the day. So can this type of resilience continue? Cramer pulled out his game plan for next week. 
On Monday, investors will want to see oil prices decisively break out and possibly climb to $53 or $54. It would also be nice to get some M&A deals, Cramer reasoned. Recent chatter has involved the biotech, oil and consumer packaged goods industries. 
On Tuesday, China and U.K. CPI numbers will be released. If China underwhelms, perhaps it will implement some kind of stimulus. If the meeting with Trump went well, that could mean stimulus involving some benefit to U.S. businesses. Cramer said he believes inflation is becoming a problem in the U.K., which could result in higher rates and a stronger British pound. 
On Wednesday, we'll get mortgage application numbers and Delta Air Lines (DAL) will report earnings. While Cramer doesn't expect Delta to "shoot the lights out," he did say expectations have come down enough to limit the downside. Plus, Warren Buffett owns 8% of the stock, and that alone makes it attractive. 
On Wednesday we'll also have an analyst meeting from Mosaic (MOS) . The company has encountered some bad news lately, but Cramer still expects to hear good things. In fact, he wants to own this stock into the event. 
Thursday, we're scheduled to get a slew of earnings from banks big and small. We'll want to see how the big banks like JPMorgan (JPM) , Wells Fargo (WFC) and Citigroup (C) are doing with higher rates and lower regulations. Smaller banks like PNC Financial (PNC) and First Horizon (FHN) will get us a pulse on consumers and small businesses. 
Also reporting on Thursday is Taiwan Semiconductor (TSM) . If the company reports strong results and says it's ordering more equipment to building more chips, that will give a direct boost to Applied Materials (AMAT) and Lam Research (LRCX) . 
On Friday the markets are closed ahead of the Easter holiday. 
Meanwhile, on Real Money, Peter Tchir said the jobs report wasn't all that bad, and he anticipated Treasury yields would be buoyed. He was right. Get more of this kind of insight with a free trial subscription to Real Money.
Know Your IPO
On the show's "Know Your IPO" segment, Cramer took a closer look at Schneider National (SNDR) to see if the stock is worth investors' time. The company went public at $19 per share, which is exactly where it finished on Friday. 
The shipping company has a trucking, intermodal and logistics business. While Schneider is a classic cyclical company, meaning its business closely follows how the economy is doing, it does have secular growth themes. For instance, e-commerce growth benefits shipping companies, and as supply chains become more complex, the companies that own them are leaving them to the logistics pros like Schneider to handle. 
The company has made investments and acquisitions to boost its bottom line and cut its costs. The fact that revenues have had sluggish growth, just 2.2% last year, but net income expanded more than 11%, shows that management is executing. 
Schneider has good businesses and if the economy starts to boom, it will really take off. Throw in the potential for deregulation from the White House and Schneider's bottom line could see another big boost. 
There are negatives, though. The lack of deregulation and a slowing economy will really hurt Schneider. A border tax, while unlikely in Cramer's view, would also hurt the business. 
Deregulation could really juice the stock higher, Cramer says. If you believe that will happen, along with a stronger economy, you can justify buying Schneider, which has a middle-of-the-road, OK valuation. But if you think the economy will slow and deregulation won't be a catalyst, you should opt out. 
Cramer said that personally, he'd wait to see how things play out. 
Today's Special: Welbilt or John Bean Technologies
Cramer is comparing Welbilt (WBT) and John Bean Technologies (JBT) to see which is the better investment.
Welbilt makes kitchen equipment for chefs and restaurant chains, while JBT is a food technology solutions provider, sterilizing canned foods, freezing frozen food and processing meat. Some 40% of its revenues also come from its airport business, where it sells ground equipment, boarding bridges and other products. 
Both stocks are roughly flat on the year, but JBT could be set to outperform. The company reported 22% revenue growth in 2016 and 12.5% the year prior. While part of that was from acquisitions, it's got sales going in the right direction. Welbilt though saw sales fall 7.5% in 2016 and dip slightly in 2015. 
Gross margins at Welbilt fell 200 basis points to 34.5%, while net margins dropped 420 basis points to 5.5%. JBO has lower margins -- 28.3% and 5% respectively -- but its margins aren't declining by much. Gross margins fell 30 basis points and net margins declined 10 basis points. 
Net income at Welbilt dropped nearly 50% last year, while net income at JBT climbed some 20%. 
This isn't to put Welbilt in a bad light, Cramer noted, adding that the company tells a really compelling story and will treat investors well over the long term. But it's suffering because restaurants are struggling in the U.S.
Trading at 24 times earnings with a much better-performing business, JBT is a better pick at this time than Welbilt, which trades at 21 times earnings. It's better to a pay a premium for a company doing much better. Cramer said investors can buy JBT at current levels. 
Executive Decision: Talend
On the show's "Executive Decision" segment, Cramer talked with Talend (TLND) CEO Mike Tuchen. Cramer pointed out that Talend has grown its cloud and big data revenues more than 100% in eight consecutive quarters. 
While Talend is doing a great job on this front, Tuchen said this part of the business is "just exploding" and that it's industry-wide, not just company specific. 
Talend is now cash-flow positive, Tuchen added. The company's still focused on growing sales, but it's also got a focus on getting cash-flow positives and becoming profitable. 
As a smaller company with a premium product and attractive pricing, it allows Talend to better navigate and service its customers. Tuchen pointed out that big banks need better big data management, as do pharmaceutical companies, both of which Talend serves. 
Talend's larger competitors have sort of painted themselves into a corner, Tuchen said, as they can't service new trends as well as Talend. 
This stock has been on fire since its December lows, Cramer said, up more than 50%. The company even did a secondary offering and reported a strong quarter in February. 
Lightning Round
On the show's "Lightning Round" segment, Cramer was bullish on VectorGroup (VGR) , FederalRealty (FRT) , Corbus Pharmaceuticals (CRBP) and HomeDepot (HD) . 
He was bearish on Valeant Pharmaceuticals (VRX) and Toro Company (TTC) . 
No-Huddle Offense
On the show's "No-Huddle Offense," Cramer took a closer look at the bid underneath the market. On a day where the U.S. launched missiles on Syria and the jobs report was such a disappointment, why were semiconductor stocks rallying so much? Why did the market barely budge? 
It's simple, Cramer said. Imagine being a large portfolio manager who's been waiting and waiting for a pullback to materialize. Now even on a day with bad news, the market still doesn't go down. So they start paying up for stocks, because they're reaching for them and willing to pay a premium. 
On Thursday it was the retailers, on Friday it was semiconductors. Friday's buying was totally unwarranted, Cramer said. It was a session filled with bad news and yet some stocks still rallied. 
Certain sectors continue to show strength, he explained, which is a classic component of a true bull market. There are persistent buyers in a market that's got its flaws, but has plenty of resilience. Remember, investors don't make a dime when they panic, Cramer concluded. 
Cramer and the AAP team say Magellan Midstream Partners (MMP) is getting another leg up. Find out what they're telling their investment club members. Get a free trial subscription to Action Alerts PLUS.
Search Jim Cramer's "Mad Money" trading recommendations using our exclusive "Mad Money" Stock Screener.
To watch replays of Cramer's video segments, visit the Mad Money page on CNBC.
To sign up for Jim Cramer's free Booyah! newsletter with all of his latest articles and videos please click here.
At the time of publication, Cramer's Action Alerts PLUS had positions in MMP, WFC and C.