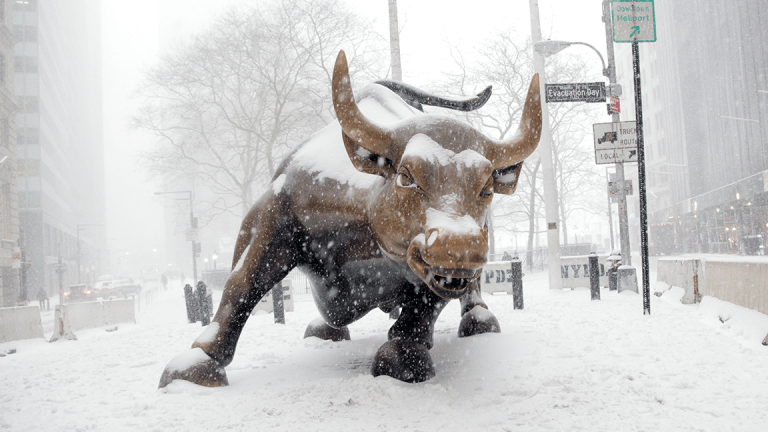 Publish date:
Market Moodiness: Cramer's 'Mad Money' Recap (Tuesday 2/12/19)
Jim Cramer says we need to revert to fundamental tenets that can get us through this. He outlines how to stay on course.
Jim Cramer says we need to revert to fundamental tenets that can get us through this. He outlines how to stay on course.
What happened to the long-awaited pullback the stock market was supposedly starting last week? Jim Cramer asked his Mad Money viewers on Tuesday evening.
Stocks jumped on Tuesday following positive headlines regarding trade discussions between the U.S. and China, as well as the U.S. avoiding a potential second government shutdown in the not-too-distant future. Investors saw big rallies in names like Under Armour (UAA) - Get Report (UA) - Get Report and Electronic Arts (EA) - Get Report , which also helped.
Some reputable people -- like one of Wall Street's most accurate observers, Morgan Stanley's equity chief Mike Wilson -- are calling for an earnings recession later this year, Cramer pointed out. That's certainly possible, particularly if China goes into a recession due to the trade war and drags the rest of the global economy down with it.
But "there's a method to the market's madness," Cramer reasoned, who laid out his five fundamental tenets to the stock market.
First, investors should be buyers of stocks, not sellers, when they're not fighting the Fed. Second, it helps that President Trump cares about the stock market and making sure it goes higher. When inflation isn't growing but the economy is, that's another green light for stocks. Finally, stocks also have reasonable valuations and strong balance sheets, he said.
The bottom line is simple: The market's seesawing because we're in a very binary moment. However, the facts right now, as laid out above, support a lean to the optimistic side, particularly if we get a trade deal done with China, Cramer reasoned.
Cramer and the AAP team are looking at opportunities for growth in their portfolio. Find out what they're telling their investment club members and get in on the conversation with a free trial subscription to Action Alerts Plus.
Executive Decision: Shopify
On the show's Executive Decision segment, Cramer spoke with Harley Finkelstein, COO of Shopify (SHOP) - Get Report . Shares ended higher by 1.4% on Tuesday after initially tumbling on earnings. Cramer said the early selloff was likely due to in-line guidance and the fact that Shopify stock was up so much coming into the print.
In any regard, it was a fantastic quarter for the company. Shopify now has 820,000 merchants on its platform, up from roughly 600,000 a year ago, Finkelstein said. Companies and brands big and small are turning to Shopify to help power their online business.
That's really what Shopify is all about, Finkelstein said, to help people and companies that have a product or products and want to sell them all around the world. Over time, Shopify has been adding perks and services that come with its growing size. For instance, the company was able to offer payment services and shipping services to its merchants at lower rates that Shopify negotiated on behalf of its merchants.
This is only achievable with economies of scale, Finkelstein reasoned.
The simplest way to think of Shopify? It's like the operating system for a retail company, he described, explaining that Shopify does its best to act as the company's backbone for its operations.
Celebrities like Drake and Kylie Jenner use Shopify, as do brands like Allbirds and Tommy John. The latest big-time idea? Cannabis, with Canopy Growth (CGC) - Get Report using the platform, Finkelstein said.
On Real Money, Cramer keys in on the companies and CEOs he knows best. Get more of his insights with a free trial subscription to Real Money.
Off the Charts
On the show's "Off the Charts" segment, Cramer wanted to highlight some of the work by colleague Carley Garner, a RealMoney writer, author of "Higher Probability Commodity Trading" and founder of DeCarleyTrading.com.
In mid-December, Cramer also highlighted Garner's work. As stocks were in a near free-fall, she said investors were getting too pessimistic and with a little more selling, would likely setup for a dramatic rebound. "Could you be more right?" Cramer said on Tuesday's show.
So what does Garner think now?
Contrary to what many investors seem to think, investors are not overly optimistic. Garner's work says that various indicators on the S&P 500, like the Relative Strength Index and the slow stochastic oscillator, do not indicate an overbought condition. Further, the CNN Fear & Greed index does not indicate an extreme level of greed among investor sentiment.
All of these factors can help lead to higher stock prices.
The S&P 500 may see resistance at 2,800 and in the mid-2,900 range, but ultimate resistance still rests up at 3,000. To get there, we would likely need a big catalyst, such as a trade deal. On the downside, support is sitting at 2,600. Below that and 2,400 is possible, according to Garner's work, although a decline this far seems unlikely.
Still, the facts favor the bulls. The seasonality is right, the VIX is still elevated and sentiment among professional investors and traders is still split about 50/50 among bulls and bears. All of these factors can add fuel to the fire when it comes to a rally.
Executive Decision: Ventas
On the show's second "Executive Decision" segment, Cramer sat down with Debra Cafaro, chairman and CEO of Ventas (VTR) - Get Report . The healthcare REIT just reported a good quarter and has a 5% dividend yield, so Cramer wanted to talk with management to get a better feel for what's going on.
This year will be pivotal year to return Ventas to growth, Cafaro says. The company is relying on several building blocks to do so: "powerful upside" in the senior housing market, a strong balance sheet for potential M&A and the company's research and development pipeline.
It helps that it has a very steady and consistent business from its medical offices unit.
Since Ventas is geared toward higher-net-worth individuals in private pricing senior housing, it's less impacted by changes in government-funded senior housing services, Cafaro explained. Further, the company's 75 to 81 demographic will grow 4% per year and its 82 to 86 group should grow 3% annually starting in 2020.
The company saw this spike in demand coming and the industry embarked on new construction as several years ago as a result. Ventas is working through that inventory now and there's a powerful cyclical upside coming for the senior housing market. Ventas will benefit as a result, she said.
Don't Fight the Fed
On the show's No-Huddle Offense, Cramer lashed out at the idea that stocks are in a Fed-induced bubble. That's not the case, and really, the Federal Reserve is just doing its job, Cramer said.
Last fall, Fed Chair Jay Powell made a mistake, saying the Fed would hike three times in 2019 as to curb inflation. The only problem? Inflation was nonexistent while the consumer price index (CPI), a measure of inflation, actually went negative shortly after, Cramer said.
"That was a mistake," Cramer said, adding that Powell realized this and has since walked back the Fed's hawkish stance.
For whatever reason, there will always be those that argue the Fed should be raising rates and tightening the U.S. economy into a recession. So long as the economy can grow and we can keep inflation at bay though, the country should be fine.
Higher rates are fine to an extent, but there's no reason to hike aggressively. Don't listen to those screaming for higher rates, they don't make any sense, Cramer said.
Lightning Round
In the Lightning Round, Cramer was bullish on Alibaba (BABA) - Get Report , Domino's Pizza (DPZ) - Get Report , Autodesk (ADSK) - Get Report , Synopsys (SNPS) - Get Report , Schlumberger (SLB) - Get Report and MarketAxess (MKTX) - Get Report .
He was bearish on Baidu (BIDU) - Get Report and Transocean (RIG) - Get Report .
Search Jim Cramer's "Mad Money" trading recommendations using our exclusive "Mad Money" Stock Screener.
To watch replays of Cramer's video segments, visit the Mad Money page on CNBC.
To sign up for Jim Cramer's free Booyah! newsletter with all of his latest articles and videos please click here.
Watch Jim Cramer's Daily NYSE Show and Replays Below
At the time of publication, Cramer's Action Alerts PLUS had a position in SLB.