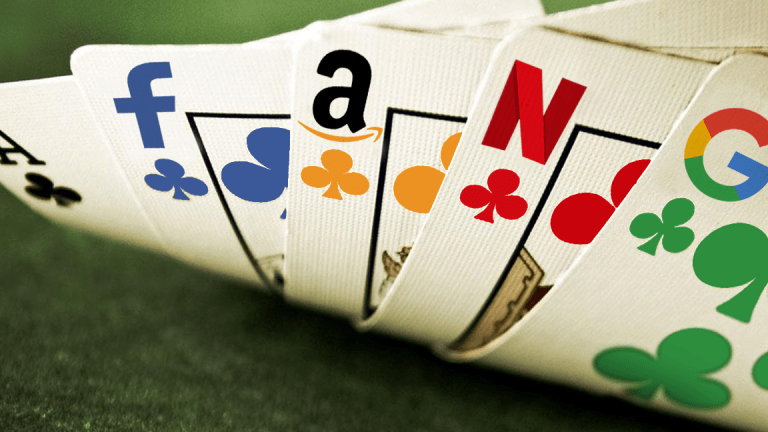 Long Live the FAANNG Stocks: Cramer's 'Mad Money' Recap (Tuesday 12/19/17)
Reports of the death of Facebook, Apple, Amazon, Netflix, Nvidia and Google/Alphabet are greatly exaggerated, says Jim Cramer.
Don't let a few bearish analysts scare you away from the FANG (or FAANNG) stocks, Jim Cramer told his Mad Money viewers Tuesday. Periodic pullbacks in this group are quite common, he added, and are always a reason to buy, and not sell.
So why did the FANG stocks, Cramer's acronym for Facebook (FB) - Get Free Report , Amazon.com (AMZN) - Get Free Report , Netflix (NFLX) - Get Free Report and Alphabet (GOOGL) - Get Free Report , head lower? Cramer outlined the reasons, adding Apple (AAPL) - Get Free Report and Nvidia (NVDA) - Get Free Report to the list for an even more pronounced FAANNG.
Put simply, the FANG stocks are a bet on future growth and nothing erodes that growth more than inflation. So when interest rates rise and inflation seems imminent, growth stocks decline. Then there are other sectors, like the industrials, that do incredibly well when the economy is booming. As the industrials rise, it also makes the earnings from FANG less attractive.
Are rising interest rates and a booming economy a reason to sell FANG? Cramer still owns Facebook, Apple, Nvidia and Alphabet for his charitable trust, Action Alerts PLUS. He said that Facebook will deliver the same great earnings it always has, while Amazon remains fabulous and should be bought on any weakness. Rumors of weak iPhone sales at Apple should be ignored, Cramer added, and Nvidia still makes the best chips around.
In fact, the only member of FAANNG that Cramer was worried about is Netflix, as it now must compete with a more relevant Walt Disney (DIS) - Get Free Report . But beyond Netflix, Cramer said its simply too hard to trade these names, which is why it's always better to own them and not trade them.
Over on Real Money, Cramer says breakouts are the new normal for this market. Get more on Cramer's insights with a free trial subscription to Real Money.
Off the Charts: Bitcoin vs. Gold
In the "Off The Charts" segment, Cramer checked in with colleague Carley Garner to see whether bitcoin is poised to replace gold as the place people store their wealth in times of crisis.
Garner first noted that bitcoin was created as an experimental currency to buy and sell on the web. It was never intended to be an investable security. Bitcoin is not backed by anything and cannot be used in jewelry or by your dentist.
That said, Garner then turned to gold's recent pullback below $1,250 an ounce, a move that many attribute to the debut of bitcoin futures. However, Garner noted that this is the fourth time the precious metal has dipped below $1,250 in 2017, giving it no relationship to cryptocurrencies.
Garner then looked at several other charts to determine that gold is likely near a bottom and has strong levels of support at $1,235 and $1,200 that are likely to hold and send the metal back to the upside.
To see all the charts and read more of Cramer and Garner's analyses, read It's a Bitcoin vs. Gold Smackdown.
Executive Decision: MarketAxess
For his "Executive Decision" segment, Cramer sat down to talk with Rick McVey, founder, chairman and CEO of MarketAxess  (MKTX) - Get Free Report , a financial technology company providing an electronic bond trading platform. Shares of MarketAxess are up 37.5% year-to-date.
McVey explained that MarketAxess adds efficiency to the bond market and lowers transaction costs by making it easier to trade bonds electronically. The company's marketplace connects over 150 dealers worldwide and provides a market for bonds that are not as heavily traded as equities.
When asked for his outlook on 2018, McVey said that next year is shaping up to be an interesting one, as interest rates are rising and economic activity is on the rise around the globe. He said no matter how bonds are doing however, MarketAxess will prosper, as only 20% of high-grade corporate bonds are currently traded electronically.
When Bad News Is Good News 
Following up on suggestions from viewers, Cramer took a fresh look at medical device maker Penumbra (PEN) - Get Free Report , after the stock slid more than 20% from its November highs. Penumbra makes devices to help remove blood clots from the brain, a life-changing procedure for those suffering from strokes and other vascular ailment.
Cramer said that Penumbra had been a very consistent growth stock going into 2017, offering investors beat after beat. But that all changed last May, when the company posted its first earnings miss, which was immediately followed by a second. At the time, the analysts didn't seem to notice, instead focusing on revenue growth and not earnings per share.
Shares of Penumbra peaked on Nov. 10, followed by a slide that appeared to be profit taking. Shares never recovered, however, culminating with a downgrade on Dec. 12.
Cramer explained that Penumbra is a broken stock, not a broken company. The company's devices are just as much in demand as ever, but it's shares exhibit the pattern typically seem when growth investors declare victory and move on. Biotechs are not big winners from tax cuts after all, which is why the profit taking continues. This pullback however, is the one Cramer's been waiting for.
Cramer and the AAP team are using this weakness to scale further into Microsoft (MSFT) - Get Free Report . Find out what they're telling their investment club members and get in on the conversation with a free trial subscription to Action Alerts PLUS.
Lightning Round
In the Lightning Round, Cramer was bullish on Intuitive Surgical (ISRG) - Get Free Report , Allergan (AGN) - Get Free Report , CVS Health (CVS) - Get Free Report , Paycom Software (PAYC) - Get Free Report and Huntsman (HUN) - Get Free Report .
No-Huddle Offense
In his "No-Huddle Offense" segment, Cramer said we're not in an ordinary market right now, and that fact is catching traders off guard.
Traders are, after all, creatures of habit and tend to stick with what they know and what's worked in the past. That means for industrial stocks, like Caterpillar (CAT) - Get Free Report , you sell into the rally and buy it back on the decline.
The problem is, today's market isn't seeing any declines, and stocks are solidly marching higher day after day. It's almost surreal how much power and velocity stocks like Norfolk Southern (NSC) - Get Free Report and Home Depot (HD) - Get Free Report have seen as of late.
This is not the first time the markets have seen this pattern however, as there were similar ones in the mid-1980s and mid-1990s. The real problem is, many traders don't remember those periods.
Search Jim Cramer's "Mad Money" trading recommendations using our exclusive "Mad Money" Stock Screener.
To watch replays of Cramer's video segments, visit the Mad Money page on CNBC.
To sign up for Jim Cramer's free Booyah! newsletter with all of his latest articles and videos please click here.
At the time of publication, Cramer's Action Alerts PLUS had a position in MSFT, FB, GOOGL, AAPL, NVDA, AGN.