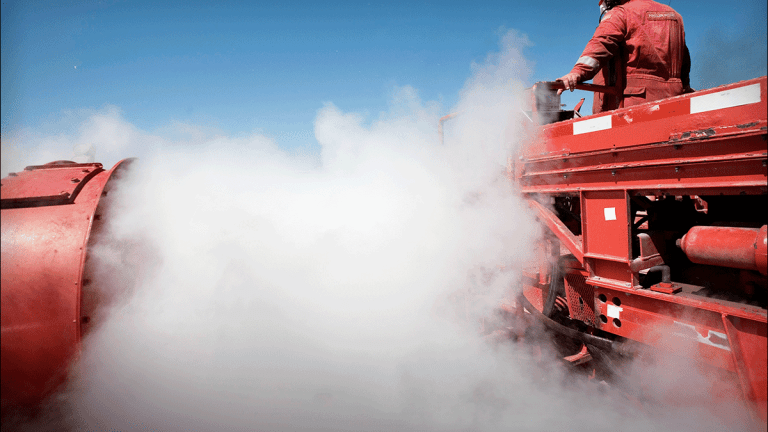 What Investors Need to Know About Oil, Halliburton and Earnings
With Wall Street back from the long weekend, the Action Alerts Plus team is filling in to help you navigate this week's market action.
Happy Monday! 
TheStreet founder and Action Alerts Plus portfolio manager Jim Cramer may be out, but Wall Street ticks on. Action Alerts Plus senior analyst Jeff Marks and research analyst Zev Fima have the market news you need to navigate your week. 
Halliburton Hits the Gas
Halliburton (HAL) reported stronger-than-expected first quarter revenues that benefitted from a surge in global oil prices. The energy company reported adjusted net income, excluding impairments and other charges, was $201 million, or $0.23 per diluted share. 
Marks said that Halliburton investors may find that the worst is behind them. "We're finally starting to see some stabilization where the investment cycle will move into their favor," Marks said.  
For more on Halliburton, head over to Real Money for comprehensive Stock of the Day coverage.  
And more on oil...
Oil Bubbles Higher
Oil prices tested six-month highs after the U.S. removes all waivers for countries purchasing Iranian crude oil. U.S. Secretary of State Mike Pompeo said countries have had more than enough time to wean off Iranian oil and the length of continued sanctions now depend on Iran. 
So what's an investor to do? 
Marks noted two themes to keep in mind for the rest of the week:
The price is a natural headwind to economic activity.
How higher prices at the pump will impact consumer activity. 
Earnings Recon 
In case you haven't heard, earnings season is in full swing. Marks and Fima break down the three earnings reports you can't miss this week, if you...you know, are busy.  
Topping the watchlist: 
Lam Research (LRCX) - Reporting After the Bell April 24
Amazon (AMZN) - Reporting After the Bell April 25
Boeing (BA)  - Reporting Before the Bell April 24
Related. Why This Market Is Not 'Overvalued', Plus a Play on Citigroup: Market Recon
Related. Bulls Still Have the Advantage but Earnings Season May Contain Some Landmines
Investing Education Quick Clips | A Playlist for Your Portfolio
N/A