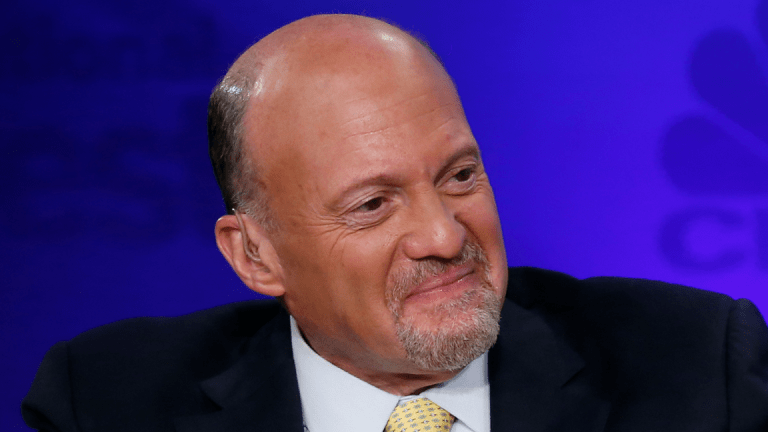 Learn From My Portfolio Mistakes: Cramer's 'Mad Money' Recap (Friday 12/29/17)
Jim Cramer has learned -- sometimes the hard way -- what works and what doesn't at Action Alerts PLUS. Here's how his thinking can help you profit.
What makes for a strong investment versus a weak one? When is a loss a good loss? These were some of the questions Jim Cramer answered for his Mad Money viewers Friday as he dedicated the entire show to learning from his wins and his biggest mistakes over the years of running his charitable trust, Action Alerts PLUS.
Cramer explained that Action Alerts PLUS is designed to be a diversified portfolio that seeks out the best ideas for value, income and growth. The fund donates all of its proceeds to charity every year.
Investing in individual stocks isn't for everyone, however, and Cramer said he's still a fan of owning index funds that mirror the market for those without the time or inclination to do their own research and pick their own stocks. For everyone else, however, read on.
Knowing Companies From Stocks
Cramer's first lesson to investors is about knowing the difference between a company and its stock. This is especially important in the pharmaceutical industry, where the promise of a blockbuster drug doesn't always translate into blockbuster profits.
Back in the 1980s, when the link was first made between cholesterol and heart attacks, the stock market paid little attention, Cramer explained. Ultimately, the class of drugs known as statins would become the best-selling drugs in history.
But that isn't always the case, and investors need to be leery of companies that live or die at the hands of Food and Drug Administration drug approvals. Always look for companies with robust drug pipelines and avoid those betting the farm on a single success.
Cramer recalled investing in Eli Lilly (LLY) - Get Eli Lilly and Company (LLY) Report on hopes the company's Alzheimer's research would be worth billions. As time has worn on, Lilly's obstacles to success seem to be mounting. Not knowing if or when Lilly might see success, Cramer said he sold the stock and moved on.
The lesson? If you're going to speculate, have a fallback position. If you're going to sell, wait for a bounce to sell at higher levels. Finally, the time to buy a drug stock is when expectations are low, not when everyone is excited about a potentially amazing new drug.
Knowing Right From Wrong
Cramer's next lesson for investors: telling the difference between right and wrong. This is certainly easy to do in hindsight, Cramer said, but in the heat of the moment, when emotions are high, things get a lot more complicated.
One of the great benefits of being an individual investor with a well-researched idea is you can afford to be patient and wait for the right time to buy and the right time to sell.
Cramer recalled buying Tyson Foods (TSN) - Get Tyson Foods, Inc. Class A Report for the trust in 2015 after the Tyson acquired Hillshire Brands in 2014. The thinking was to get in early before others realized how transformative the merger would be.
But the merger came together more slowly than expected and shares fell as the estimates were cut instead of raised. Cramer said he had a solid thesis and had done his homework, but failed to be patient enough to let that thesis come to fruition.
The lesson? Don't act on emotion and don't go against your homework. You can afford to be patient. Don't give up on your ideas before they have time to pan out.
Over on Real Money, Cramer writes that amid all this political brouhaha, it's simple: both parties should help people save money. Financial education and incentives to save are the two things that are truly missing from both sides of the aisle. Get more on his insights with a free trial subscription to Real Money.
Troubling Commodities
If you're investing in commodity stocks, it doesn't matter how well the company is doing, if the underlying commodity is falling, they're all going lower.
Cramer said he tried to buck this trend by investing in EOG Resources (EOG) - Get EOG Resources, Inc. (EOG) Report and Marathon Oil (MRO) - Get Marathon Oil Corporation (MRO) Report but was wrong on both counts. In the case of EOG, even having the best properties wasn't enough to ward off the collapse in oil prices. Meanwhile, Marathon's decision to spin off its refining business left it with no cushion to stem its losses.
Don't think you can outrun a commodity grim reaper, Cramer concluded.
On a more positive note, Cramer told viewers to never take short-term gains when you think a stock is worth a great deal more than it's selling for. He mistakenly sold Starbucks (SBUX) - Get Starbucks Corporation Report after booking a 50% gain, only to watch the stock soar thereafter. It is now, once again, an Action Alerts PLUS holding.
Defying the Odds
What can investors learn from stocks that defy the odds? In the case of Facebook (FB) - Get Facebook, Inc. Class A Report , Cramer said too many investors had given up on the company early on, despite assurances Facebook was rapidly switching to mobile adoption.
But even as investors fled, Cramer said he noticed that each quarter the numbers were improving while the earnings multiple was staying the same. "That's the best kind of situation," Cramer said.
Then there's Panera Bread, a company that had lost its way. But after interviewing Panera's CEO Ron Shaich, Cramer learned that at its new, remodeled "Panera 2.0" stores, the lines were out the door. As the rollout continued, earnings only got stronger. Never underestimate the power of a restaurant redo, Cramer concluded.
Finally, Cramer opined on Apple (AAPL) - Get Apple Inc. (AAPL) Report , a company that redefined mobile computing and is now redefining itself as a product and services company. Apple has spoiled investors with its success, Cramer said, but over the long run the company's services will be huge. That's why he continues to recommend owning Apple for the long term and not trading it quarter to quarter.
The lesson? Solid growth stories are hard to come by, but when you find them hang on for the ride.
Cramer and the AAP team say there will always be Apple bears, but this tech giant is still a great cheap option in the market. Find out what they're telling their investment club members and get in on the conversation with a free trial subscription to Action Alerts PLUS
Search Jim Cramer's "Mad Money" trading recommendations using our exclusive "Mad Money" Stock Screener.
To watch replays of Cramer's video segments, visit the Mad Money page on CNBC.
To sign up for Jim Cramer's free Booyah! newsletter with all of his latest articles and videos please click here.
At the time of publication, Cramer's Action Alerts PLUS had a position in LLY, FB, AAPL.