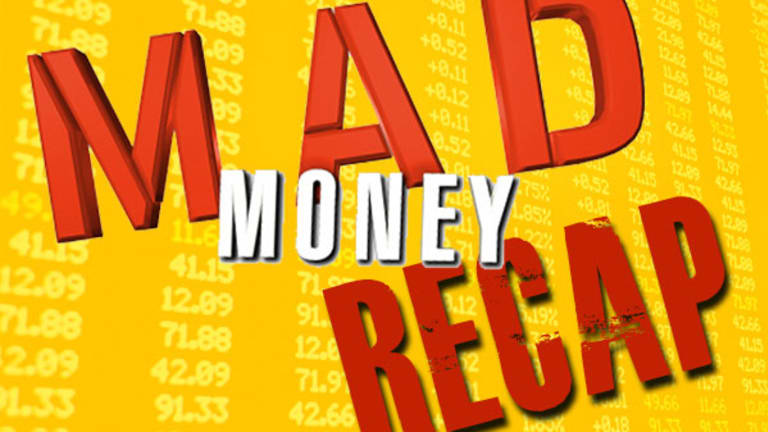 Jim Cramer's 'Mad Money' Recap: Want to Profit From Market Panic? Keep Your Head
Never confuse the day-to-day stock market action to the overall health of the U.S. economy, Cramer says.
Never confuse the day-to-day stock market action to the overall health of the U.S. economy, Cramer says.
Search Jim Cramer's "Mad Money" trading recommendations using our exclusive "Mad Money" Stock Screener.
NEW YORK (TheStreet) -- Never confuse the day-to-day stock market action to the overall health of the U.S. economy, Jim Cramer told his Mad Money viewers Monday, after a wild ride on Wall Street that saw the markets open sharply lower by over 1,000 points.
While the markets are clearly panicked over slowing global growth, here in the U.S., things are still doing quite well, Cramer noted. Our economy is growing, commodity prices are falling, employment is strengthening, interest rates remain low and housing continues to gain stream. Unlike the market crash of 1987, when the Dow Jones Industrial Average traded at 29 times earnings, the index today trades at a mere 13.8 times earnings and offers dividends yielding 2.6%, far better than Treasuries.
Even Apple (AAPL) - Get Report CEO Tim Cook sought to calm investors' fears today by sending Cramer an email that said Apple is not seeing weakness in China thus far and has actually been experiencing accelerating iPhone sales in July and August. Cramer owns shares of Apple for his charitable trust, Action Alerts PLUS.
So what has the markets in such turmoil? Cramer said first is the Federal Reserve, which continues to allow its members and former members to speak about seemingly anything that's on their minds. He called these comments irresponsible, noting that had Janet Yellen showed some leadership by making an official statement today, some of the market's losses would have certainly been stemmed.
Second is China, which, thanks to poor stock market management, is now repealing all of that market's recent gains. China will put a dent in global growth, Cramer said, but at least this time it's their banks that are in trouble and not ours.
Our stock market has had a huge run over the past few years, Cramer concluded, and that makes history not yet on the side of the bulls. That does not mean it's time to sell everything, however, and Cramer even advised starting to put some cash back to work at these lower levels.
Is This a Bottom?
After another tumultuous day in the markets, there's one question on investors' minds. Is this the bottom? Not likely, Cramer told viewers, as he tried to draw some comparisons to other recent market corrections.
First off, Cramer said the markets are not poised for another 60% decline like we saw in 2007. Back then, he reminded viewers, there was serious systemic risk with our banking system on the brink of collapse. That's not true today.
What about the 13% market decline in 1997, which was caused by what came to be known as the "Asian contagion," or the 1998 22% decline caused by the failure of hedge a major fund? Cramer said there are some comparisons to be drawn to these events, but more relevant is the 2011 decline spurred by insolvency fears in Spain, Portugal and Greece. That decline saw the markets fall by 17%, which is another 5% from today's levels.
Cramer explained that the three main threats to our markets are that the Fed doesn't rule out rate hikes this year, that China continues to prop up its inflated stock market and that the dollar resumes its trek ever higher. If all three of these events occur, then it's easy to see the markets falling another 5%. If not, then the bottom may be closer than most people think.
Cramer said it's still too risky for most investors to try and time the bottom. For those with a longer-term view, the risk of missing the move higher may be more than the risk of further downside, especially for high-yielding stocks.

What to Buy Right Now
No one wants to buy stocks when the markets look terrible, but that's exactly when you can make the most money, Cramer told viewers as he laid out a portfolio of stocks he'd consider buying right now.
Cramer said these recommendations are not a recipe for instant profits, but a plan for putting money to work slowly, to take advantage of the market's recent declines. It's more than likely things will get worse before they get better.
Cramer suggested starting with a company that offers stable growth such as General Mills (GIS) - Get Report, with a 3.2% yield, Pepsico (PEP) - Get Report, with a 3% yield, or even Kimberly-Clark (KMB) - Get Report. He was also bullish on Ventas (VTR) - Get Report, the REIT with a 5.6% yield, and Verizon (VZ) - Get Report, which yields 5%.
Next, Cramer suggested stocks that offer some domestic security including Kroger (KR) - Get Report, Home Depot (HD) - Get Report and Darden Restaurants (DRI) - Get Report.
Finally, Cramer said some high-growth names are worth nibbling at, including Apple along with Netflix (NFLX) - Get Report and Google (GOOGL) - Get Report, another Action Alerts PLUS holding.
What's Wrong With Wayfair
If the company that posted the single best quarter of 2015 can get annihilated in this market, what does that say about everyone else? That was the question Cramer posited to viewers as he looked into Wayfair (W) - Get Report, the online home goods retailer that was beloved by investors, up 106% for the year, before the last week sent shares reeling.
Wayfair knocked it out of the park when it reported, surprising Wall Street with 66% revenue growth, orders up 84% and both active and repeat customer numbers that could make even Amazon.com (AMZN) - Get Report blush.
But shares of Wayfair still fell 6.5% today because investors worried that red-hot growth may be coming to an end for this company that is not yet profitable. Given that shares are still up huge for the year, there's still a lot more room for Wayfair to fall.
That's why Cramer urged viewers to trade very carefully. If this once beloved stock can fall so sharply in just 10 days, its likely every stock in your portfolio can too. "Don't turn your gains into losses," Cramer concluded.
Lightning Round
In the Lightning Round, Cramer was bullish on Icahn Enterprises (IEP) - Get Report, Sysco (SYY) - Get Report and Constellation Brands (STZ) - Get Report.
Cramer was bearish on Synergy Pharmaceuticals (SGYP) - Get Report, Clarcor (CLC) and BE Aerospace (BEAV) .
No Huddle Offense
In his "No Huddle Offense" segment, Cramer took a cue from colleague and market technician Mark Sebastian to see if investors should indeed be fearful of today's sharp market selloff.
Astute viewers of Mad Money will know Sebastian from his work analyzing the CBOE Volatility Index, commonly known by its ticker symbol, the VIX. According to Sebastian, the VIX is throwing up some big red flags.
First, Sebastian noted what he called "recency bias," the trend where investors treat new spikes in the VIX just like all other recent spikes. Since most recent spikes have been short and muted, investors have been using them as quick buying opportunities.
But is this time different? Sebastian noted that only three times over the last decade has the VIX traded above its three-month average, the VXV. Those times were during the 2008 market meltdown, the 2010 flash crash and the 2011 U.S. debt ceiling debacle and all of which warranted taking profits and selling stocks.
Cramer said Sebastian's research is part of the reason why he's in no hurry to try and call a bottom in the market and start buying. He urged caution and restraint, telling viewers to buy in slowly.
To watch replays of Cramer's video segments, visit the Mad Money page on CNBC.
To sign up for Jim Cramer's free Booyah! newsletter with all of his latest articles and videos please click here.
At the time of publication, Cramer's Action Alerts PLUS had a position in AAPL and GOOGL.