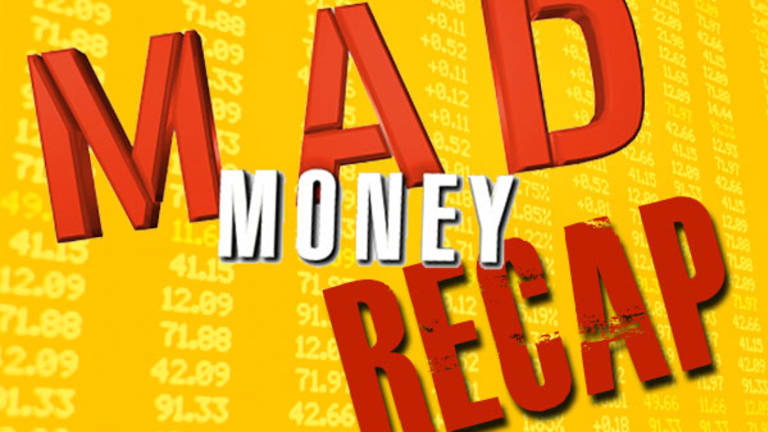 Jim Cramer's 'Mad Money' Recap: Use My Knowledge to Buy, Buy, Buy Wisely
Today 'Mad Money' is less about picking stocks and more about teaching investors how the market works so you can make the best investments.
Search Jim Cramer's "Mad Money" trading recommendations using our exclusive "Mad Money" Stock Screener.
This program last aired Sept. 14, 2015.
After telling investors, "There's always a bull market somewhere" every night for over 10 years, Jim Cramer dedicated his show to explaining to Mad Money viewers exactly what the show is designed to do, how to use it and how it has changed over the past decade.
"The show has changed over time," Cramer said. In the beginning, Mad Money was largely a show about stock picking, with Cramer opining on dozens of specific investment ideas every evening. But that changed after the Great Recession of 2008. Today, Mad Money is less about picking stocks and more about teaching investors about how the market works so they can make judgments on their own.
Cramer said he's still a big fan of stocks as an asset class, but he also acknowledges investing in individual stocks is not for everyone. There's certainly nothing wrong with buying an index fund if you don't have the time or inclination, or even the stomach, for the market's day-to-day gyrations.
Don't Invest Like Pop
So why talk about individual stocks at all when most people choose to just put their money in mutual funds of index funds and let the "pros" do all the work? Cramer said it's because we will always be tempted to own individual stocks to save or augment out paychecks. But doing it incorrectly can cost you.
That was certainly the case for Cramer's dad in the 1960s when the friend of a friend convinced Pop that a stock by the name of National Video was the "next big thing." After making an initial investment, then investing more and more as the stock soared, Pop eventually lost it all when National Video cratered.
How could this happen? Cramer said it's because Pop didn't know anything about National Video, didn't know how the company was really doing and didn't even follow the stock itself all that closely.
Tips are for waiters, not investing, Cramer concluded. Homework, on the other hand, is for everyone. If you can't do the homework, don't invest in individual stocks.
Cramer's First Stock Buy
The next stock that Cramer said helped shape Mad Money was an orange grower in Florida called American Agronomics. This was the first stock Cramer ever bought after saving up from his modest $153-a-week salary as a reporter. Cramer recalled how he could only afford to buy 10 shares of this $9 stock, but Forbes said the stock was a good one, so he invested... right before a frost wiped out much of Florida's orange crop that year.
Later, after receiving a job offer from a friend at SPS, a precision steel maker, Cramer learned that Wall Street hated this stock, which put it at odds with the booming business his friend was describing. That's called an edge, Cramer explained, and that's what good investing is all about.
Cramer said listening to what those in the media say about stocks isn't enough. Good investors need genuine insights that others might not have. Hard work and research often prevails.
First-Hand Knowledge
Cramer's next lesson for investors: Sometimes, great investment insights come from personal experiences and not from Wall Street research. Case in point: Gantos, a women's apparel retailer that Cramer said he tried to convince Pop to invest in while Cramer was a broker at Goldman Sachs (GS) - Get Free Report .
Cramer recalled that Pop would hear nothing about the stock, despite Goldman giving the retailer its top rating. Cramer said Pop was adamant that no one shopped at Gantos, and it took a trip to a local mall, where Cramer and Pop camped out for hours, to prove it.
Cramer said after their field trip he shorted Gantos and remained short until the company liquidated some time later. That's the power of first-hand experience coupled with research, all while tempered by skepticism.
Get Ready to Rotate
Cramer's final lesson for investors came from the first stock he bought as a new hedge fund manager, the stock of Heinz, now part of Kraft Heinz (KHC) - Get Free Report .
Cramer said when he first started out, he bought the stocks of solid, long-term performers like Heinz, stocks he could count on. But as the markets gyrated, Cramer learned a tough lesson: Hedge funds can't afford to sit still or their investors will flee. Funds need to keep moving, he said, and that means investing in what's fashionable today and rotating into what's going to be fashionable tomorrow.
But unless you're a professional money manager, you can't afford to be rotating in and out of stocks on a daily basis without getting eaten alive. You can, however, use these failings of hedge funds to pick up best-of-breed stocks at a discount. When the markets put great stocks on sale, that's the time home gamers can pounce and buy, buy, buy.
To watch replays of Cramer's video segments, visit the Mad Money page on CNBC.
To sign up for Jim Cramer's free Booyah! newsletter with all of his latest articles and videos please click here.
At the time of publication, Cramer's Action Alerts PLUS had no position in stocks mentioned.