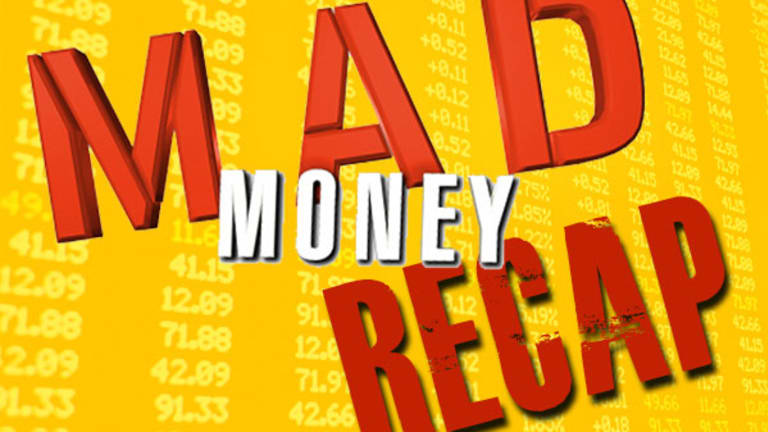 Jim Cramer's 'Mad Money' Recap: How to Profit From a Hideous Day for Stocks
Once things settle down, start picking through the rubble for the stocks that went lower but shouldn't have, Cramer says.
Search Jim Cramer's "Mad Money" trading recommendations using our exclusive "Mad Money" Stock Screener.
NEW YORK (TheStreet) -- Today was a hideous day for all stocks, Jim Cramer told his Mad Money viewers Tuesday, but it should've only been a hideous day for some stocks. That won't be apparent for a few days, Cramer added, but eventually the smart investors will start picking up the bargains.
With the advent of index funds, it's easy for the entire market to trade in unison in the short term. But over the long term, all stocks can't be bad at the same time. The U.S. dollar was strong today, but that means that the domestic names we liked earlier this year, mainly the restaurant and retail names, should be back in vogue.
If interest rates are inching their way higher, then the dividend stocks, like the consumer packaged goods, REITs and utilities should be good investments. Meanwhile, if you believe oil is back on the decline, then the airline stocks should start soaring again.
What happens if the Federal Reserve raises interest rates, something Cramer said would be a horrible idea given how our economy is weakening? Well, then the health care and biotech stocks, which are impervious to interest rates, should be bought.
Let the selling run its course, Cramer told viewers. Then, once things settle down, start picking through the rubble for the stocks that went lower but shouldn't have.
Using Your Noodles 
When a high-flying growth stock loses its mojo, there's no telling how low it can go. Case in point: Noodles & Company (NDLS) - Get Free Report, a stock which tripled in the days following its 2013 IPO, but ever since has failed to meet even its own expectations.
Noodles has missed estimates for six consecutive quarters, failing to beat on either the top or bottom line. The company's same store sales have been faltering, along with its gross margins, all leading to a 29% decline in the stock in just the past month, after the company reported its latest disappointment on May 5th.
So what's wrong at Noodles? Chalk it up to a management team that was way too optimistic and promotional just after its initial public offering but is now failing to execute.
On its latest conference call, management again tried to spin its ailing same store sales by noting that if you excluded weakness in three markets, sales were actually up 3.2%. What they failed to mention, however, was the three markets they excluded, which included their home turf of Colorado, account for nearly a third of the company's overall sales.
Yet, despite all its failings and its decimated stock, shares still trade at a hefty 32 times earnings, more than Chipotle Mexican Grill (CMG) - Get Free Report, which is growing far faster and is a far more reliable company.
Never buy a stock that has lost its credibility, Cramer warned. In the case of Noodles, investors simply cannot trust what management has to say given their horrible track record of predicting where they've ultimately ended up.
Short-Selling Shake Shack
What's behind the amazing run in shares of Shake Shack (SHAK) - Get Free Report to seemingly stratospheric valuations? No, it's not the fundamentals, Cramer warned, it's a flawed short-selling process.
Shake Shack has an extremely tiny number of shares available for sale, only 5.6 million. Of that "float," the underwriters of Shake Shack's initial public offering did an excellent job of placing many of those shares with believers in the company who are not prone to sell at the drop of a hat.
But despite this tiny number of available shares, nearly 43% of Shake Shack's shares are indeed sold short, betting on the company to make a misstep and prove their negative thesis correct.
So when the company delivered strong results, with an unexpected profit to boot, there simply weren't enough shares to go around. That forced brokers to close out short positions at any price, known as "bringing in" a position, sending the price soaring.
This buying frenzy is not normal buying, Cramer warned. It's caused by a flawed process that allows short-sellers to borrow such a large percentage of a stock. Things will change dramatically on July 29, when another seven million shares of Shake Shack are freed from lockup and are available to be sold.
Off the Charts
In the "Off the Charts" segment, Cramer went head to head with colleague Carly Garner over the direction of the euro in relation to the U.S. dollar. Ever since the euro's bottom in March, the bears have been pouring on the pessimism, but Garner feels otherwise.
Looking at a monthly chart of the euro versus the dollar, Garner noted that the current strength in the euro is nothing compared to historical trends. In mid-2010, the euro rallied from $1.18 to $1.50, while in 2008, it rallied from $1.23 to $1.51, each 30 cent moves that put our current 10-cent move in perspective.
Garner also noted two long-term floors of support at $1.06 and $1.04, each helping to prevent the euro from heading any lower. Looking at a daily chart of the euro added an additional support at $1.08.
Garner also looked at the commitment of traders report, noting that there are huge short positions in place, just as there were at the last two major bounce backs in the euro -- meaning the pattern of pessimism gone awry is likely to repeat itself, sending the euro up to $1.34.
Lightning Round
In the Lightning Round, Cramer was bullish on Prothena (PRTA) - Get Free Report, Cigna (CI) - Get Free Report, Six Flags (SIX) - Get Free Report, SBA Communications (SBAC) - Get Free Report, American Tower (AMT) - Get Free Report and Carrizo Oil & Gas (CRZO) - Get Free Report.
Cramer was bearish on Chesapeake Energy (CHK) - Get Free Report and Seadrill Limited (SDRL) - Get Free Report.
Executive Decision: Ed Heffernan
For his "Executive Decision" segment, Cramer sat down with Ed Heffernan, president and CEO of Alliance Data Systemsundefined, the marketing and loyalty solutions company with a stock that's up 19.6% so far in 2015.
Heffernan called Alliance Data the biggest company you've never heard of, the guts behind many of the largest loyalty programs out there, helping retailers collect information about their customers and drive incremental sales.
Heffernan said that while not all retailers use all of the services his company offers, Alliance Data is able to use its SKU-level knowledge of customers to reach out across multiple channels including social and mobile to deliver targeted messages.
In years past, much of a company's marketing was dedicated to broad brand messages, Heffernan noted, but those days are over and today, companies must use targeted campaigns to reach customers and potential customers.
Cramer said this has been a winning stock for ages and investors need to educate themselves on the company and all it does.
To watch replays of Cramer's video segments, visit the Mad Money page on CNBC.
To sign up for Jim Cramer's free Booyah! newsletter with all of his latest articles and videos please click here.
At the time of publication, Cramer's Action Alerts PLUS had no position in stocks mentioned.