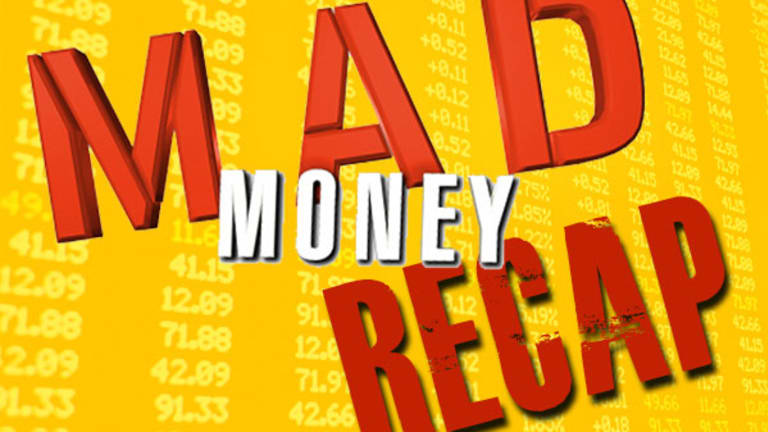 Jim Cramer's 'Mad Money' Recap: How to Build Wealth, Boost Retirement
Cramer's game plan for retirement includes knowing where to invest and when.
Search Jim Cramer's "Mad Money" trading recommendations using our exclusive "Mad Money" Stock Screener.
A version of this program aired April 10, 2015.
"Tonight I want to talk about the big picture," Jim Cramer said, dedicating his show to building wealth, the kind of wealth that can augment your paycheck and bolster your retirement.
Cramer said before you even consider investing in your future, you need to accomplish three very important tasks. First, he said you must pay off all your credit card debt. Even if you're a one-in-a-million investor, it won't matter if your gains are getting wiped out by credit card debt that carries near loan shark-caliber interest rates.
Next, Cramer said you must have health insurance. "Don't be a moron about this stuff," Cramer said. Medical emergencies are still the single biggest cause of bankruptcy in America.
Finally, Cramer said everyone must have disability insurance. Without it, he said, you could find your savings wiped out in an instant. You must be able to support yourself in you become injured and unemployed.
Fortunately, having a good job goes a long way to achieving all of these goals, as many employers offer insurance and a paycheck to help get out of debt.
Get Your Hands Dirty
Once you have your bases covered and are debt-free and fully insured, then it's time to start thinking about investing, Cramer continued. But what is investing? Cramer said it's a lot more than just having a percentage of your paycheck dumped into a 401(k) plan that you never look at. Just having an IRA or 401(k) is no longer enough, he said. Investors need to get their hands dirty, get involved and pay attention.
The goal of investing is to use the money you have to make even more money, and that doesn't come from passive investing. Cramer has often said that diversification is the only free lunch, and investors need to remain vigilant to assure their money is never concentrated in any one stock or sector.
One mistake many investors make is investing too much into the company in which they work. Cramer said no one should ever put more than 20% of their savings into a single stock. That was a mistake that many Enron and Eastman Kodak employees made and one you shouldn't repeat. Diversify before anything else.
Take a Risk
Cramer's next lesson for investors is all about risk. Conventional wisdom says that retirement savings are sacrosanct and should never be subjected to undue risk, but Cramer argued that being too prudent can become reckless.
Cramer said that when it comes to retirement, you're in a race against time. You need to amass the money you need before you retire. Loading up on Treasury bonds with only a 4% yield in your 30s and 40s just isn't going to get you to your goals.

How many bonds should investors have? Cramer said only 10% to 20% in your portfolio while you're in your 30s, adding 10% more in your 40s and 50s, ending with 40% to 50% by the time you retire.
Cramer also sounded off against so-called "stable index funds," a popular option that's likely in your 401(k) plan. Cramer said these "stable" funds sound appealing but often don't yield much more than a bank money market fund.
Timing Is Everything
Now that investors are ready to invest and know where to invest, Cramer offered some tips on when to invest. He noted that typically people invest evenly throughout the year, setting aside a portion of their paychecks every two weeks.
But Cramer said a smarter plan would be to invest twice as much as you usually would anytime the market falls by 10% or more. If the market stays down the following month, invest twice as much again, he advised.
Will these subtle changes won't make much difference over four or five years? Probably not, Cramer admitted. But over 40 or 50 years they could add up to tens or even hundreds of thousands of dollars added to your portfolio.
Paying attention and actively managing your money makes all the difference, Cramer concluded.
Your 401(k)'s Down Side
Cramer's final words of advice for investors involves the down side of your 401(k) plan. He said that while 401(k)s are great ways to invest thanks to their automatic and tax-free nature, they also incur lots of fees and typically only offer a handful of investment options.
Cramer said the best way to invest in your future remains a diversified portfolio of individual stocks that you control, assuming you have the time to put in one hour of homework per week.
But since 401(k)s also sometimes offer employer matches, investors should always take advantage of that free money, investing up to the match limit. Once that limit is reached, Cramer advised putting the rest of your savings into an individual IRA you control until you've reached the yearly contribution limits set by the Internal Revenue Service.
To watch replays of Cramer's video segments, visit the Mad Money page on CNBC.
To sign up for Jim Cramer's free Booyah! newsletter with all of his latest articles and videos please click here.
At the time of publication, Cramer's Action Alerts PLUS had no position in stocks mentioned.