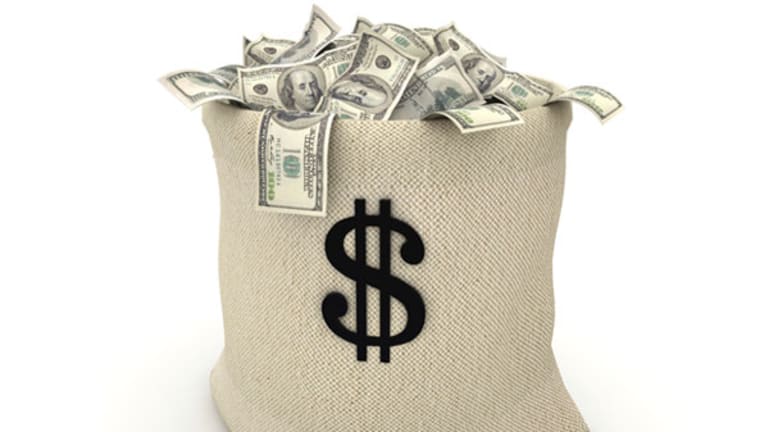 Jim Cramer's 'Mad Money' Recap: Here's Why Timing is Everything
Knowing when to buy and sell is one of the most important, and most frustrating, parts of managing your own money, Cramer said.
Search Jim Cramer's "Mad Money" trading recommendations using our exclusive "Mad Money" Stock Screener.
This program last aired July 7, 2014.
NEW YORK (TheStreet) -- "Investing is a lot like comedy. Timing is everything," Jim Cramer told "Mad Money" viewers. That's why he dedicated his entire show to going over the frequent errors that investors make when buying and selling stocks.
Cramer said that knowing when to buy and when to sell is one of the most important, and most frustrating, parts of managing your own money. That is likely the reason why there is an entire cottage industry of financial advisers telling investors that it simply cannot be done, that they should just put their money into index funds and leave it there forever. Cramer said that while index funds have their place, telling investors that they're the only way to make money is totally bogus.
Timing makes all the difference, Cramer explained. He said there's a big difference between buying stocks at the market peak in October 2007 and buying them at the generational bottom in March 2009. There's a difference between buying stocks before the European financial crisis began to rule the world's markets and after.
Cramer explained that one reason timing the markets is so hard is some of the best moments to buy are during the moments of greatest terror. He said that it's almost never the right time to sell when the markets are panicking. History has proven that whether it was the crash of 1987, the flash crash of 2010 or the attacks on Sept. 11, 2001, what worked best was to be prudent and not to panic.
Perhaps the only exception was the financial crisis of 2008. Cramer said he was widely criticized for telling investors to sell their stocks in October 2008 -- but with the entire financial world as we knew it on the brink of collapse, the call to sell proved to be the right one, and investors were able to side-step the additional 35% decline in the averages.
But other than that one special case, Cramer said dumping stocks into a selloff is always the wrong move. "Keep your head, because you will get a better moment to sell," he concluded.
Not the End of the World
Continuing with his tips for investors, Cramer said not every big decline in the markets signals the end of the world. That's why no matter what the crisis of the day, it's never a good idea to sell everything because not all stocks are equally good or equally bad.
When bad news hits, Cramer told investors to look at the stocks in their portfolios and rate them on a simple scale. Stocks you rate No. 1, for example, could be the ones you believe in and are worth buying more as they head lower. Stocks in the No. 2 camp could be those that could be sold if you needed to raise cash. Meanwhile, the No. 3s could be those that are expendable and should be sold now.
Cramer said that, as a general rule, if investors have big gains they should give them back. Ring the register, he said. If the fundamentals of a company have changed, sell. If you think a stock is headed lower, sell some and buy it back lower. But no matter what happens, never sell it all and hide in low-yielding bond or bank CDs.
Cramer recounted how he learned his lesson about not selling everything. He said in the 1990s he held shares of American Stores, the old Acme supermarket chain, hoping the company would be taken over. After years of losses, he finally gave up and sold all his shares, all at once. Just two weeks later, American Stores was taken over. Cramer said his mistake was selling it all.
Know What You Own
Cramer's next tip for investors is to know what you own. He said in today's media-driven world, investors simply should not own a stock unless they know why they own that stock. Why? Because the media has never met a negative story it didn't like.
Whether it's the tsunami in Japan or the European financial crisis, Cramer said investors should just assume that every story they see on TV or read in the papers has been exaggerated in some way. So unless investors know why they own a stock in the first place, it will be far too easy for them to bail out on their stocks at the first sign of trouble.
Cramer recounted what he used to call his "Bristol-Myers Theorem," derived from Bristol-Myers Squibb (BMY) , a drug company with the most consistent earnings imaginable. He explained that back at his hedge fund, anytime an associate would run in panicking about a negative story, he would always ask, "How does that affect the earnings of Bristol-Myers?" In just about every case, it didn't.
That's why Cramer often recommends reliable, consistent earning stocks with great dividends, stocks such as Kinder Morgan Energy Partners (KMP) , or Verizon (VZ) , or utilities such as Southern Company (SO) . Cramer said no matter what the negativity of the day, companies like these will allow investors to put those stories into perspective.
The Dangers of IPOs
Next up on Cramer's tips for investors: the dangers of initial public offerings. Cramer said he's often asked about the next hot IPO coming down the pike, but his answer is always the same: "What price are they offering and how many shares are there?"
When it comes to IPOs, Cramer said it's all about valuation, the number of shares offered and price. He said what starts out as a great offer at $20 a share can easily get hyped up to $25 a share right before it comes public. The IPO business also has a habit of limiting the number of shares offered to ensure a big first-day pop in the share price, a pop that will only hurt investors later on.
Cramer gave his usual advise: If you can get in on one of these "sliver" offerings (described above), do so, but never buy them in the aftermarket.
Case in point, the Groupon (GRPN) IPO. Cramer said he never liked Groupon the company, but Groupon the IPO was a buy, buy, buy. Why? He explained that while Groupon had 640 million shares of stock outstanding, the IPO only offered a scant 40 million of them to the public.
The result was huge demand, which sent shares of the $20 IPO to $28 and then $30 a share on its first day. This was a great return for those in on the IPO at $20, but those who bought at $28 and $30 were crushed as shares slid to under $15 a share in the days that followed.
Few Are Forever
Cramer's final tip for investors was that only a few stocks should be held forever. He said it's not OK to own a stock unless investors know exactly what would make them sell it in the future.
Too often investors end up selling a stock at the wrong time because they never anticipated selling it in the first place, Cramer explained. Similar to the "Bristol-Myers theorem," if investors don't know what they own and why they own it, it's easy to panic at the first sign of trouble.
In particular, Cramer said high-flying tech stocks cannot be owned forever because technology changes too rapidly. What's red-hot this year likely won't be next year. Likewise with cyclical stocks, said Cramer. Just because the economy is great today doesn't mean the same will be true tomorrow.
"Tech stocks are not the same as staple stocks," Cramer explained. There are tech cycles and there are economic cycles, he said, but there aren't cycles for Cheerios or Hershey bars. Learn from the dot.com bust of 2001 -- investors need to be ready to sell when the time comes, Cramer reminded viewers.
When it comes to high-flying stocks, "take profits on the way up, get out on the way down and be ready to jump ship when the time comes," Cramer concluded.
To watch replays of Cramer's video segments, visit the Mad Money page on CNBC.
-- Written by Scott Rutt in Washington, D.C.
To email Scott about this article, click here: Scott Rutt
Follow Scott on Twitter @ScottRutt or get updates on Facebook, ScottRuttDC
At the time of publication, Cramer's Action Alerts PLUS had no position in stocks mentioned.