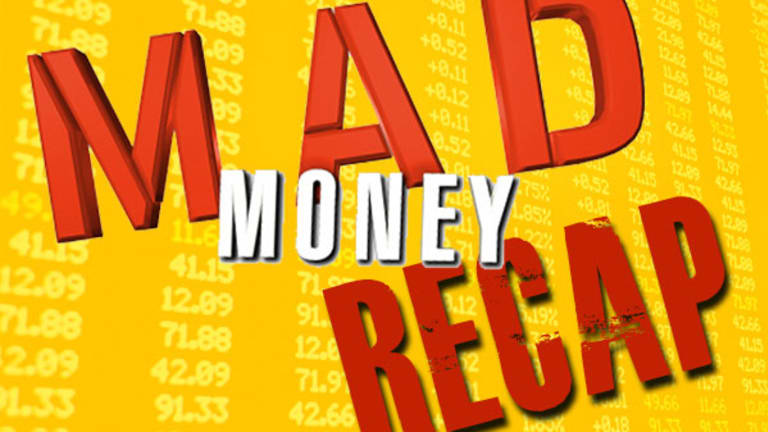 Jim Cramer's 'Mad Money' Recap: Don't Take It Personal but Your Stocks Are Going Down
It's not that you haven't picked great stocks, the market just stinks and is acting irrationally, Cramer confides.
It's not that you haven't picked great stocks, the market just stinks and is acting irrationally, Cramer confides.
Search Jim Cramer's "Mad Money" trading recommendations using our exclusive "Mad Money" Stock Screener.
NEW YORK (TheStreet) -- It doesn't matter how well the companies in your portfolio are doing, chances are they are heading lower, Jim Cramer told his Mad Money viewers Thursday.
Don't take it personally, Cramer confided. It's not that you haven't picked great stocks, the market just stinks and is acting irrationally.
Case in point: the Volkswagen (VLKAY) emissions scandal is taking the stocks of all automakers lower. But with consumers furious with VW, wouldn't that mean better sales for the rest of the industry?
Or how about shares of Boeing (BA) - Get Report, which are stuck in the mud despite the company just receiving a $38 billion order from China for their most lucrative planes.
And whatever happened to dividend protection? Merck (MRK) - Get Report is down 11% on the year despite its 3.5% dividend yield. Dividends used to make all the difference, but apparently not any more.
Finally, Cramer cited a host of strong earnings that the markets ignored, including AutoZone (AZO) - Get Report, Darden Restaurants (DRI) - Get Report and Carnival Cruises (CCL) - Get Report.
Eventually, the market will return to rational investing, Cramer concluded, but it may be a little while until we get there.
Why Pick on Eli Lilly?
Is it possible to be too negative on a stock? It is if that stock is Eli Lilly (LLY) - Get Report, the big pharma name that's been a virtual punching bag for investors for years.
Lilly's problem has been the fact that two of its biggest drugs, Cymbalta and Evista, lost patent protection last year, taking almost 30% of Lilly's profits along with it. Investors feared that Lilly had nothing in the pipeline to replace these blockbusters drugs, and up until recently they've been right.
But last Thursday, Lilly released more positive data for its diabetes drug Jardiance, news that sent shares up 6.5% on the day and a full 23% for 2015. While Jardiance is already on the market, analysts now predict the drug could hit peak sales of $6 billion a year, thanks to its new cardiovascular benefits. Impressive, Cramer noted.
Then there's Lilly's Alzheimer's drug, which is also showing positive results in at least slowing the progress of a disease with very few options.
Cramer said Lilly's diabetes and Alzheimer's prospects combined translate to estimates that are too low, which makes the stock that trades at 24 times those earnings also too low, especially given its 2.3% dividend.
More Pain for Caterpillar
It doesn't matter how good your products are if your clients don't need it, Cramer told viewers. That certainly looks to be the case with Caterpillar (CAT) - Get Report, which today announced a huge revenue shortfall and the laying off of over 10,000 workers as the company struggles with three years of falling sales.
Caterpillar is a victim of the decline in mining and manufacturing, Cramer explained. The coal industry continues to shrink faster than anyone thought and the need fro heavy oil just isn't economical at lower oil prices.
In fact, Caterpillar's only bright spot was construction, but even there the strength appears to be a domestic-only phenomenon.
So what should investors do with this stock that's now down 28% for the year with a 4% yield? Cramer said normally, he'd be telling you to buy, buy, buy, but in this case, the revenue forecasts may still be too optimistic, which means there's likely a lot more pain ahead for Caterpillar as it right-sizes its operations for the new global realities.
Tough Times for Timken
Having an activist investor involved with your company doesn't always yield positive results, Cramer said, as he outlined the unfortunate saga of Timken, the steel maker he visited a few years back.
Timken used to be the typical steel maker, Cramer recalled, but after the Great Recession, the company grew beyond just commodity steel and into being a solutions provider of value-added steel and alloy components. The company's strategy was working well, with the stock hitting all-time highs in 2011.
But then the activists arrived, pressuring Timken to break its now-two businesses into two separate companies. Despite heated objections from management about the scale and shared knowledge between the two entities, the company was forced to split into TimkenSteel (TMST) - Get Report and The Timken Company (TKR) - Get Report in July 2014.
Shares of Timken traded at $67 just before the split, and after a brief rise have been falling ever since. The two stocks today trade for a combined $38 a share, or a 50% loss.
Lightning Round
In the Lightning Round, Cramer was bullish on Cypress Semiconductor (CY) - Get Report, Radius Health (RDUS) - Get Report, Yahoo! (YHOO) , International Business Machines (IBM) - Get Report, Consolidated Edison (ED) - Get Report and Dominion Resources (D) - Get Report.
Cramer was bearish on Blue Buffalo Pet Products (BUFF) , Huntsman (HUN) - Get Report, New Senior Investment Group (SNR) - Get Report and Aqua America (WTR) - Get Report.
Executive Decision: Dr. Phillip Frost
For his "Executive Decision" segment, Cramer spoke with Dr. Phillip Frost, chairman and CEO of Opko Health (OPK) - Get Report, a stock that's been more than cut in half after the company announced the acquisition of Bioreference Labs earlier this year.
Frost said that Bioreference has been the "most interesting" acquisition he's ever made. For a 14% dilution of its stock, Opko receives $1 billion in revenue and $100 million in operating income, as well as 400 dedicated salespeople to help spread the work about the company's products.
Frost reiterated that Opko's prostate tests have the potential to eliminate up to 50% of all prostate biopsies performed every year, a great savings to both patients and the health care system.
Cramer said the synergies between the companies make a lot of sense and he remains a believer in both Frost and Opko.
To watch replays of Cramer's video segments, visit the Mad Money page on CNBC.
To sign up for Jim Cramer's free Booyah! newsletter with all of his latest articles and videos please click here.
At the time of publication, Cramer's Action Alerts PLUS had no position in stocks mentioned.