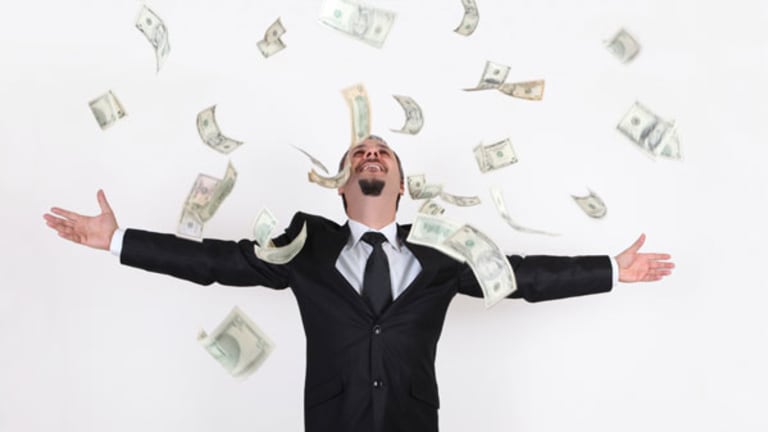 Jim Cramer's 'Mad Money' Recap: 5 Companies To Bank On
Cramer celebrated another high for the Dow and CNBC's 25th anniversary with five can't-miss stocks.
Search Jim Cramer's "Mad Money" trading recommendations using our exclusive "Mad Money" Stock Screener.
NEW YORK (TheStreet) -- On a day where the markets hit new all-time highs and CNBC celebrated its 25th anniversary, Jim Cramer told his Mad Money TV show viewers that he's got a list of five companies worth banking on.
First on the list was Starbucks (SBUX) - Get Free Report, with its "bankable" CEO Howard Schultz. Cramer said Starbucks' shares may be stalled, but that's only an opportunity to buy. He's betting on the company's technology, teas and expansion plans to propel this stock a lot high than its current 26 times multiple.
Second was Facebook (FB) - Get Free Report, a stock which Cramer owns for his charitable trust, Action Alerts PLUS. Cramer said Facebook has a monopoly on, well, you, and chances are you're totally OK with that. Facebook has been talking a lot about earnings as of late, and that's just what the markets want to hear.
Next up was Oracle (ORCL) - Get Free Report and its CEO Larry Ellison. Oracle may be perceived as "old tech," but the company has a new cloud focus and at 14 times earnings, is worth buying, said Cramer.
Fourth was Google (GOOGL) - Get Free Report, another Action Alerts PLUS holding. Cramer said Google does invest in too many things and appears to lose focus, but the company still could own the world, or at least the parts that Facebook doesn't own.
Finally, Cramer recommended Warren Buffett and his Berkshire Hathaway (BRK.B) - Get Free Report. He said Berkshire is one of the few stocks you can buy and just tuck away and forget about.
Executive Decision: Steve Singh, Concur Technologies
For his "Executive Decision" segment, Cramer spoke with Steve Singh, chairman and CEO of Concur Technologies (CNQR) , the momentum stock that's fallen over 37% from its highs just two months ago, despite delivering a penny-a-share earnings beat on better than expected revenues and reiterating their full-year guidance.
Singh said he feels the pain Concur shareholders are going through at the moment, but he remains focused on building a great business, one that offers great long-term value to customers. As long as he does that, the value in their shares will be realized, Singh continued.
Singh noted that while Concur certainly has competition, they are slowly becoming the standard for travel management, driving down costs for businesses and making it easier for business travelers.
Concur offers an open platform that allows travelers to go anywhere they want to book their travel, Singh said, but still tracks 100% of their spending, bringing together all of the information and expenses into one place. Partners, he said, take their open platform and build on it to deliver even more value.
Cramer said its clear that Concur owns the market for business travel. When momentum stocks come back into favor, he said, profitable companies like Concur will be leading the charge higher.

Learning from 3M
Investors can learn a lot from a company's conference call, Cramer told viewers, especially when that call is from 3M (MMM) - Get Free Report. Cramer called 3M's latest call a clear, concise education on what every conference call should sound like. That's why 3M is an Action Alerts PLUS holding.
First off, 3M stated that has organic growth, the best kind, from all divisions and in all geographies. Cramer said investors should always be weary if growth stems from only one part of a company or from one region.
Next, the company said they remain focused on long-term profitability, informing investors that they're investing for the future, but also returning excess capital to shareholders. Cramer said this was also music to his ears.
3M also saw strong margins that were higher than last year, a sign the company continues to know how to run its business well. 3M delivered high growth from traditionally low-growth categories, Cramer noted.
Finally, 3M talked about raising its dividend and continuing its share repurchase program, while reaffirming their forecast and mentioning that they're always looking for strategic acquisitions.
Cramer said everything on 3M's call was exactly what he, and all shareholders, should want to hear from the companies they own. There were no excuses, he said, only explanations. Nearly a third of 3M's revenues stem from products that didn't exist just five years ago. With innovation like that, Cramer said its safe to assume 3M will be having conference calls like this one for many years to come.
"If all calls were this good, picking stocks would be easy," Cramer concluded.

Executive Decision: Andrew Mooney, Quiksilver
In his second "Executive Decision" segment, Cramer sat down with Andrew Mooney , president and CEO of Quiksilver (ZQK) , the youth apparel retailer with big turnaround plans. Shares of Quiksilver are up 86% over the past two years.
Mooney, formerly with Nike (NKE) - Get Free Report and Walt Disney (DIS) - Get Free Report, said that what attracted him to Quiksilver a little over a year ago was the company's strong margins and its three great brands. He said that while Quiksilver will not be an overnight success story, there is a lot of opportunity ahead.
Emerging markets is one place Mooney is putting a lot of emphasis. He said Quiksilver's brands and the surfing lifestyle translate well overseas and that's something they can capitalize on.
When asked about the fickle teen retail consumer, Mooney said that he sees Quiksilver as more than just teen apparel. The brands carry over very well to those in their 20s, he noted. And even with this year's brutal winter, Quiksilver was still able to grow.
Cramer said if Mooney is able to get it right, shares of Quiksilver could be a lot higher.
Lightning Round
In the Lightning Round, Cramer was bullish on Chesapeake Energy (CHK) - Get Free Report, Baidu.com (BIDU) - Get Free Report, Sirius XM Radio (SIRI) - Get Free Report and Helmerich & Payne (HP) - Get Free Report.
Cramer was bearish on Weibo (WB) - Get Free Report and Tesla Motors (TSLA) - Get Free Report.
No Huddle Offense
In his "No Huddle Offense" segment, Cramer said that spending and competition have been the kiss of death this earnings season, and if companies in your portfolio mention these two words, look out below.
That was the case with eBay (EBAY) - Get Free Report, which is lowering fees to fend off competition in auctions and at its StubHub property. Cramer said eBay deserved every bit of its 5% decline today.
3D Systems (DDD) - Get Free Report said it had to sacrifice margins to grow its top line. Cramer said that's bad news for an industry that's supposed to be growing like a weed.
And what about Twitter (TWTR) - Get Free Report announcing that its spending like crazy to shore up its brand? That stock sunk 8.5% today.
-- Written by Scott Rutt in Washington, D.C.
To email Scott about this article, click here: Scott Rutt
Follow Scott on Twitter @ScottRutt or get updates on Facebook, ScottRuttDC
At the time of publication, Cramer's Action Alerts PLUS had a position in FB.