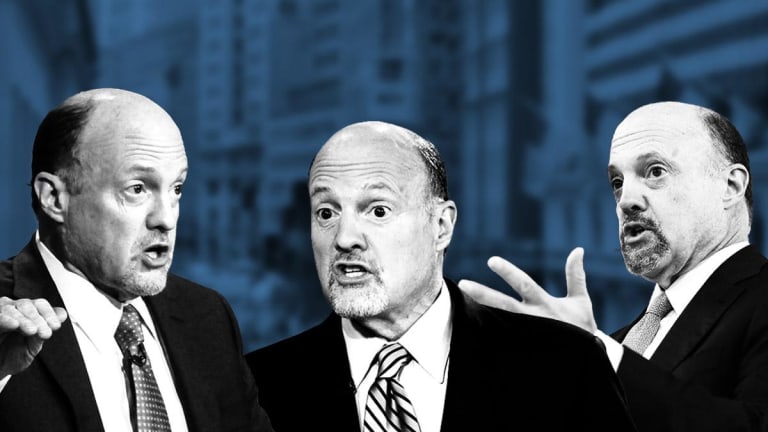 Jim Cramer Unveils His 5 Ways to Spot a Stock Market Bottom
These signals tell you that 'we are at last at the right level' to buy, Jim says.
Jim Cramer has unveiled his "Five Ways to Spot a Market Bottom," saying that he's learned to look for "five signals [that] allow us to say: 'Go ahead, be bigger here. We are at last at the right level.'"
"When you look at all of [the current market and economic] variables, I think you have to come out pretty darned positive. [That's] why I thought that we were hitting a bottom last week and were ready to run again," Cramer said in his latest private call with members of his Action Alerts PLUS club for investors.
"We [recently] turned buyer -- not seller -- and have pretty much stayed that way," the stockpicker said. "In fact, hardly a moment goes by when I don't pester my team with: 'What can we buy?'"
Cramer said that's because current market conditions have mostly met his five rules for spotting a market bottom:
Rule No. 1. Don't stay too negative when the market sees a crescendo of sell volume and noted bears have begun to turn bullish.
Rule No. 2. Concentrated, large buying from insiders can't be ignored and most likely should be embraced.
Rule No. 3. When a particular company faces a persistent parade of bad corporate news but its stock stops going down, you have the possibility of a very good, lasting bottom.
Rule No. 4. Look for high-quality companies that have become "accidental" high yielders -- offering 4% or better yields not due to dividend hikes, but because their stocks' prices have fallen so much.
Rule No. 5. If a company with a good track record of buying back stock announces a new buyback program (especially one representing more than a fifth of the firm's market capitalization), management likely believes that the stock has bottomed out.
To learn more about how to apply these rules to your own investing plan, sign up a free 14-day trial to Action Alerts PLUS and watch a replay of Cramer's video conference in its entirety.
Joining Action Alerts PLUS gives you automatic access to all of Cramer's monthly private video-conference calls, in which the expert gives his latest market outlook and answers e-mailed questions from club members. Becoming an AAP member will also provide you with a host of other benefits, including:
A complete rundown of all of stocks that Jim holds in his charitable trust;
E-mail alerts that give you a chance to buy or sell any stock before Jim makes a trade for the trust;
Custom research throughout the trading day from Jim and his team of stock-market analysts. You get to see what Jim sees every market day as he and his team make investment decisions.
Click here to join Action Alerts PLUS today!
(This article has been updated.)
Watch Jim Cramer's Daily NYSE Show and Replays Below
Employees of TheStreet are restricted from trading individual securities.