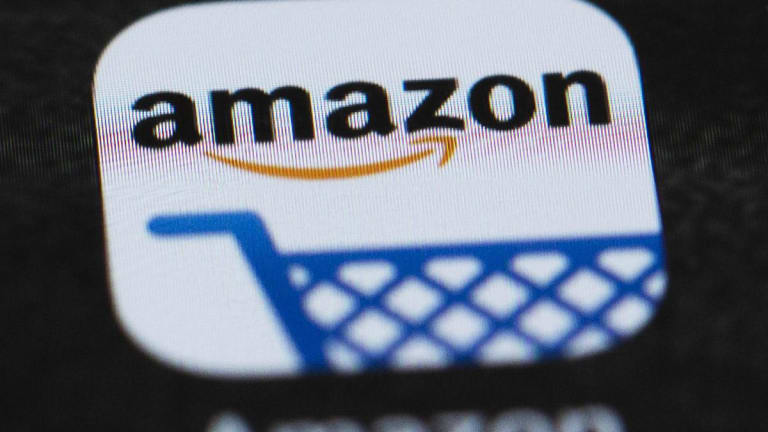 Jim Cramer Says 'Amazon's Never Been Cheap'
Cramer talked FANGs, cannabis and more Saturday at his live Boot Camp for Investors in New York.
Jim Cramer held a boot camp for investors Saturday in New York. Here's a recap of our blog from the event:
What Investors Should Know About FANG
"I believe that Amazon (AMZN) - Get Amazon.com, Inc. Report is taking initial steps" to compete with Splunk (SPLK) - Get Splunk Inc. Report , said Paul Rodriguez, managing director at Arthur W. Wood Co. But he added that Splunk, which makes software to help companies analyze big data, is light years ahead of Amazon in its area.
"One of the biggest themes that we invest on is network effect," said Naomi Shah, an analyst with Union Square Ventures.
TheStreet's Eric Jhonsa, who was a panelist, discussed earnings from Netflix (NFLX) - Get Netflix, Inc. (NFLX) Report , which come out on Tuesday. Jhonsa will be covering the Netflix earnings, but he gave a lead-up to the earnings.
"Netflix is only focused on the streaming opportunities," he said. Jim Cramer, the moderator, asked Jhonsa why no one snapped up Netflix when they could.
"They didn't realize that they were creating a monster," he answered. 
"I think Adobe (ADBE) - Get Adobe Inc. Report and Salesforce (CRM) - Get salesforce.com, inc. Report have been going at it for a while," said Jhonsa. 
Cramer said that he was interviewing someone a while ago and at the bottom of her resume it said, "fluent in Salesforce."
"Watch what AWS and Microsoft are doing," Rodriguez warned after Shah said that Salesforce was in its element.
"Amazon's never been cheap," Cramer said. When you buy Amazon, you have to hope that CEO Jeff Bezos knows something that you don't, he added.
"I don't think social media will ever go away," Shah said. "I think people will want to continue to know about each other."
"I think that the number of minutes that people using social media won't go down, but the distribution will change," Shah said. 
"In cloud infrastructure, it's not a winner-take-all game," said Jhonsa about the so-called Cloud Kings.
Debra Borchardt, founder of Green Market Report, Hosts a Panel on Cannabis Companies
The industry is set to grow enormously, according to the panelists.
When cannabis companies are public, there's visibility and liquidity in buying the stock. Investors should understand the management team's approach. 
Borchardt pointed out that many cannabis stock investors focus on which companies have brands strength, hanging their hats on the idea that brand strength will see cannabis companies through. 
Here's another key element to consider when picking cannabis stock: science and product type. How do consumers know what's actually in the product and where the ingredients came from? The companies that make those things clear will have some advantage over others with consumers. 
One of the advisors says that a lot of investors are investing broadly in the cannabis industry, rather than keying in on which companies are best. Different geographies have different regulations, which sometimes put restrictions on revenue growth, he said. Plus, some companies, due to differing costs in different geographies, have different gross margins from another company. 
Also, getting onto the shelves are of a larger retailer will require having the right disclosures on products. Walmart (WMT) - Get Walmart Inc. Report said it wants to sell cannabis products in some of its Canada stores, so watch out for which companies are able to get onto Walmart's shelves. 
The beverage product category may also emerge as a lucrative part of the cannabis business, as many vendors say they're keeping their eye on consumer demand for cannabis beverage products. 
Here are some more keys to understanding the industry, and which individual stocks to buy:
Scale and branding are important. 
"This is a $70 billion industry and nobody has 1%" market share, said a CEO. That's very rare for a industry, which means that it's likely that a few players will emerge as dominant. Investors should look out for those payers. 
Jim Cramer Sits Down With Bruce Linton, CEO of Canopy Growth, and Bill Newlands, COO of Constellation Brands
Jim Cramer had a fireside chat with Linton and Newlands. 
The interviews kicked off with a video showing Snoop Dogg to promote Canopy Growth (CGC) - Get Canopy Growth Corporation Report . 
"We were skeptical too," Bill Newlands, COO of Constellation Brands (STZ) - Get Constellation Brands, Inc. Class A Report about partnering up with Canopy to create cannabis-infuse d products.
"We looked carefully at all of the players," Newlands said. "If we are going to play" we are going to play with the "biggest player."
"It's a big first step," Canopy Growth's CEO, Bruce Linton told Jim Cramer about the October 17 legalization of cannabis. 
"Growing cannabis is going to be important, but so is distribution," said Linton. 
"Why buy the asset when I can acquire the inventory cheaper?" He continued. "You're going to have winners and losers based on distribution."
We want to "make sure that Canopy is the worldwide leader in cannabis," said Newlands about the beverage company's partnership with Canopy. "Largely, this is going to be through Canopy." 
"I know your team and your team is deeply focused on double digit growth," Cramer said to Newlands. 
Newlands responded that he believes that the cannabis business will be a multi-billion dollar business.
"I love the word disruption," Linton responded to Cramer. Linton continued that he believes that cannabis will help consumers that are going through cancer treatments, geriatric patients and the alcohol industry.
"If you have crappy, poor ingredients, you can mask it in chocolate or a gummy bear," said Linton. 
"It'll be about which kind of bar you want to go to, what kind of party do you want to throw," said Linton about the future of cannabis. 
"Why not make things as socially normal as possible?" Linton said about the partnership to create cannabis-infused drinks. 
Watch Below: Gatorade-Like Cannabis Drink to Soothe Aches? Constellation Brands Says 'Yes'
Linton added that he personally invested heavily in Constellation because, if the partnership doesn't work out, then he suffers too.
"Market after market" is getting into cannabis, either for medical reasons or recreational reasons, Newlands said.
Linton then talked about the fact that the New York Stock Exchange would not let Canopy Growth touch the bell because it's a cannabis company.
"If you're able to give a consumer a beverage with no calories that has mood alteration," that's going to be interesting, said Newlands.  
"About a third of our share price is cash," said Linton when asked about the financials. He followed up by saying that Canopy is a value stock in the cannabis space.
"We shielded ourselves with the credibility of others," said Linton. He points out that the company going public on the New York Stock Exchange, have Deliotte as an auditor and team up with Constellation are all ways that the company has protected itself. 
"There will be delivery in teas and waters," said Newlands. He followed up by saying that it's "dangerous" to combine alcohol and cannabis. So, the company may create cannabis-infused drinks that look like beer or wine, etc. but the distinction is that there will not be any alcohol in the drinks. 
Cramer asked if it would be possible to get a gatorade-like cannabis infused drink that would help to reduce swelling after a workout or a sport-like activity. 
"The answer is a definitive yes," responded Newlands. 
"We've shown that we can get the dosage" right, said Linton when asked by Cramer whether or not Canopy was able to lock down the amount of cannabis in medical products. 
"Prohibition is over in Canada in three or four days," said Linton.
Let's Talk Retirement
Robert Powell, the columnist of Retirement Daily, hosts a panel about retirement investing, with experts, Robert Dannhauser, Head of Global Private Wealth Management at the CFA Institute, Anthony Davidow, Vice President at Charles Schwab Center For Financial Research, and Rob Norton, Chief Investment Officer of Wealth Advisory Group.  
The panel talked about investors getting towards retirement. The panelists said that it's wise to pivot more into income and less into a capital gains approach to take less risk. Finding strong dividend yielding stocks is always a good approach.
Also, diversify the sources of income. Annuities may get a bad wrap, but those products can be really productive for a portfolio. Don't be in annuities for 100% of your portfolio, but there are some annuities that are fairly cheap towards the end of life, where the income provided enables you to live through. 
"I wouldn't invest in anything unless I understood it," said Davidow.
Jim Cramer Sits Down With Jeff Marks
Jeff Marks is the lead analyst for Jim Cramer's Action Alerts Plus Members Club.
Marks talked about what it's like to talk with Cramer and how the Action Alerts Plus team looks at trades.
"Back in April, we were really trying to recommend Amazon (AMZN) - Get Amazon.com, Inc. Report ," Marks said. Cramer followed up saying that he was receiving hate mail for it because people didn't understand why Cramer was interested in the online retailer.
Cramer and Marks broke down the Club's choice to buy Salesforce (CRM) - Get salesforce.com, inc. Report .
The two industries that people have been getting out of is autos and home, said Marks. He said that the Club prefers Honeywell because Amazon likes Honeywell HON and uses its products to build the warehouses.
Watch Video Above: Cramer and Marks discuss Nvidia.
"I think Nvidia (NVDA) - Get NVIDIA Corporation Report is going to miss the quarter," Cramer said in response to an audience question.
"We put [Nvidia] right back into our bullpen...because there's still so much there," said Marks.
"We learn from our mistakes!" Cramer announced. "I am not going to get Facebook'd by Nvidia."
Trading Strategies Panel
Charles Schwab sponsored a panel on trading strategies. The panel was hosted by TheStreet's Robert Powell, who writes Retirement Daily. 
"I was America first before Donald Trump was America first," said Ed Yardeni, president of Yardeni Research.
The full Trading Strategies Panel will come out on TheStreet on Tuesday, Oct. 16 at 11 a.m. The panel discussed the panic that many investors have had and focuses on what investors should be paying attention to in the coming year as the Fed plans to hike rates and the market shows some weaknesses. 
"When the markets act like this, guess what? You're in a fist fight," said Real Money contributor Stephen Guilfoyle. 
Jim Cramer Takes the Stage
The Fed rate hikes  are "very, very worrisome" according to Cramer.
"The .01% CPI this week, that's the inflationary pressures taking care of themselves. We don't [need] the Fed to [raise rates]," Cramer told the audience at the teach in.
Cramer's speech is a teaser for the Action Alerts Plus call that he's hosting on Thursday, Oct. 18.