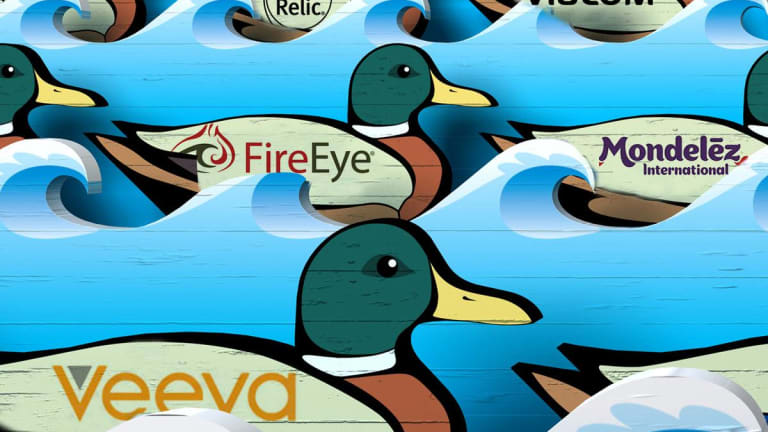 Jim Cramer's Top Takeover Targets for 2019
Trade tensions with China and a weaker economy could lead to a scarce M&A market in 2019, but tech, media and consumer deals could still trickle out.
Trade tensions with China, coupled with what Jim Cramer, founder of The Deal's parent company, TheStreet Inc. (TST) - Get Report , sees as a weakening economy, will likely not present a favorable market environment in 2019. 
And unfortunately, this means the year to come will see a "paucity of deals." 
"Given that M&A is such a major prop to the market and that there are so many industries I just don't see deals in much longer, I have to refrain from even demonstrating faux enthusiasm," Cramer opined to a crowd of dealmakers and advisers at JW Marriott Essex House. "I just don't want to lose anyone money by going out on a limb and recommending takeover targets when I suspect that there would be real earnings risk come 2019."
Nevertheless, a few deals may trickle out during the course of 2019.
To be sure, in 2017, Cramer predicted that the U.S. Department of Justice would lose its case seeking to block the merger of AT&T Inc. (T) - Get Report  and Time Warner Inc. (TWX) , suggested that Arconic should be bought, and said Integrated Device Technologies would not be independent for long.   
The AT&T-Time Warner deal has closed despite a pending appeal by the Justice Department, Arconic Inc. (ARNC) is reportedly weighing offers from private equity consortiums for all or some of its business after agitation from Elliott Management Corp. pressured the company, and Japanese semiconductor maker Renesas Electronics Corp. picked up Integrated Device in September for $7.2 billion. 
"This year though?" Cramer posited. "This year I think many of the big deals are on hold because of Trump's justifiably tortured relationship with China."
Cramer did offer up a handful of companies that could see some M&A relief in 2019, however:
1) New Relic Inc. (NEWR) - Get Report : Google Cloud has been crushed by Microsoft Corp.'s (MSFT) - Get Report Azure and Amazon.com Inc.'s (AMZN) - Get Report Amazon Web Services, the latter of which owns half the market. Cramer anticipated Alphabet Inc. (GOOGL) - Get Report will use some of its $100 billion cash hoard to bolster Google Cloud through an acquisition of one of three companies that have seen their stocks plummet with the great bear tech market in 2018. New Relic offers the best accountability of a website's second-by-second mechanics. Tableau Software Inc. (DATA) - Get Report and Splunk Inc. (SPLK) - Get Report represent two other options. 
2) Veeva Systems (VEEV) - Get Report : As for Alphabet's healthcare business, Cramer thinks Veeva Systems, a cloud-based platform for healthcare companies, might be the right for Alphabet and its healthcare division head David Feinberg. Veeva's one of many cratered software-as-a-service companies that are ripe for the picking after the carnage, Cramer said Thursday. "If Feinberg wants to make a name, now's the time to strike," he argued, as Veeva's stock outlook is starting to turn around. Veeva would be an amazing platform to create a dominant, fast-growing healthcare data arm for the flagging Alphabet narrative, Cramer concluded.
3) Mondelzez (MDLZ) - Get Report : Don't expect robust activity in the packaged goods space, but Cramer would not be surprised if Pepsico Inc. (PEP) - Get Report were to pick up snack maker Mondelez International Inc. (MDLZ) now that Pepsico has a new CEO. Pepsico's snack business could use more international scale, Cramer said, and Mondelez has new, aggressive management that wants to be independent but it has restive shareholders who are tired of waiting around for the big earnings breakout.
4) FireEye Inc. (FEYE) - Get Report : The cybersecurity space, being the one tech sector not hostage to Chinese regulation, is not just due for consolidation, it's "ripe for merger mania," Cramer opined. FireEye, which just posted strong third quarter financial results, is among a list of potential targets in the space that also includes Symantec Corp. (SYMC). Meanwhile, Palo Alto Networks Inc. (PANW), the largest public player in the space, may go on the acquisition hunt.
5) Viacom Inc.  (VIAB) - Get Report : While Shari Redstone is barred from pushing for a deal between the two media companies her family controls, CBS Corp. (CBS) - Get Report and Viacom, a merger of the two may very well come to fruition anyway. CBS has the larger market value but is bereft of leadership, according to Cramer. Meanwhile, Viacom's Bob Bakish is doing well to turn his company around in a "workman-like fashion," which could be what CBS needs, he added, meaning a merger between the two with Bakish taking the helm is a no-brainer, particular considering the tumultuous exit of CBS' former chief executive Les Moonves, who has been accused of several instances of sexual harassment and misconduct. 
Microsoft, Amazon and Alphabet are holdings in Jim Cramer's Action Alerts PLUS member club. Want to be alerted before Jim Cramer buys or sells MSFT, AMZN or GOOGL? Learn more now.