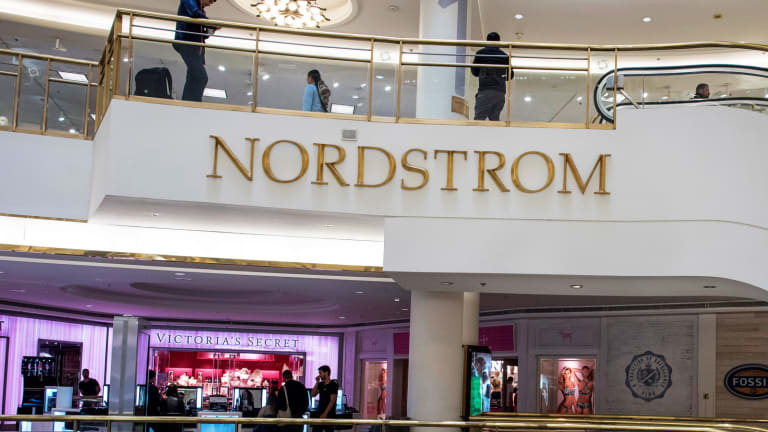 Jim Cramer's 'Off the Charts': Retail Is Showing Signs of Life
Retail has been much maligned but Cramer turned to the charts to show the sector is stronger than the sentiment surrounding it.
The reports of the retail sector's death have been greatly exaggerated, according to Jim Cramer, and during this week's "Off the Charts" segment of Mad Money he turned to the charts to defend the sector. Cramer enlisted the help of Trifecta Stock chartist and options market equity trader Bob Lang to make his point.
Cramer pointed out that Best Buy's (BBY) strong quarterly results on Tuesday were a good sign for the stock market as a whole as the retail sector is integral to the United States' service economy. Cramer and Lang looked at the SPDR S&P Retail ETF (XRT) , Trifecta Stocks holding Nike (NKE) , Nordstrom  (JWN) and The Gap (GPS) .
First, the exchange-traded fund.
"First of all, Lang likes how the retail ETF made a W-shaped bottom pattern back in May and June, and that's given it a springboard to fuel its recent rally," Cramer told viewers. "You caught a shallow pullback earlier this month, and it turned out to be the perfect buying opportunity. As far as Lang's concerned, this is almost the textbook definition of a good-looking chart."
The ETF is now within 10% of the all-time highs it set last year.
While the ETF is doing well, Cramer reminded viewers that he is not a fan of sector-based ETFs. He'd rather pick "best of breed" stocks rather than everything in a group. With that in mind, Cramer moved on to Nike.
"Here's a stock that had been in the dog house, going relentlessly lower from mid-March through late June as the shutdown of Sports Authority, one of their major U.S. distributors, caused a real hiccup in the business," Cramer reminded viewers. "But ever since Nike reported a healthy quarter at the end of June, the stock has been working its way higher again, albeit in stages. Plus, the Rio Olympics that preempted my time slot for the last two weeks were basically one continuous Nike ad."
Cramer noted that the Trifecta Stocks team has been so impressed with Nike that Lang added it to the portfolio. One of the reasons for the sports apparel maker's addition is that when the stock rises, it does so on heavy volume, suggesting that large institutional money managers are again adding to their positions in the company.
Now that Nike has broken above resistance at the $59 level, Lang believes that it could easily make its way back up to $65.
Next, Cramer took a look at department stores, specifically Nordstrom.
"Nordstrom made a W-shaped bottom through the end of June, and ever since the stock's been on a huge tear including a monster move after the company shot the lights out when it reported a week and a half ago," Cramer said. 
Bob Lang noted the company's chart is in the middle of a bullish pennant pattern, which is "where a stock rockets higher, creating something that looks like a flagpole, and then it trades sideways in an increasingly narrow range, creating what looks like a pennant."
The pattern suggests Nordstrom is currently digesting its recent gains, Cramer told viewers. Once the gains are fully digested, it is likely make another leg higher. Nordstrom is currently facing resistance at $54, which is less than a dollar above its current position. However, once it breaks above that ceiling, the $70 area is where it's headed next. 
Finally, they looked at The Gap. 
"Ever since it bottomed in May, The Gap's stock has been steadily churning its way higher. This is one of those cases where the chart doesn't necessarily align with the fundamentals, meaning how the actual business is doing, because last week Gap reported an in-line quarter and cut its guidance," Cramer told viewers. 
When the stock did dip, investors began snatching up shares almost immediately, and now it's at levels it hasn't seen since April. Despite the rise, Lang believes it will be tough for Gap to break through its ceiling of resistance at $30. Still, that is a 10% upside over where the stock currently resides. 
"The charts, as interpreted by Bob Lang, suggest Nike and Nordstrom could have a lot more room to run, and you've got my blessing to buy both of them because they're terrific companies," Cramer concluded.  "But, honestly, the fact that even laggard like The Gap can be a winner in this market tells you everything you need to know about the rotation back into retail."