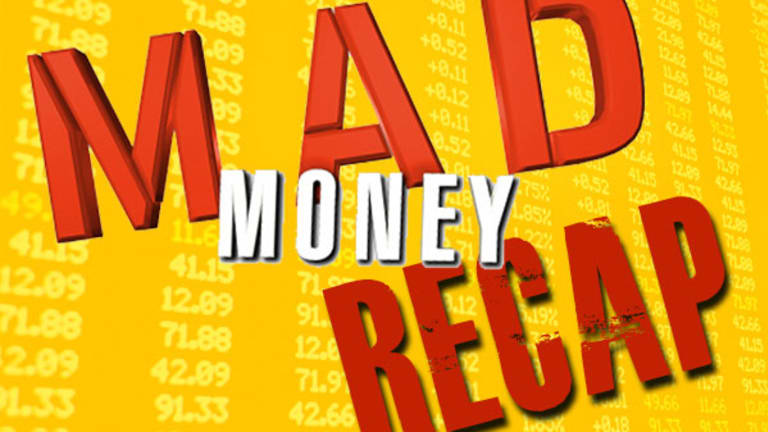 Jim Cramer's 'Mad Money' Recap: Willing Buyers Produce Improbable Rally
Short sellers realized their bet was backfiring, says Jim Cramer.
Search Jim Cramer's "Mad Money" trading recommendations using our exclusive "Mad Money" Stock Screener.
It was a coalition of buyers that created today's improbable rally, Jim Cramer told his Mad Money viewers Wednesday, after a 7% slide in the averages at the open turned into a surprising 1.4% rally by the close. Who were these buyers that made up this unlikely coalition? Cramer listed them out.
The first group of buyers were those that have been patiently waiting for the election to be over. There were just too many questions and too much uncertainty for them to invest, Cramer said, so these buyers just stayed on the sidelines until today.
The second cohort of buyers included those waiting to see a smooth transition of power, something that happened quite quickly once the votes were tallied.
The third group of buyers have been waiting for Trump the businessman to arrive, someone willing to spend big on things like infrastructure. These buyers bid up shares of Martin Marietta Materials (MLM) - Get Free Report and Vulcan Materials (VMC) - Get Free Report  by 11.5% and 9.8% respectively.
Still other buyers included those who simply got the election all wrong -- short sellers expecting a Clinton win and who were betting against the banks and pharma stocks. Other investors saw opportunities for companies to repatriate their overseas cash hoards.
Finally, Cramer said, the last set of buyers includes those who hope Trump can stand up to our trade partners, boosting many sectors including the steel stocks.
Real Money: Jim Cramer asks, after today's rally what's next?
Take Another Look At Health-Care Stocks
Following last night's stunning election results, we're dealing with a different stock market, Cramer told viewers. And that means re-rating a host of sectors. The most obvious changes will be in the health-care sector, where the Republicans aren't likely to follow Hillary Clinton's planned path of Congressional inquiries and executive actions to keep prices in check.
After being beaten down for months, the health-care stocks are now dirt cheap, Cramer said, but that doesn't mean that every stock is a winner.
CVS Health (CVS) - Get Free Report plummeted 12% Tuesday after the company reported, and Cramer said that Valeant Pharmaceuticals (VRX) remains "toxic." Investors should also avoid stocks like AmerisourceBergen (ABC) - Get Free Report , which is in the middle of a vicious price war.
That leaves Merck (MRK) - Get Free Report , with its 2.7% yield, as one of the best bets in the sector, Cramer said, noting the company leads in next-generation cancer therapies. He was also a fan of Pfizer (PFE) - Get Free Report with its 3.7% yield.
Turning to biotech, Cramer continued to recommend Celgene (CELG) - Get Free Report , which is growing sales at 27%. He said "something good is happening" at the company. He was also bullish on Allergan (AGN) - Get Free Report  -- the fastest growing company, with the lowest multiple in the industry.
Finally, Cramer recommended Walgreens Boots Alliance (WBA) - Get Free Report , which posted excellent earnings this quarter.
Real Money: Cramer eyes four huge moves Trump could make.
Watch Out: Relief Rallies Don't Last
Don't get cocky, Cramer warned viewers. Relief rallies don't last when confronted with a new set of facts -- and that's exactly what the market will be focused on a week from now.
There's a lot we don't yet know about Donald Trump, and that's why Cramer compiled a list of what he feels will be the market's top concerns.
Among the market's biggest questions:
How independent will the Federal Reserve be under Trump and will Janet Yellen finish out her term?
And what should investors make of mergers and acquisitions? Trump's taken sides against a few deals already.
There are also questions about Trump's cabinet choices, including who will end up being Treasury Secretary.
Then there are the questions on trade. Is NAFTA really dead? Will Trump ignite a trade war with China?
If there's more U.S. oil drilling, how does that affect oil prices and the strength of the dollar?
These are all important questions that the markets are asking, Cramer noted -- and you should be, too.
Real Money Pro: Mike Norman says Trump win means investors should short the euro.
Executive Decision: Chipotle
For his "Executive Decision" segment, Cramer again spoke with Jack Hartung, chief financial officer of Chipotle Mexican Grill (CMG) - Get Free Report , the restaurant chain with shares lower by 24% for the year while the company struggles to recover from last year's health issues.
Hartung said that the restaurant industry overall has seen softness due to the negativity and uncertainty surrounding the election and he hopes to see things recover soon at Chipotle's 2,178 locations across the country.
When asked about their recovery, Hartung said sales are increasing by about 1% per month and he's confident it's only a matter of when, not if, they return to their previous sales levels. He said that currently the focus is on the recovery and delivering a great experience. Once that is complete, they will turn toward increasing efficiencies and margins.
Asked whether activist shareholders are a distraction, Hartung said he found the opposite to be true: All of their shareholders, he said, are aligned with promoting long-term value.
Cramer said while Chipotle has begun to bottom, history has told us that food safety scares take 18 months to fully recover and Chipotle is not ready to deliver just yet.
Real Money: Christopher Versace notes Trump win boosts some stocks, sectors.
Lightning Round
In the Lightning Round, Cramer was bullish on Berkshire Hathaway (BRK.B) - Get Free Report .
Cramer was bearish on Extra Space Storage (EXR) - Get Free Report , HCP (HCP) - Get Free Report and Costamare (CMRE) - Get Free Report .
Executive Decision: Carrizo Oil & Gas
In his second "Executive Decision" segment, Cramer checked in with Chip Johnson, president and CEO of Carrizo Oil & Gas (CRZO) - Get Free Report , one of the nation's lowest cost oil producers.
Johnson said that while it never hurts to have some rules and regulations go away, having Donald Trump in the White House isn't likely to affect his company that much because they don't drill on a lot of federal land. What is more important however, is getting more pipelines built to get the oil flowing and reduce rail traffic for oil, he said.
When asked for his outlook on the oil market, Johnson predicted supply and demand equilibrium by the end of 2017, which is why Carrizo is scaling up ahead of that by adding an additional drilling rigs for 2017.
Cramer said Johnson is a man who knows how to run an oil company.
Real Money Pro: Bruce Kamich says VIX is not for the faint of heart.
To watch replays of Cramer's video segments, visit the Mad Money page on CNBC.
To sign up for Jim Cramer's free Booyah! newsletter with all of his latest articles and videos please click here.
At the time of publication, Cramer's Action Alerts PLUS had positions in AGN and WBA.