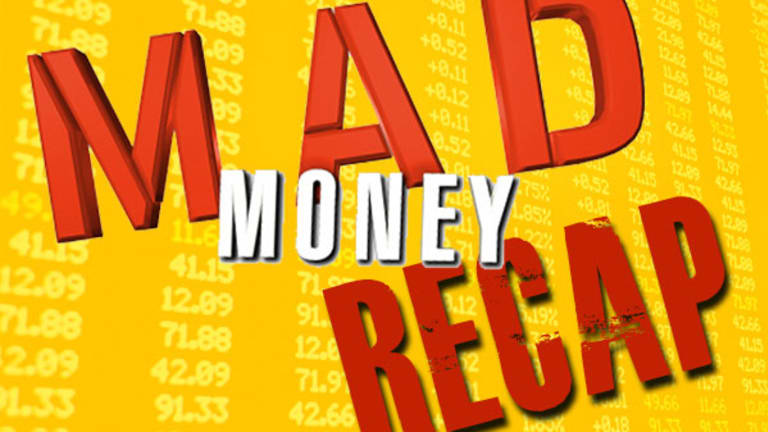 Jim Cramer's 'Mad Money' Recap: What Happens Now Is Anyone's Guess
For one day, at least, buyers overwhelmed the money managers, Cramer says. As for tomorrow...
Search Jim Cramer's "Mad Money" trading recommendations using our exclusive "Mad Money" Stock Screener.
What's really going on inside the head of the market? Jim Cramer told his Mad Money viewers Thursday that he was able to perform a Vulcan mind meld with the market today and discovered exactly what it was thinking.
For weeks now the market has been focused primarily on one thing: the price of oil. The thinking goes that if oil is falling there's a lack of demand, which means the economy is slipping into recession. This linkage is so strong, Cramer said, investors can see the correlation for themselves early in the morning. As oil ticks lower, the S&P 500 futures follow seconds later.
So why on a day when oil saw a big rally to just under $30 a barrel were the retail and restaurant stocks also rising, taking the airlines and cruise lines with them? These stocks do better with lower fuel prices, not higher prices.
Cramer concluded that for today at least, the buyers were able to overwhelm the big money managers, snapping up all these beaten-down stocks at terrific prices, recognizing that eventually cheap oil will translate into big profits.
Will the same thing happen again tomorrow? Cramer said his mind-meld was not a crystal ball, so what happens tomorrow is anyone's guess.
Being Negative Can Hurt
It doesn't pay to get too negative, Cramer reminded viewers. In fact, sometimes being negative can actually hurt you.
Case in point: Burlington Stores (BURL) , purveyors of the Burlington Coat Factory retail chain, which saw its shares skyrocket this week after the company pre-announced earnings that were only at the low end of analysts' expectations.
Cramer explained that after the warm winter we've been having, and the gloomy forecasts from other retailers, investors assumed there was no way a store with the word "Coat" in its name could possibly be having a good quarter -- this despite the fact Burlington had a track record of good execution and beating expectations.
But then the winter turned cold and, surprise!, Burlington isn't doing as badly as everyone expected. Shares are now up 2.4% for the year.
Cramer said investors totally overlooked the fact Burlington sells a lot more than just coats, it sells all sorts of apparel, accessories and housewares. More important, Burlington sells value, and value is in demand no matter the weather outside.

Has Oil Hit Bottom?
After a powerful 4% rally in the price of oil today, is it finally time to declare the bottom in oil? As Cramer discovered, gauging the price of oil is complicated and a lot harder than it appears.
Cramer said he reviewed the commentary from a year ago, when oil was still in the high $40s. Back then, the chatter was about whether the recovery would be V-shaped or U-shaped. No one, absolutely no one, predicted or expected a continued breakdown in oil prices.
Cramer also noted today's oil market is eerily similar to that of 1986, when oil prices stood at $26.52 a barrel on Jan. 6, only to plummet to just $10.25 three months later. Can it happen again? You bet it can.
Cramer said many pundits didn't take into account what happens if the U.S. dollar stops going higher. They also incorrectly assumed oil producers would turn off the tap as prices fell. In reality, the tap stays open because the debt needs to be paid and many producers borrowed a ton of money.
Finally, there's Saudi Arabia. Many pundits incorrectly assumed the Saudis would've dialed back production by now. They haven't. Nor will they, said Cramer -- their goal is to put U.S. producers out of business.
Executive Decision: Bryan Jordan
For his "Executive Decision" segment, Cramer spoke with Bryan Jordan, chairman, president and CEO of First Horizon National (FHN) , the regional bank that just posted a 1-cent-a-share earnings miss.
Jordan said he's been disappointed with his stock's performance recently, but noted First Horizon is buying back shares so he's happy to buy them on sale.
When asked about the economy, Jordan said the slow recovery continues and First Horizon continues to deliver solid, healthy loan growth with increasing credit quality. First Horizon currently has less than 1% of its loans in the volatile energy sector.
Cramer said First Horizon is "one cheap stock" and it's time to buy.
Lightning Round
In the Lightning Round, Cramer was bullish on AutoZone (AZO) , Blackhawk Network Holdings (HAWK) , Service Corp (SCI) and Energy Transfer Partners (ETP) .
Cramer was bearish on Emerson Electric (EMR) , Baidu.com (BIDU) , Corrections Corp of America (CXW) , Monro Muffler (MNRO) , Diamondback Energy (FANG) and Teladoc (TDOC) .
Off the Tape
In his "Off the Tape" segment, Cramer welcomed Dr. Charles Carignan, CEO of the privately held BionX Medical Technologies, makers of high-tech artificial limbs for amputees.
Carignan explained that up until now, artificial limbs have been passive in nature, requiring the patient to use his or her own body weight to propel the limbs forward. However, BionX' lower limbs are like wearable robots, featuring powered ankles that sense and match a patient's movements and push off to truly assist in motion.
BionX currently has just 1,200 patients, a small fraction of the 2.5 million amputees in our country, Carignan noted. Using the company's technology, patients have been able to run up rocky slopes and even hold down jobs that require heavy lifting.
To watch replays of Cramer's video segments, visit the Mad Money page on CNBC.
To sign up for Jim Cramer's free Booyah! newsletter with all of his latest articles and videos please click here.
At the time of publication, Cramer's Action Alerts PLUS had a position in ETP.