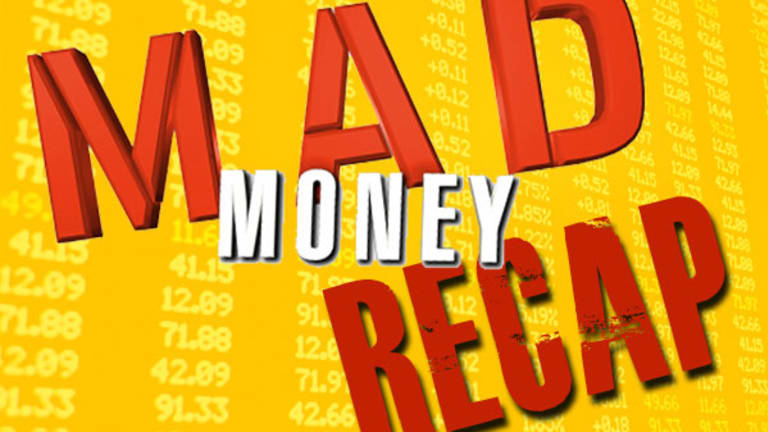 Jim Cramer's 'Mad Money' Recap: Politics and Your Portfolio
The market's getting nervous about the prospect of a Democratic landslide, says Jim Cramer.
The market's getting nervous about the prospect of a Democratic landslide, says Jim Cramer.
Search Jim Cramer's "Mad Money" trading recommendations using our exclusive "Mad Money" Stock Screener.
The stock market has had impressive early-session gains each day, only to see those gains evaporate throughout the afternoon and into the close, TheStreet's Jim Cramer told his Mad Money viewers Wednesday. Since earnings have been good, could it have anything to do with the election?
With a Democratic win in the presidential election looking more likely, investors are beginning to fear that Democrats could win not just the White House, but both houses of Congress too, Cramer said. That could put a severe damper on several industries, with the three most notable ones being banking, health care and environmental.
Chris Nolter: Trump dominates social media but likes and shares won't count Nov. 8.
While presidential hopeful Hillary Clinton would likely be more lenient with big banks than President Obama, the real concern lies with having the Democratic party take back control of the House of Representatives and the Senate. If that were to happen, banking regulations could increase significantly, Cramer reasoned.
Real Money: Mike Norman says, 'Hey, Volcker. Thanks for nuthin'.'
More regulations equals more non-revenue generating employees, he added. And that's just the tip of the iceberg. These potentially new regulations could severely weigh on the banks' earnings and even cause some of them -- like JPMorgan Chase  (JPM) - Get Report , Citigroup (C) - Get Report and Bank of America (BAC) - Get Report - to be broken up.
Pharma as Public Enemy No. 1
Health care could come under pressure too. Johnson & Johnson (JNJ) - Get Report reported a "very good" quarter, Cramer said, but spent a lot of time talking potential government-related headwinds. It's not just J&J either, it's the whole sector. "Pharma is public enemy No. 1," he explained. An energized Democratic sweep could be devastating for the earnings of this group.
Real Money: Tim Melvin sees 3 super-growth stocks about to weaken.
Environmental-related stocks could struggle as well. Forget about the recent rally in coal, and even oil and natural gas pipeline companies could struggle to gain new permits. Investors could also kiss goodbye M&A. That will make investors want to pay a lower multiple for these stocks, Cramer said.
Here's the bottom line: New rules in these sectors could make or break the companies' earnings. But that doesn't mean it's all bad. While overall it would likely be a negative, other sectors would benefit too. Particularly if infrastructure spending increases, Cramer said. 
After you've watched Jim Cramer talk about the election, check out TheStreet Wednesday night on Twitter and Facebook for debate action and what it means to your portfolio. Follow us on Facebook and via Twitter: @TheStreet. 
R.R. Donnelly & Sons: A Bad Breakup?

Cramer wanted to a take a closer at the recent breakup of R.R. Donnelley & Sons (RRD) - Get Report . The company spent the past decade making acquisitions to diversify its business, but those businesses became undervalued. That's why splitting up the company to unlock value seemed like such a good idea.
Earlier this month the split became official, with LSC Communications (LKSD) - Get Report and Donnelley Financial Solutions (DFIN) - Get Report joining R.R. Donnelly to make three separate, publicly-traded entities. However, all three have struggled since the breakup.
Cramer wanted to look to see if any of them seemed worthy of a buy.
LSC Communications is a leader in cost-effective print-related products. However, it's growth is flat to negative and without acquisitions, the stock will continue to flounder, Cramer said.
Donnelley Financial has slow growth, but at least it's growing. Because it has low fixed-costs, the company can be flexible and it has loyal customers. Plus, it's somewhat tied to financial markets, as it is responsible for a number of financial statements. Should deal-making and IPOs continue into the future, this company should benefit.
R.R. Donnelley is the strongest of all three, Cramer said. It has organic growth in the low- to mid-single digits and works with companies looking to communicate with its customers. While this is the most attractive stock of the three, it has been saddled with a majority of the debt too.
Here's the bottom line: While Cramer applauded the company's breakup strategy, there are still too many question marks. Which will pay a dividend and how much will it be? That needs to be answered first, he reasoned, adding that he likes R.R. Donnelley and Donnelley Financial the most, but can't recommend them at this point.
Salesforce.com's Hacked Shopping List
On Wednesday, investors were buzzing about Colin Powell's hacked email account. Powell is a board member at Salesforce.com  (CRM) - Get Report and among the discoveries was a leaked list of potential M&A candidates for Salesforce from a presentation in May. Of course, Cramer had to have a look too.
Right off the bat, it was easy to eliminate some of the candidates - strangely none of which was Twitter (TWTR) - Get Report , despite Salesforce's recent interest.  
Investors can forget about Demandware (DWRE) , LinkedIn (LNKD) , Marketo and NetSuite (N) , all of which have been or are being acquired. Remember, the list is from May, so that's not too surprising that some are gone. 
Adobe (ADBE) - Get Report is simply too large to acquire, Cramer said, while Workday (WDAY) - Get Report and Veeva Systems (VEEV) - Get Report also seem unlikely. Box (BOX) - Get Report and Zendesk (ZEN) - Get Report don't seem like they want to be bought and Salesforce seems unlikely to perform a hostile takeover. 
Tableau Data (DATA) - Get Report seems like a bad fit and while ServiceNow (NOW) - Get Report is an "unbelievably good" company, it's valuation is too high for a Salesforce takeover, he reasoned. 
That leaves just two companies from the list: HubSpot (HUBS) - Get Report and Pegasystems (PEGA) - Get Report . Both have a small enough market cap - $1.8 billion and $2.3 billion, respectively - and the businesses that would compliment Salesforce, Cramer said. 
Here's the bottom line: Investors should never buy a stock solely for its M&A potential; the companies need to have solid fundamentals as well. However, Cramer said, a majority of the stocks listed above do have good fundamentals, so speculating on them may just pay off. 
Airline Stocks and Oil Prices
Should investors buy into the airline stocks? Jim Cramer was taking a closer look at this undervalued group to see. 
For some reason, airline stocks rally with oil prices, Cramer said. Stocks generally go up or down with oil because investors use it as a barometer for the economy. But for airline companies, higher oil prices equals higher costs. "It's a crazy correlation that flies in the face of reason," he explained.
That being said, there are signs that a bottom is in. For starters, the valuation for the group is incredibly low. Of all the stocks though, United Continental (UAL) - Get Report sports the lowest. However, the company just said that its situation is improving and there could a bottoming in revenues.
That's a big deal and is helping to boost investor sentiment in the industry. When valuations are this low, investors are saying they expect earnings to be worse next year than they are this year, Cramer said.
But when earnings are suddenly expected to be flat, or possibly even better, investors are willing to pay a higher valuation for these stocks. That's what's got the airline stocks taking off.
Real Money: Antonia Oprita says inflation has arrived and the show can begin.
United Continental could be a go-to name should a broader market selloff take hold, Cramer said. The airline stocks could at last be finished with their decline.
Lightning Round
In the Lightning Round, Cramer was bullish on AMN Healthcare (AHS) , Intuit (INTU) - Get Report , Vectren (VVC) and ViaSat (VSAT) - Get Report .
He was bearish on Thermo Fischer (TMO) - Get Report , H&R Block (HRB) - Get Report and AdvanSix (ASIX) - Get Report .
Executive Decision
For the show's Executive Decision segment, Cramer welcomed Dr. Yuval Cohen, the CEO of Corbus Pharmaceuticals (CRBP) - Get Report . 
The company is only two-and-a-half years old and focuses on rare diseases, Dr. Cohen said. Many of these diseases only have tens of thousands of patients in the U.S. but the effects are devastating and the conditions life-threatening. 
The company's leading drug at the moment is Resunab, which is in Phase 2 testing for four separate treatments. Dr. Cohen said the company has enough cash on hand to get through each round of testing. 
Corbus also has fast-track and orphan designation in the U.S. and just recently gained orphan designation in the E.U., he added. 
With approval, the company will be able to use the drug to treat diseases related to cystic fibrosis and lupus, along with other autoimmune disease. When including all the diseases it could treat, Dr. Cohen said it could impact as many as 800,000 patient in the Western world. 
For Cramer's part, he said he's fascinated with the company and its potential. However, he cautioned that this small-cap biotech stock, with its $300 million market cap, is a highly speculative play. 
To watch replays of Cramer's video segments, visit the Mad Money page on CNBC.
To sign up for Jim Cramer's free Booyah! newsletter with all of his latest articles and videos please click here.
At the time of publication, Cramer's Action Alerts PLUS had a position in C.