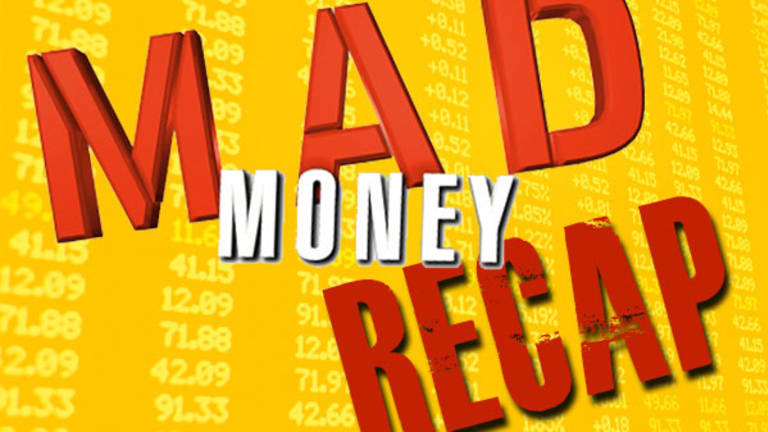 Jim Cramer's 'Mad Money' Recap: Markets Make This Economy, Not the Fed
Cramer says he doesn't understand the obsession some investors have with the Federal Reserve. Forget the Fed.
Search Jim Cramer's "Mad Money" trading recommendations using our exclusive "Mad Money" Stock Screener.
It's important to remember the market itself, not the Federal Reserve, is what's been helping the U.S. economy, Jim Cramer told his Mad Money viewers Thursday. The stock market's slow churn higher has been having a positive psychological impact on investors, Cramer said, and that has nothing to do with the Fed.
Cramer said he doesn't understand the obsession some investors have with the Federal Reserve. They remain skeptical of the market's every move higher and assume that even the smallest of interest rate hikes will stop stocks in their tracks. This faulty logic has caused millions of people to miss over seven years of spectacular gains, he said.
Has the Fed had anything to do with the growth of Facebook (FB) , an Action Alerts PLUS holding? How about Amazon.com (AMZN) or Celgene (CELG) ? Of course not. It's exceptional management and secular growth that drives these companies.
The fact is that home prices are rising and the American consumer is feeling richer, spending more and even trading up in some cases. Nowhere was that evident more than in today's earnings, where discount jeweler Signet Jewelers (SIG) plunged while high-end Tiffany (TIF) soared. It was also seen in weakness from the dollar stores Dollar Tree (DLTR) and Dollar General (DG) .
So forget the Fed, Cramer concluded. All things being equal, the market itself is what matters most.
Apple Should Buy Sirius
Ever since its stock peaked at $135 a share last year, the markets just haven't liked Apple (AAPL) as much as before, Cramer told viewers. That's why he put on his investment banker hat to propose an acquisition that could jump-start Apple's stock.
Cramer proposed that Apple, an Action Alerts PLUS holding, use some of its $230 billion cash hoard and consider buying SiriusXM Radio (SIRI) .
Cramer's logic is simple. Sirius could bolster Apple's subscription revenue and give the company a foothold into the connected car of the future. Apple could also benefit by merging Sirius' original content and sports programming with Apple's own music offerings.
Sirius is pre-installed in 75% of all new cars sold today, Cramer said, and the company's 30 million subscribers tend to stick with the service once they sign up. Shares of Sirius are pricey at 23 times earnings, but that's still less than Apple spends buying back its own stock over a six month period.
Cramer admitted that a deal with Sirius is complicated by the fact that Liberty Mediaundefined owns 60% of Sirius, but Liberty is known for making smart decisions.
Healthcare Glitch
There's a glitch in our healthcare system, Cramer told viewers, as he weighed in on the news that Mylan Pharmaceuticals (MYL) has significantly raised the price of its life-saving Epi-Pen.
On one hand, Cramer said Mylan is doing what it's supposed to do, use its monopoly powers to make as much money as it can for its shareholders. On the other hand, in some industries there shouldn't be monopolies. We don't let our utilities charge whatever they want, and we shouldn't price life-saving drugs out of reach either.
The problem is a lack of competition, Cramer said. For many drugs, making a generic alternative just isn't profitable, so companies don't do it. The fact of the matter is Mylan raised prices because it could, and there's little we can do to stop it. Our drug industry either needs more competition or more regulation to fix this growing glitch that is becoming ever more apparent.
Off the Charts
In his "Off the Tape" segment, Cramer sat down with Ray Rothrock, chairman and CEO of the privately held cyber-security company RedSeal, which is helping companies find flaws in their networks before they're hacked.
Rothrock said even with the best engineers in the world, companies like Cisco Systems (CSCO) and FireEye (FEYE) use RedSeal to help double-check their tech infrastructure. He said RedSeal looks at the entire network, not just the pieces, and provides companies with a simple Digital Resilience Score.
That score looks at three things, Rothrock continued: how a company's network is configured, what vulnerabilities it has and whether it's incomplete in some way. All too often, he said, a company will have hardened security in place... except for that one connection that runs to an executive's house that everyone forgot about. That is what RedSeal can detect.
When asked how vulnerable our networks really are, Rothrock said that everything from cars to planes to our electrical grid can be hacked and needs to be monitored and continually improved.
Lightning Round
In the Lightning Round, Cramer was bullish on CyberArk Software (CYBR) , Carrizo Oil & Gas (CRZO) , Concho Resources (CXO) , Kansas City Southern (KSU) and Union Pacific (UNP) .
Cramer was bearish on Clovis Oncology (CLVS) , Gilead Sciences (GILD) , Horizon Pharmaceuticals (HZNP) and Genesee & Wyoming (GWR) .
Am I Diversified?
In the "Am I Diversified" segment, Cramer spoke with callers and responded to tweets sent via Twitter to @JimCramer to see if investors' portfolios have what it takes for today's markets.
The first portfolio included Wells Fargo (WFC) , Boeing (BA) , General Motors (GM) , Lloyds Banking Group (LYG) and Royal Caribbean Cruises (RCL) .
Cramer advised selling Lloyds and adding a healthcare stock in its place.
The second portfolio's top holdings included Caterpillar (CAT) , Cisco, Duke Energy (DUK) , General Electric (GE) and AT&T (T) .
Cramer said this is the best portfolio he's seen in a long time thanks to its incredible dividend yields.
The third portfolio had Home Depot (HD) , Pfizer (PFE) , US Bancorp (USB) , Dominion Resources (D) and EMC (EMC) as its top five stocks.
Cramer blessed this portfolio as diversified.
To watch replays of Cramer's video segments, visit the Mad Money page on CNBC.
To sign up for Jim Cramer's free Booyah! newsletter with all of his latest articles and videos please click here.
At the time of publication, Cramer's Action Alerts PLUS had a position in AAPL, CSCO, FB, GE and WFC.