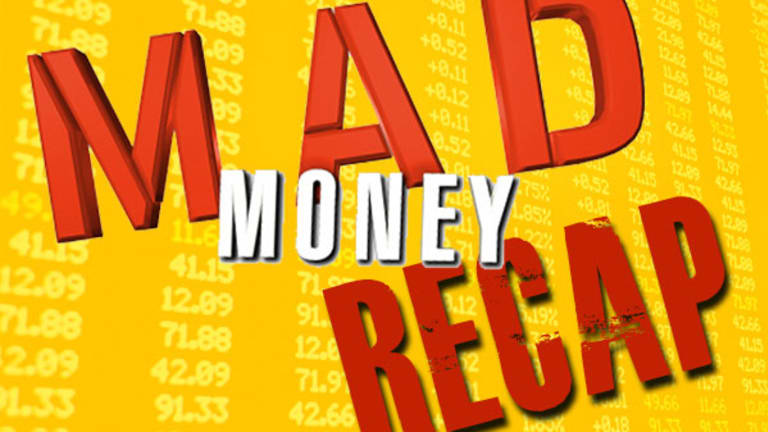 Jim Cramer's 'Mad Money' Recap: How to Become an Even Better Investor
Cramer's first rule: Diversification is the only way to invest.
Search Jim Cramer's "Mad Money" trading recommendations using our exclusive "Mad Money" Stock Screener.
This program last aired Sept. 3, 2015.
What makes a good investor? Knowing to expect the unexpected, Jim Cramer said on  Mad Money as he opened his investing tool box to help viewers become better investors. 
Diversification is still the only way to invest, said Cramer, admitting he occasionally gets it wrong. Sometimes his stock picks just simply don't work out. That's investing. Any investor putting together an investing portfolio needs to be prepared, said Cramer, because sooner or later something won't work out.
But how should investors prepare for the next market catastrophe or stock pick gone bad? Not by being bearish but by being smart, Cramer said. Being a bear means shorting stocks, hoping they go down. That's a valid investing strategy but it limits one's profit potential since the lowest a stock can go is zero. 
However, Cramer said, compare that to bullish investing, betting that stocks go higher. Their potential profits are limitless, he said. Investors who invested in Action Alerts PLUS holding Apple (AAPL) - Get Free Report in 2009, for example, realized a 580% gain over the next three years.
Beyond having a positive outlook, Cramer said the most important rule to managing your money is diversification. That means not having all your eggs in one sector basket. A portfolio with five stocks must have only one technology company, one health care name, one energy company, one industrial, etc. Two or three of a kind is a quick way to get caught off guard, so no more than 20% of a portfolio can be in a single sector.
Being diversified is more than just investing in different sectors, however. Cramer said the new rules of diversification also require owning some gold in your portfolio along with a high-yielding dividend stock, a growth stock, a speculative stock and one that's firmly rooted in a healthy geography.
Check the Dividends
Cramer said the most important category of stocks that must be in a diversified portfolio is a high-yielding dividend stock. He said that every portfolio needs at least one, possibly more, dividend payers.
While dividend stocks might not seem sexy, dividends make money. In fact, nearly 40% of the total gains from the S&P 500 since 1926 have come in the form of dividends. Over the past decade, that percentage is even higher, he said.
Dividends aren't merely safety plays for retirees and cautious investors, said Cramer. They are a smart strategy for making money. He explained that as a stock price falls, its dividend yield increases, which, in turn, makes it more attractive to investors. Stocks that hit a 4% yield represent terrific long-term bargains, he noted, which is why stocks typically stop going down once they hit 4%.

But beyond making money, Cramer said dividends -- and especially dividend raises -- are management's way of telling investors that things are going well at a company. A solid, steady dividend that gets raised regularly is a hallmark of a company that's stable and doing well.
Not all dividends are created equal, however, cautioned Cramer. He said dividend yields that are not sustainable are red flags. Just look at what happened to Radio Shack (RSHCQ) and supermarketSuperValu (SVU) in early 2012 for a lesson in dividends gone awry. Cramer said a company's earnings per share should be at least twice that of its dividend payout to be considered safe. For companies with high capital needs, like telcos, he said investors can look at the cash flow as another metric to see whether the dividend may be in jeopardy.
Secular Growth Stocks
Next in Cramer's toolbox of investing tips: secular growth stocks. Stocks like AAP holdings Apple, Alphabet (GOOGL) - Get Free Report and Facebook (FB) - Get Free Report all fit this category, said Cramer. So do many biotech names including Regeneron (REGN) - Get Free Report and Celgene (CELG) - Get Free Report .
Growth stocks will hit new high after new high as long as their growth continues. That's because stock prices represent what investors are willing to pay for future earnings, he said.
So as a company's earnings grow, so, too, does its share price. Cramer said as a rule, he's willing to pay up to two times a company's growth rate. So for a company growing 20% a year, he's willing to pay up to 40 times their earnings. Growth stocks typically won't trade below one time their growth rate unless something is going wrong.
Cramer told investors to pay close attention to the direction of the earnings estimates anytime they're investing in growth names. "When you're playing with momentum, you're playing with fire," Cramer continued. When earnings have momentum, companies can see their stock double in just a year, but if the earnings begin to slow, they will fall sharply -- as Chipotle Mexican Grill (CMG) - Get Free Report saw in July 2012 when shares tumbled 100 points on the mere suggestion the company may be vulnerable to a weakening U.S. economy.
U.S.A. All the Way
Back in the old days, part of diversification used to mean owning a foreign stock, Cramer told viewers, one with exposure to the red-hot emerging markets. But with fiasco in Europe and a slowdown in China crushing all things international, the tables have turned, making stocks firmly rooted here in the U.S. pretty good by comparison. That's why part of the new diversification requires one stock that offers domestic security, anything that is U.S.A. all the way.

Cramer said that could be a phone company such as AT&T (T) - Get Free Report or Verizon (VZ) - Get Free Report or a utility such as Consolidated Edison (ED) - Get Free Report or Duke Energy (DUK) - Get Free Report , all of which are also high yielders.
But investors could also choose a regional to national restaurant chain such as Popeye's Louisiana Kitchen (PLKI) or a real estate investment trust such as Federal Realty Trust (FRT) - Get Free Report or Tanger Factory Outlets (SKT) - Get Free Report .
Cramer said his bottom line is that investors need to be thinking about all-American companies for the foreseeable future.
Remember the Gold
Cramer's last tip for investors is to always include some gold in their portfolios. Gold, he said, has a special property that makes it precious. Gold goes up when everything else is going down. It's insurance against economic uncertainty, geopolitical chaos and inflation. Cramer said to think of gold as stock insurance, just as valuable as homeowners or auto insurance.
Gold has been the best-performing asset class year after year for the past decade, racking up gains consistently at a time when just about everything else has been disappointing. Owning gold is not just about the upside, however -- it's also about minimizing the downside.
Cramer once again heralded the SPDR Gold Shares (GLD) - Get Free Reportexchange-traded fund as his favorite way to invest in gold. For investors who can afford to buy larger quantities of gold, owning gold bullion or gold coins is also a wise choice, he added.
But beware of the gold mining stocks, Cramer cautioned. While these companies benefit from the increasing scarcity of the precious metal, they also encompass countless ways to screw things up, costing investors dearly. "If you want exposure to gold," Cramer concluded, "do the easy thing and buy the GLD."
To watch replays of Cramer's video segments, visit the Mad Money page on CNBC.
To sign up for Jim Cramer's free Booyah! newsletter with all of his latest articles and videos please click here.
At the time of publication, Cramer's Action Alerts PLUS had a position in AAPL, FB and GOOGL.