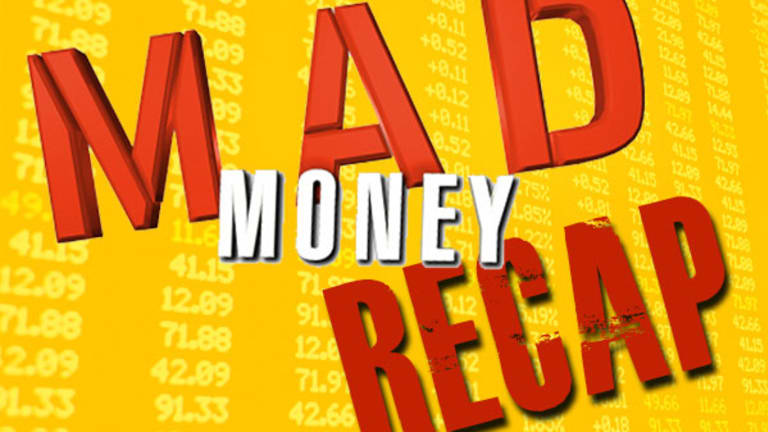 Jim Cramer's 'Mad Money' Recap: Bonds Have Called the Tune for This Market
Jim Cramer identifies powerful currents in the markets and how to navigate them.
Search Jim Cramer's "Mad Money" trading recommendations using our exclusive "Mad Money" Stock Screener.
Today was the most bullish day yet in this post-election rally, Jim Cramer told his Mad Money viewers Tuesday. There are some unbelievable riptides that are upending the markets, he said, but the real action is happening in the bond market.
Cramer said that a week ago, most fund managers were betting on a Hillary win, which would have been likely followed by more gridlock and slow economic growth.
But with Trump planning on cutting taxes and rebuilding infrastructure, there will be a lot of borrowing -- which is why interest rates have spiked over the past week.
More borrowing means both higher interest rates and higher inflation, Cramer explained. Higher rates are great for the banks, which explains their 14% rally since the election. But it also means the earnings of fast-growing stocks, such as Facebook (FB) - Get Free Report , an Action Alerts PLUS holding, could be eroded and is therefore worth less than it was a week ago.
Under Trump, Cramer said, investors can expect the banks, transports and the industrials all to rally, while tech and the drug stocks will be far less impressive. Oil will also likely do well under Trump, as more growth means more demand for crude.
Off the Charts: Natural Gas
In the "Off The Charts" segment, Cramer checked in with colleague Carly Garner over the chart of natural gas which, as Garner previously forecast, has recently seen a crash "of epic proportions."
According to Garner, the current floor for natural gas at $2.75 isn't likely to hold, as historically, the commodity has seen declines between Nov. 24 and Dec. 4 in 12 of the past 15 years. She also doesn't see much upside if gas were to bounce, as it has ceilings of resistance at $3.02 and $3.15.
Cramer explained that natural gas is suffering from a condition known as contango, a natural force in all commodities that makes them more expensive in the future thanks to the cost of storing and insuring the commodity while it is held. This is not something even seasonal trends can buck, as most of the seasonal demand is already baked into prices.
Is natural gas falling because Trump as pledged to revive coal?
Cramer said that's unlikely, as many coal plants have already been retired and the time needed to build new ones would be substantial. Plus, with gas prices so low, there's simply no incentive for utilities to adjust their environmentally friendly march toward the future.
Coming up: This quarter cements Nvidia's (NVDA) - Get Free Report place in the tech pantheon, says Cramer. Read about why Cramer and Jack Mohr call Nvidia the Intel of this generation with a free trial membership to the Action Alerts PLUS investment club.
Good Party, Great Chips
Back in the 1990s, there was only one semiconductor company that really mattered, Cramer told viewers, and that company was Intel (INTC) - Get Free Report , which produced the chips that were inside practically every PC in the world.
But today there's a new chip maker exerting its dominance and it may be the Intel for the new generation.
That company is Nvidia( NDVA) , which last week delivered what Cramer proclaimed was "the best quarter of any company in 2016." Shares of Nvidia immediately responded, soaring from $67 to $87, a 30% move.
While most semiconductor companies are huge and can only muster growth by merging with other huge semiconductor companies, Nvidia is different, growing the old-fashion way, organically, with proprietary chips in only the hottest of end markets.
Nvidia still derives 66% of its sales from high-end graphics chips, taking continued advantage of secular growth in gaming. But the company is also making a big splash in the data center, with chips specifically designed for deep learning applications. That business is growing by an astounding 59%. Nvidia is not stopping there, and also has chips powering connected cars, the Internet of things and more.
When it reported last week, Nvidia delivered a 37-cents-a-share earnings beat, one that forced the shorts and the bears to simultaneously surrender. Shares of Nvidia are not cheap, trading at 37 times earnings, but with a 24% growth rate, Cramer said, the company's valuation drops to 27 times earnings in 2019.
Cramer and Jack Mohr are keeping a close eye on Walgreen's (WBA) - Get Free Report . See what they're telling their members with a free trial membership to the Action Alerts PLUS investment club.
Executive Decision: Talend
For his "Executive Decision" segment, Cramer again sat down with Mike Tuchen, CEO of Talend (TLND) - Get Free Report , the big data analytics firm that was privately held when Cramer last checked in, but had a successful IPO in July at $18 a share and now trades around $26.
Tuchen explained that Talend helps companies clean up and blend their varied data sources to make them usable for big data analysis. More companies are making decisions based on data, he said, and with more data being digitized, rhe need for their services is only growing.
When asked about big rivals like IBM (IBM) - Get Free Report , Tuchen said that IBM and other players are great with traditional data, but when it comes to the new types of data being generated by the cloud and the Internet of things, that's where Talend shines.
Turning to the big data issue of the day -- How did all of the pollsters get the election so wrong? -- Tuchen explained that while the models were correct, there was one data point that was incorrect.
That point, he said, was who would turn out to vote, and that metric was off by just 2% -- but it was enough to flip swing states.
Real Money: Cramer says welcome to the world of inflation negativity.
Lightning Round
In the Lightning Round, Cramer was bullish on Buffalo Wild Wings (BWLD) , Chevron (CVX) - Get Free Report and Tallgrass Energy Partners (TEP) .
Cramer was bearish on Spark Energy (SPKE) - Get Free Report and Annaly Capital (NLY) - Get Free Report .
No-Huddle Offense
In his "No-Huddle Offense" segment, Cramer weighed in on the news that Warren Buffett has taken a stake in four airlines, after losing big in the group back in the 1980s and being a vocal critic of the industry ever since.
Buffett's Berkshire Hathaway (BRK.A) - Get Free Report (BRK.B) - Get Free Report  bought a stake in four major airlines: American Airlines  (AAL) - Get Free Report , Delta Air Lines (DAL) - Get Free Report , United Continental (UAL) - Get Free Report , and Southwest Air (LUV) - Get Free Report , according to an SEC filing Monday.
Cramer noted that what's changed since the 80s is that much of the competition is now gone thanks to a wave of mergers. There's also a lack of new capacity as Boeing's (BA) - Get Free Report order book stretches out for decades. Finally, there's the lower price of jet fuel, which accounts for up to 25% of airline expenses.
But even with all those tailwinds, Cramer again cautioned that individuals cannot simply piggyback off of investors like Buffett, who actually made his trades weeks ago. Shares of United Continental (UAL) - Get Free Report are now at a 52-week high, Cramer noted, and the other airlines have also seen big rallies. The airlines would only be attractive on weakness.
Real Money: Bruce Kamich asks about Southwest Airlines; should we buy it like Buffett?
To watch replays of Cramer's video segments, visit the Mad Money page on CNBC.
To sign up for Jim Cramer's free Booyah! newsletter with all of his latest articles and videos please click here.
At the time of publication, Cramer's Action Alerts PLUS had a position in FB, GOOGL, AAPL and WBA.