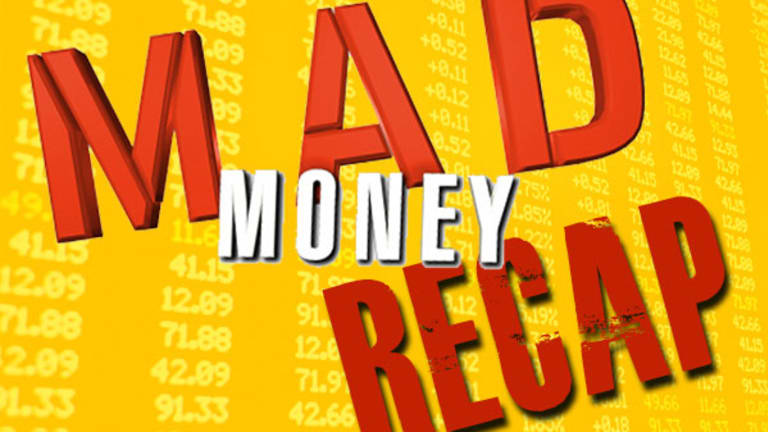 Jim Cramer's 'Mad Money' Recap: Blame the Banks for Today's Market Drop
Deutsche Bank's problems have investors worried about another Lehman failure, Cramer says.
Deutsche Bank's problems have investors worried about another Lehman failure, Cramer says.
Search Jim Cramer's "Mad Money" trading recommendations using our exclusive "Mad Money" Stock Screener.
European banks are once again in the news and in control of the stock market, Jim Cramer told his Mad Money viewers Thursday. Fear of Deutsche Bank (DB) - Get Report  becoming insolvent is spooking investors into thinking another bank debacle is in the works.
Cramer said there are only three likely outcomes for Deutsche Bank. The first is the liquidity fears become a self-fulfilling prophecy and lenders pull back their credit lines, forcing the German government to bail them out. No one wants another Lehman Brothers, Cramer said, and the Germans aren't likely to let Deutsche fail.
The second outcome is that Deutsche Bank is able to raise the money it needs all on its own, turning the issue from systemic to company specific. Cramer said this is the more likely outcome, although not a desirable one for current shareholders.
The third outcome is a combination of the two. Deutsche tries to raise capital on its own, but ultimately needs government assistance. This scenario will likely lingers for days.
But for individual investors, the woes of Deutsche Bank are irrelevant and the game plan remains the same. Use market weakness to buy the stocks of high-quality growth companies that only get cheaper as they decline. There is no rush to put your money to work, Cramer said. It will take time for Deutsche Bank to fix its problems.
Cramer said he remains a fan of stocks like Pepsico (PEP) - Get Report , an Action Alerts PLUS holding that has fast growth and great management but was flat on the day as the banking woes pulled everything lower.
Executive Decision: Chuck Robbins
For his "Executive Decision" segment, Cramer sat down with Chuck Robbins, CEO of Cisco Systems (CSCO) - Get Report , the Action Alerts PLUS holding that trades at 12 times earnings with a 3.3% dividend yield. When it last reported, Cisco beat analyst estimates by three-cents-a-share.
Robbins said that the tech industry is moving faster than ever before, with more technology transitions happening at the same time. That means that Cisco needs to evolve as well, to focus on all of the newest trends like the Internet of things, cloud and cyber security.
Cisco is also evolving its business model, Robbins noted. Customers want more services, he said, and moving to a subscription model gives Cisco more predictability in is earnings forecasts.
When asked about the world's economies, Robbins said India and Mexico have been strong, with the U.S. remaining steady. Among some of the weaker areas have been Brazil and Russia. China, he said, had seen three quarters of growth but was weaker this quarter.
Turning to the topic of repatriating Cisco's overseas revenue, Robbins said that he's hopeful for tax reforms in 2017 that will make it easier for U.S. companies to bring their money home and put it to work.
Stay Cool on Oil
Don't get too excited by the price action in oil, Cramer warned viewers. The talk of a so-called OPEC production cut in November is like a lot more talk than action. Cramer said the deal screams of desperation as OPEC tries its best to keep oil prices from plummeting below $40 a barrel. The terms of the deal, he said, just don't add up.
Libya has seen its production fall from 470,000 barrels a day to just 292,000 barrels but now looks to get back to those levels. Meanwhile, Nigeria looks to claw back to 1.9 million barrels a day from its current 1.4 million. Iran is also ramping up, not cutting, from 3.6 million to four million. Add them all up and there's simply no way Saudi Arabia will cut production to keep production at current levels, let alone take them lower. And that's not even factoring in Russia or Venezuela.
Higher demand would certainly pick up the slack, but the world's economies aren't ready yet to do so. Cramer said if investors really want to play oil, stick with stocks that are lowering their break-even costs to fit a $40 a barrel world, mainly Pioneer Natural Resources (PXD) - Get Report , EOG Resources (EOG) - Get Report and Apache (APA) - Get Report .
Focus on China
For roughly a decade, the Chinese economy was driving the world's economy. But ever since China has slowed it's all but been forgotten by many investors who have since turned their attention to the election, the Federal Reserve and, most recently, Deutsche Bank. But lately there are signs that China is picking up steam, and that's great news for a host of U.S. stocks.
Investors should remember China is the second-biggest consumer of U.S. exports, Cramer said. That makes a resurgence in China a big deal. When gauging the Chinese economy, Cramer said he looks at the iPath Dow Jones Copper ETF (JJC) - Get Report as well as the Baltic Freight Index, both of which have been showing signs of recent strength.
Cramer said he also listens to what companies have to say, and Nike (NKE) - Get Report saw a 21% jump in sales in China this past quarter on a constant currency basis. Starbucks (SBUX) - Get Report and Yum! Brands (YUM) - Get Report were also bullish on China.
Among the most notable China bulls is Caterpillar (CAT) - Get Report , which saw a 2% jump in Asia this quarter, and Teck Resources (TCK) .
Lightning Round
In the Lightning Round, Cramer was bullish on CECO Environmental (CECE) - Get Report , Verizon (VZ) - Get Report , AT&T (T) - Get Report and Waste Management (WM) - Get Report .
Cramer was bearish on Chicago Bridge & Iron (CBI) , Orbital ATK (OA) , Consol Energy (CNX) - Get Report , SodaStream (SODA) - Get Report and CenturyLink (CTL) - Get Report .
Am I Diversified?
In the "Am I Diversified?" segment, Cramer spoke with callers and responded to tweets sent via Twitter to @JimCramer to see if investors' portfolios have what it takes for today's markets.
The first portfolio included Ford (F) - Get Report , Kroger (KR) - Get Report , Bank of America (BAC) - Get Report , Trinity Industries (TRN) - Get Report and Nike (NKE) - Get Report .
Cramer said this portfolio was properly diversified.
The second portfolio's top holdings included Cheniere Energy (LNG) - Get Report , Chesapeake Energy (CHK) - Get Report , Rite-Aid (RAD) - Get Report , Clovis Oncology (CLVS) - Get Report and General Electric (GE) - Get Report .
Cramer identified two of a kind with Chesapeake and Cheniere. He suggested throwing both of hem out and adding a defense stock and a food stock like Pepsico.
The third portfolio had Constellation Brands (STZ) - Get Report , Northrup Grumman (NOC) - Get Report , Lowe's (LOW) - Get Report , Walt Disney (DIS) - Get Report and SiriusXM (SIRI) - Get Report as its top five stocks.
Cramer said while these stocks are not all his favorites, the portfolio is diversified.
To watch replays of Cramer's video segments, visit the Mad Money page on CNBC.
To sign up for Jim Cramer's free Booyah! newsletter with all of his latest articles and videos please click here.
At the time of publication, Cramer's Action Alerts PLUS had a position in CSCO, GE, PEP and SBUX.