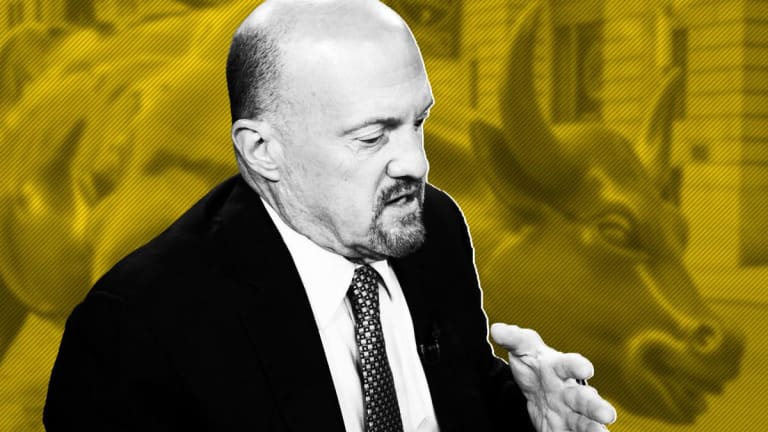 Jim Cramer Says the Best Time to Buy a Hot, Expensive Stock Is When This Happens
Hint: He admits his strategy takes a lot of 'fortitude.'
Jim Cramer says the best time to buy hot growth stocks is when they sink as part of a broad market selloff that's unrelated to the companies that you're interested in.
"We have always said that we wanted to buy the best growth stocks we can find when they are knocked down not because of something that happened to them, [but] because of a market wide selloff," Cramer said during an exclusive video-conference call with members of his Action Alerts PLUS club for investors.
For example, Cramer said his charitable trust bought high-flying Shopify (SHOP) and Twilio (TWLO) -- which both have massively high forward price-to-earnings ratios - when they got "crushed" on May 6 as part of a major market downturn.
The Dow Jones Industrial Average briefly lost as much as 471 points that Monday after President Donald Trump surprised markets over the previous weekend with tweet threatening to raise tariffs on Chinese goods within days.
"The market was completely caught off guard by this," Cramer said. "The announcement was very different from the previous rhetoric from the White House, which had been about the negotiations where in the final stages.
"So, with to Dow Jones Industrial average looking down about 450 points because of this marketwide news not specific to our stocks, we initiated on these two positions," he said.
Cramer said his trust bought the stocks despite the broad selloff "because their actual business -- Web service and Web-site commerce development for small- to medium-sized enterprises -- would not be impacted. They are trade-war resistant."
But he admitted that buying expensive stocks while the market is falling requires tremendous "fortitude."
"You cannot back out at that moment and say: 'You know what? Boy, this market looks really ugly. We got to back away. It's too dangerous,'" Cramer said. "You've got to do the opposite."
Watch Jim's Complete Video-Conference Call
Jim's video-conference call was only available to members of his Action Alerts PLUS club for investors, but you can sign up for a free 14-day trial membership and listen to a full replay.
Club membership includes exclusive access to Cramer's private video-conference calls each month, in which Jim gives his latest market outlook and answers e-mailed questions from club members.
Membership also includes lots of other great benefits, including:
A complete rundown of all of stocks that Jim holds his charitable trust;
E-mail alerts that give you a chance to buy or sell any stock before Jim makes a trade for the trust;
Custom research throughout each trading day from Jim and his team of stock-market analysts. You get to see what Jim is watching every market day as he and his team make investment decisions.
Click here to join Action Alerts PLUS today!
Action Alerts PLUS, which Cramer co-manages as a charitable trust, is long SHOP and TWLO.