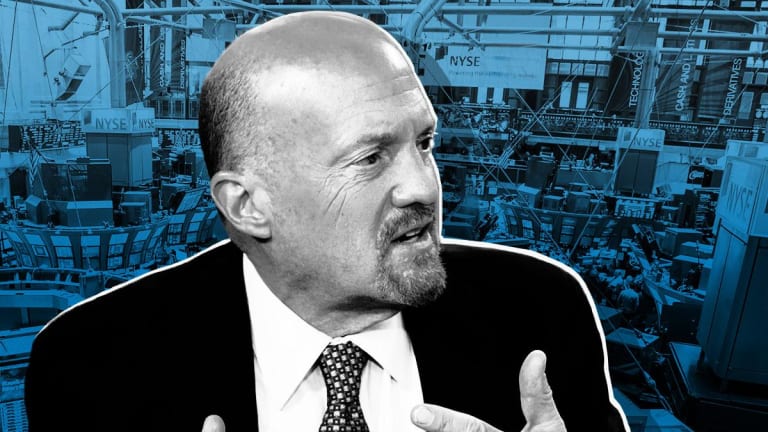 Trick or Treating for Profit: Jim Cramer on Apple, Facebook, Fed, Trade War
Don't get spooked by this market. Jim Cramer is here to break down everything you need to know from the Fed to Apple earnings.
Don't get spooked by this market. 
Jim Cramer and Zev Fima are breaking down the latest on the Fed, U.S.-China trade, earnings from Facebook (FB) - Get Free Report and Apple (AAPL) - Get Free Report and more.
Playing the Market's Favorite Games
Cramer focused his latest Real Money column on two of Wall Street's favorite parlor games: predicting the Fed and selling on trade headlines. And by "favorite," he means the games that will keep you from winning in this market.
"Parlor games make me sick to my stomach. I need to chug a half a bottle of Pepto when I hear them -- and I hear them way too often," Cramer wrote.
So how do you weed out the news and make some money? Here's what Cramer has to say:
Facebook Won't Play Politics
Facebook topped both earnings and revenue expectations but CEO Mark Zuckerberg warned of a tough year ahead for Facebook, expecting more political backlash as presidential campaigns kick off in earnest. 
Facebook has been adamant that it won't vet on platform political ads. Does Twitter's TWTR decision to remove political ads do anything to change the narrative? 
Apple's Next iPhone Moment?
Real Money Stock of the Day Apple reported Earnings per share came in at an adjusted $3.03 for its fiscal year fourth quarter, beating estimates of $2.84 and rising 4% year-over-year. Revenue was $64.04 billion, beating estimates of $63.015 billion and rising 2% year over year.
Apple wearables saw 54% revenue growth in the September quarter. Should investors expect further growth from the launch of the Airpods Pro heading into the holiday season?
Bull Market Fantasy: LIVE TUESDAY & THURSDAY @10:45AM
Subscribe to our Youtube Channel for more videos : Listen our latest Podcasts on Soundcloud
Catch Up: Today's Top News Videos Below
N/A