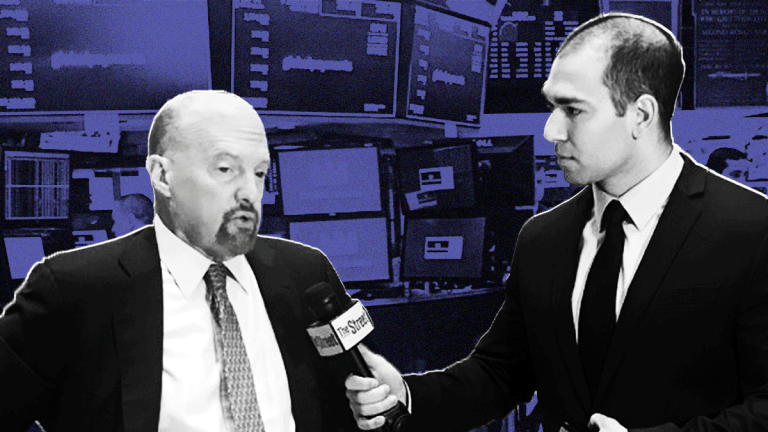 Stop Saying Recession: Jim Cramer on AMD, Lyft and the Markets
Jim Cramer breaks down everything investors need to watch as the market searches for direction.
At least it's almost Friday? 
Jim Cramer and Action Alerts PLUS research analyst Zev Fima break down everything to watch in this market from the 10-year treasury yield to the China trade. 
Katherine Ross has the morning off. 
The King of Acronyms Returns
When trying to determine how investors should approach the China trade war, Jim Cramer is turning to an oldie but a goodie: BRIC. 
Former Goldman Sachs GS economist Jim O'Neil coined the term 18 years ago to encompass Brazil, Russia, India and China. 
Traditionally, exposure to any of those countries with the exception of China meant a rough road ahead for investors, Cramer wrote on Real Money. 
Is China becoming the norm rather than the exception as the trade war escalates? Cramer breaks it down. 
Stop Searching For Recession and Start Looking for Bargains
Though rates have since returned to more comfortable levels, a lower 10-year yield has recently sent recession alarms off across Wall Street. 
While a lower 10-year has often been tied to recession fears, Jim Cramer recently wrote in Real Money that lower rates are only bad if you don't enjoy buying, selling or basically existing in America. 
Is it time for investors to look for bargain stocks rather than recessions? 
Can AMD's Rome CPU Crash the Intel Empire? 
AMD AMD shot upwards last night after showing off its newest CPU chips at its Epyc event.
The event included appearances from Microsoft (MSFT) , Twitter (TWTR) and Google (GOOGL) executives, and highlighted AMD's ambitions to expand its position in the server CPU market. 
Should Intel (INTC) start getting a little nervous? 
Will Lyft Cause Stocks to Drift? 
Real Money Stock of the Day Lyft (LYFT) soared after reporting earnings after the bell on August 7. 
The ride-share service said its loss for the three months ending in June was 68 cents per share, lower than the $8.37 per share loss it booked last year. Lyft also raised its guidance for the rest of 2019. 
But what caught investor attention initially was news that the Lyft lockup period will expire on August 19. Is this the beginning of the IPO-apocalypse that Cramer warned of earlier this year? 
Related. Jim Cramer: China, BRIC's Last Solid Brick, Erodes, and So Do Many Multiples
A Bit About Today's Host, Zev Fima
N/A