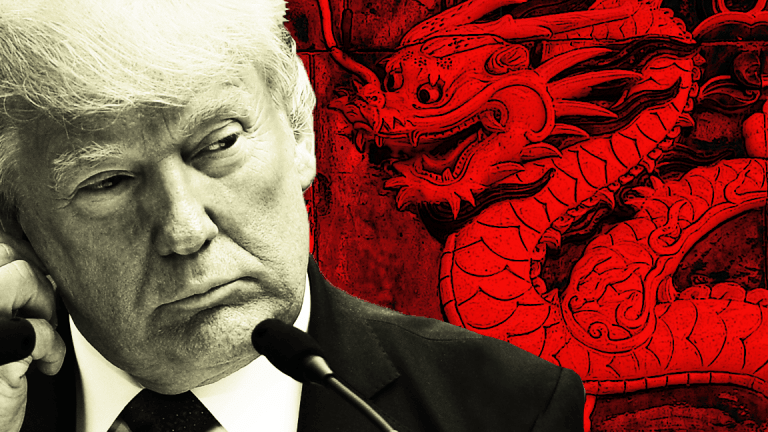 Jim Cramer: Is This the End of Commerce With China ... or Just Trump Bluffing?
It's not clear whether the president's proposed $100 billion in anti-China tariffs are for real or not.
You knew it would be bad when you heard the Chinese press saying that Beijing had won a huge victory over President Trump with its new tariffs. You knew this president wasn't going to lose a war of words here.
Honestly, did anyone think that somehow, Trump would possibly let the other guy grandstand against him? Did anyone think that he would possibly not be furious that the Chinese congratulated themselves for winning the first round of tough trade talk?
There are two questions to be asked after Trump demanded on Thursday night demanded $100 billion in new tariffs on Chinese goods:
What Can We (and China) Actually Put Tariffs On?
First, where are we going to get $100 billion more in Chinese products to hit with tariffs?
We know we have a gigantic trade deficit with China, so there are plenty of goods the United States can throw duties on. We import more than $500 billion of things from them.
But the issue is that we'd have to put big duties on electronics and machinery, which account for $150 billion and $112 billion of imports, respectively. After that, you have $34 billion of imports in furniture and lighting, $26 billion in toys and games and $17 billion in plastics. There's not much leeway to go after anything smaller than electronics and machinery.
And unlike the Chinese -- who sell us a lot of different manufactured goods -- we mostly just ship planes, truck engines, giant earth movers and cell phones to China. In that sense, we're easy to pick off. But this time, it wouldn't just be Boeing (BA) - Get The Boeing Company Report and soybeans that China would target with retaliatory tariffs. You'd have to believe it'd be goods they buy from Cummins (CMI) - Get Cummins Inc. Report , Caterpillar (CAT) - Get Caterpillar Inc. Report and Action Alerts Plus Holding Apple (AAPL) - Get Apple Inc. Report .
Is This All a Bluff by Trump?
Second question: Is this just total bluffing by Trump? Why not ask for $150 billion in tariffs? Why not $200 billion? Why not $250 billion and cut Chinese imports in half? Heck, why not just say we'll take nothing from China at all?
It does get a little absurd, which is why we the S&P futures weren't down much more Friday morning from where they were Thursday night, when they fell 38 ticks shortly after Trump's announcement. Maybe Trump is just negotiating in a ham-handed way, and somehow he can now walk things back from his demand of tariffs on $100 billion of Chinese goods to his original, lower numbers. That way, he could still look like a winner, something Trump believes will be greeted positively by most non-stock-owning Americans.
Can we all agree, though, that one thing -- the talk by Trump surrogates -- has to stop? Steve Mnuchin from Treasury and now Larry Kudlow, Trump's chief economic adviser, are being forced to play good cop on Fox News, but then made to look like the Keystone Kops almost immediately thereafter. We now know better a second time; will a third time close out this absurdity?
So, this is either going to lead to a ban on Chinese machinery imports or it's all just posturing that people aren't taking seriously (except the Chinese media, which are furious and look shocked and confused). The market says it's posturing, just so Trump can claim to be a winner. Otherwise it's pretty much the end of commerce with China.
Who knows? Could be both. Maybe Trump will "study it," like he vows to "study" Action Alerts Plus holding Amazon (AMZN) - Get Amazon.com Inc. Report . Who knows with this guy?
Watch all of Jim Cramer's full NYSE live shows right here: