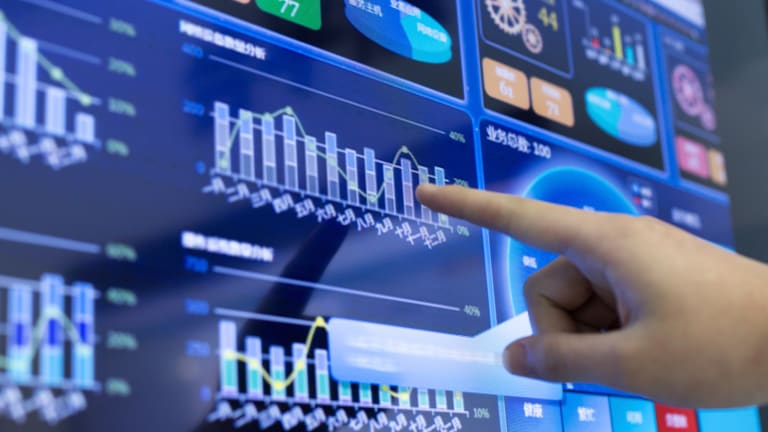 Is This a Moment of Recklessness?: Cramer's 'Mad Money' Recap (Monday 3/6/17)
Don't let politics or the sheer size of this advance scare you away from the genuine bargains in the stock market, says Jim Cramer.
Be skeptical, but don't be cynical. Be opportunistic, but not reckless. Those where Jim Cramer's words of wisdom to his Mad Money viewers Monday as he quoted the late CNBC anchor, Mark Haines, who correctly pinpointed the market bottom on March 10, 2009.
Back then, Cramer recalled, Haines correctly identified that the markets were trading on emotion and not on the fundamentals. It was emotion over logic -- and when everyone is bearish, that's the time to start buying.
Flash forward to today and Cramer said he doesn't see the Trump rally losing steam quite yet, as there are plenty of skeptics but few bulls to be found. More importantly, there are simply too many businesses doing well even without tax reforms, deregulation and repatriation.
There are bull markets in the airlines, travel, aerospace, defense, financials, home-related stocks and even consumer packaged goods companies. What would be powerful enough to take down all of those leaders?, Cramer asked.
Cramer said he remains a believer in the market: There's simply too much going right and too much skepticism to call it a top.
Meanwhile, on Real Money, Cramer explains why this is not the opposite of the Haines Bottom. Check out his strategies with a free trial subscription to Real Money.
Stock Price vs. Dividend Yield
When investors see a super-high dividend yield that is outpacing the competition, something is very wrong. Cramer told viewers they should run, not walk, away from companies like Frontier Communications (FTR) - Get Report , a $2.76 a share stock with an oversized 15.2% dividend yield.
Dividends don't get this big because companies raise their payouts, Cramer reminded, it's because their share price has been obliterated, which is the case for Frontier, which has lost more than two-thirds of its value over the past two years.
Frontier's problems began in February 2015, when the company agreed to buy wire line assets from Verizon (VZ) - Get Report for $10.5 billion. The wire line phone business has been in secular decline, Cramer noted, and a company cannot cost-cut its way to revenue growth.
Last week's earnings, which included another 12-cents-a-share earnings miss, also included a $45 million charge for non-paying customers, with news that more charges would be coming next quarter.
Cramer said while Frontier's dividend is safe for now, the loss in the share price dwarfs that of the yield and he sees nothing in the short-term that would change the company's direction.
Executive Decision: Domino's Pizza
For his "Executive Decision" segment, Cramer again spoke with Patrick Doyle, president and CEO of Domino's Pizza (DPZ) - Get Report , the pizza chain that delivered blowout earnings last week, including a 12.2% increase in domestic same-store sales.
Doyle said he's still telling the same story: The investments Domino's has made in food, technology and its stores are all continuing to produce results. Domino's is still a work in progress, he added, and there are places that can be improved.
Among the drivers of Domino's success is technology. The company partners with Apple (AAPL) - Get Report and Facebook (FB) - Get Report , two Action Alerts PLUS holdings, and also Amazon.com (AMZN) - Get Report to make ordering from anywhere as easy as possible. Doyle said that of the 800 employees working at Domino's headquarters, nearly half are now working in technology or analytics.
When asked whether declining NFL ratings hurt his quarter, as some of Domino's rivals claimed, Doyle said that was definitely not the case. He added that in the stay-at-home economy you have to give customers convenience or a compelling reason to dine out, and Domino's is the clear winner in the former.
Cramer said the Domino's still has a lot of room to run.
Executive Decision: Welbilt
In his second "Executive Decision" segment, Cramer spoke with Hubertus Muehlhaeuser, president and CEO of Welbilt (WBT) - Get Report , the new name of Manitowoc Foodservice, which began trading Monday under "WBT," its new ticker symbol. Shares of Welbilt are up 40% since the spinoff from its former namesake, Manitowoc (MTW) - Get Report , a year ago.
Muehlhaeuser said the name change represents both a break from the past and the strength of its brand equity as Welbilt is the heart of the kitchen.
When asked about being a division inside of Manitowoc, Muehlhaeuser said there was no home for Welbilt inside of a crane company. He said the operation was under-manned and under-funded and suffered from different cultures, as machinery is a long-term proposition while restaurants are fast-moving.
That's why as an independent company, Welbilt is able to address overcapacity and complexity as well as reprice its $825 million secured loan facility.
Turning to competitive advantages, Muehlhaeuser said that only Welbilt offers complete solutions including hot, cold and beverage products. His company also builds items that save space, labor and energy while increasing output.
Cramer said even in a slow restaurant environment, the guys with the best technology win.
Lightning Round
In the Lightning Round, Cramer was bullish on AT&T (T) - Get Report and Roper Industries (ROP) - Get Report .
Cramer was bearish on Cabela's (CAB) and WildHorse Resource Development (WRD) .
Read more of Cramer's comments about the stocks in the Lightning Round.
No-Huddle Offense
In his "No-Huddle Offense" segment, Cramer said the markets are constantly torn about what to pay for stocks and nowhere is that more apparent than with the financials.
In the months leading up to the election, shares of Bank of America (BAC) - Get Report were trading between $13 and $14, as investors valued them on their tangible book value, the price they'd receive if the bank liquidated its assets.
But then after the surprise election results, shares of Bank of America shot up to $20 a share in just six session. Was that move unsustainable? Many thought so. But then, after job growth, a Federal Reserve rate hike and a Trump cabinet loaded with former Goldman Sachs (GS) - Get Report alumni set on deregulation, $20 a share seems far too cheap.
Cramer said Bank of America could earn $1.75 a share this year, and trading at just 12 times those earnings is absurd. That's why even today's $25 a share price tag is too low in this new world order.
Cramer and the AAP team say they would buy more Western Digital (WDC) - Get Report if they could. Find out if this is a buying opportunity for you and what they're telling their investment club members with a free trial subscription to Action Alerts PLUS.
Trump and your taxes:Cramer leads a roundtable discussion on how investors and retirement savers should position their portfolio.
Search Jim Cramer's "Mad Money" trading recommendations using our exclusive "Mad Money" Stock Screener.
To watch replays of Cramer's video segments, visit the Mad Money page on CNBC.
To sign up for Jim Cramer's free Booyah! newsletter with all of his latest articles and videos please click here.
At the time of publication, Cramer's Action Alerts PLUS had a position in WDC, AAPL, FB.