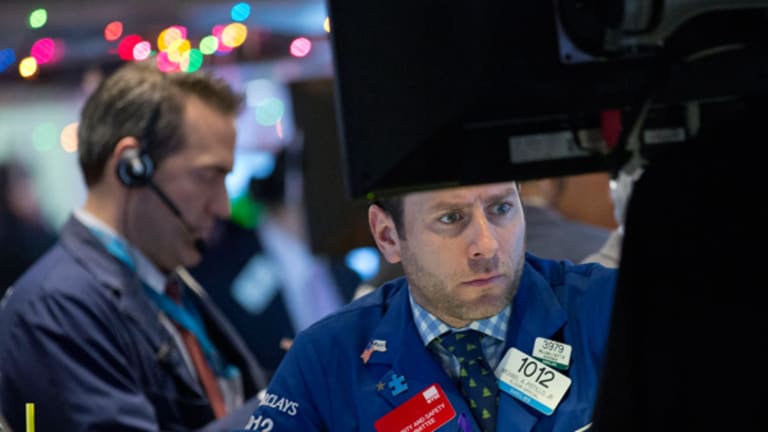 Is Nasdaq's Move to 5,000 Different This Time or Are Stocks Undervalued?
As the Nasdaq approaches the 5,000 mark, the CNBC 'Fast Money Halftime' trading panel examines whether this time is different.
NEW YORK (TheStreet) -- The Nasdaq first broke the 5,000 mark in early 2000 before quickly reversing from those levels and free falling to drastically lower prices. By almost any metric, it was the "most extreme overvaluation in U.S. history," said Mark Hulbert, senior columnist at MarketWatch.
So it's easy to look at today's Nasdaq composite and say it's not overvalued. But based on earnings, investors do seem to being paying a lot for each $1 in earnings power, he said. There are pockets of value, but stocks look expensive for the most part. 
Not all stocks are overvalued, countered Jim Lebenthal, president of Lebenthal Asset Management. Consider "old tech" stocks like Qualcomm (QCOM) , Intel (INTC)   and Microsoft (MSFT) , which are mature companies with cheap valuations, he said. Qualcomm is "ridiculously cheap" given its amount of cash, margins and strong business segments. 
Gilead Sciences (GILD) , a biotech, is  also in the index. It has a low valuation, great pipeline and "staggering growth," argued Pete Najarian, co-founder of optionmonster.com and trademonster.com. 
Apple (AAPL) is another large tech company many investors consider to have a low valuation. The company has been in the spotlight given the stock's strong start to the year, up 18%, and after announcing its March 9 event. Investors expect it to be the company's unveiling of its smart watch device. 
The watch seems unlikely to do as well as many investors are hoping for, according Jon Najarian, co-founder of optionmonster.com and trademonster.com. Given the recent rally, investors are unlikely to get much outperformance from the stock. Early trade-ins from cellular providers are good for the iPhone, but it's also good for Apple's competition too. 
Apple is on its way to having a $1 trillion market cap, according to Joseph Terranova, senior managing director for Virtus Investment Partners. However, in the short-term, shares could struggle to move higher, especially given the stock's recent rally. 
Instead, he sees more opportunity in oil. West Texas Intermediate won't trade near $50 per barrel for too much longer. It'll either go on to make new lows or will bounce up to $60. Terranova is betting on $60. If oil doesn't go higher and indeed makes new lows, it'll likely drag down the overall market. Terranova said to get long the iPath S&P 500 Short-Term Futures ETN (VXX) . 
Lebenthal said he attended part of International Business Machine's (IBM) 2015 investor briefing. CEO Ginni Rometty is calm, confident and in control. 
Shares of IBM are down 1% on the day. Investors may have been looking for a boost in guidance rather than reiteration of the previous guidance, Lebenthal said. Management is setting a bar that it can "easily clear," and could possibly set the company up to raise guidance after the first quarter. Investors need to be long term for IBM. 
Pete Najarian, who likes old tech stocks, isn't buying into the IBM story. What if the company continues to underperform and miss metrics? What if famed investor Warren Buffett throws in the towel? He is avoiding the stock. 
Turning briefly to retail, Pete Najarian likes TJX Companies (TJX) . The company has "tremendous growth," he said, citing impressive revenues and same-store sales results. Shares are likely to go higher. 
Jon Najarian added that the West Coast port delays will be a negative for almost every retailer importing on that side of the country, but it will actually be a benefit for TJX. He reasoned that many of the outfits and fashions will be out of season or outdated for traditional retailers and fall into the hands of TJX Companies.
-- Written by Bret Kenwell