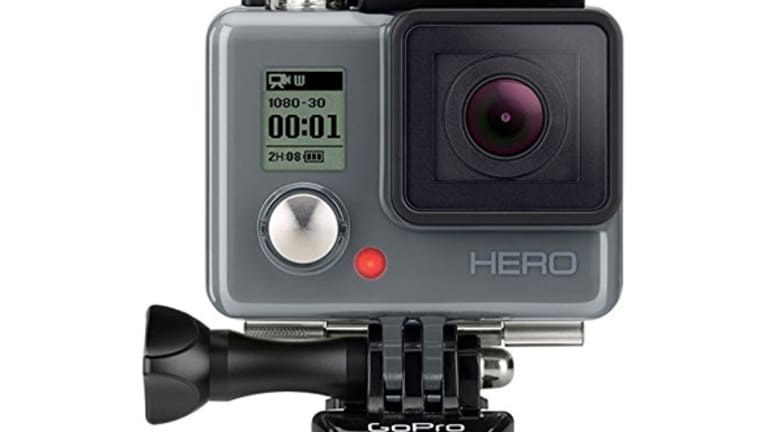 Is GoPro Finally a Buy After Collapsing This Year?
The CNBC 'Fast Money' traders debate whether now is the time buy shares of GoPro, which are down more than 60% on the year.
Shares of GoPro (GPRO) - Get Free Report are down 15% after the company missed on both earnings-per-share and revenue expectations. Guidance also came in below analysts' estimates. The stock is now down 62% over the past 12 months. 
On CNBC's "Fast Money Halftime" show, Jon Najarian, co-founder of Optionmonster.com and Trademonster.com, said he finally bought the stock. With a low market cap and valuation that's finally attractive, GoPro stock looks to have "a lot of upside from here," he said. 
Najarian added that GoPro is a "go-to" holiday gift and its brand is very powerful. 
Pete Najarian, co-founder of Optionmonster.com and Trademonster.com, agreed that at current levels, the stock actually has an attractive valuation given its strong growth. He's not long, but is contemplating buying the stock. 
Stephen Weiss, founder and managing partner of Short Hills Capital Partners, was not on board with the Najarian brothers. He's not a short-seller by any means, he said, but he is avoiding the stock as competition in the industry heats up. 
Joseph Terranova, senior managing director at Virtus Investment Partners, said momentum is very important for retailers -- especially headed into the ever-important holiday season. GoPro has no momentum right now, which is not a good sign. 
Alex Gauna, managing director at JMP Securities, lowered his price target on GoPro from $105 to $90 and maintained his strong outperform rating. Although the stock has fallen from an intraday high close to $100 down to current levels around $25, Gauna remains optimistic. 
He acknowledged that the quarter was disappointing, but explained that GoPro's management team is still young and will correct the mistakes that they made. And 2016 will be very exciting, as the company gets into drones and virtual reality, he said.
It was a mistake not to introduce a new product for the holidays, said Gauna, adding that the company acknowledged it should have spent more on marketing. So now's the chance to execute, he said. He has an "abundance of confidence" in CEO Nick Woodman. GoPro could also be a compelling M&A target, something Jon Najarian also suggested. 
GoPro isn't the only name tanking on earnings. Shares of NXP Semiconductor (NXPI) - Get Free Report are "really interesting" given that NXP Semi is a high quality company, Terranova said. The stock is down 18% after releasing soft guidance. What does this say for the rest of the chip makers, and chip demand going forward? Terranova asked. 
Shares of Buffalo Wild Wings (BWLD) are down 18% following its top- and bottom-line miss. The stock was simply priced to perfection, Pete Najarian said. When results came in below expectations, investors didn't hesitate to take shares to the woodshed. 
GNC Holdings (GNC) - Get Free Report are down 28% following an earnings and revenue miss as well. As if earnings weren't bad enough, Jon Najarian pointed out that the company is facing a lawsuit from the Oregon attorney general over its products. 
The conversation turned more broadly to the stock market, as the Federal Reserve left open the possibility to a rate hike in December. Tony Dwyer, chief market strategist at Canaccord Genuity, acknowledged that the Fed could hike rates, but his predictions have not been too accurate as to timing. 
However, he still believes the stock market can go higher. Unless you believe a recession is coming, there is no reason to be a seller of stocks. In fact, he's a buyer on a pullback. While there could be a near-term pullback, he made the case that the economy is far from falling into a recession, something that is likely at least three years away depending on when the Fed first raises rates. 
Dwyer's top sector picks include energy, materials and industrials.
This article is commentary by an independent contributor. At the time of publication, the author held no positions in the stocks mentioned.