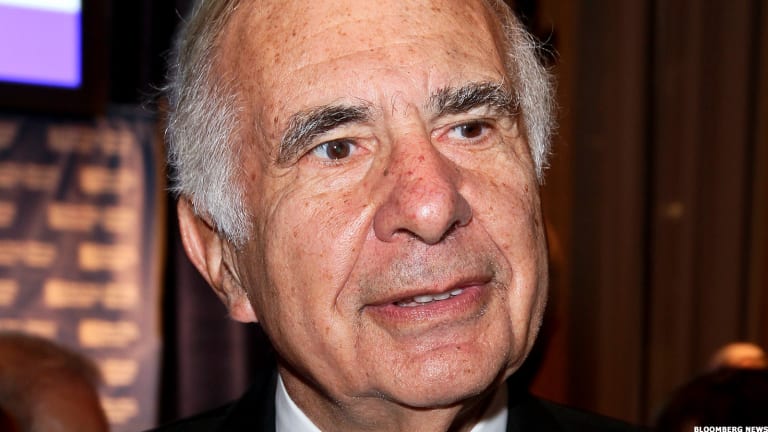 Icahn Is Out of Netflix, Sticking With Apple but Cautious on Overall Market
Carl Icahn explains why he sold Netflix, makes the bullish case for Apple, and says the overall market looks 'overheated.'
Carl Icahn explains why he sold Netflix, makes the bullish case for Apple, and says the overall market looks 'overheated.'
NEW YORK (TheStreet) -- Netflix (NFLX) - Get Report rose Wednesday, hitting new highs, but fell after famed investor Carl Icahn announced he had sold out of his entire long position.
Netflix closed at $678.61, down 0.4%.
Icahn initially purchased the stock in 2012 near $58 per share. While he still thinks it's a great company with a great CEO in Reed Hastings, he said on CNBC's "Fast Money Halftime Report" there are better opportunities elsewhere such as Apple (AAPL) - Get Report. Netflix was "tremendously undervalued" a few years ago, but Apple is still undervalued today, he said.
More broadly speaking, Icahn said he's "very concerned about the market," which appears "overheated." Although he expects a meaningful correction in stocks, the real "no brainer" lies in the high-yield bond market, he said. Investors are taking on too much risk for too little return with these assets, especially compared to the much safer corporate-rated bonds, he said. 
A setback in the economy could really do a number on the stock market, Icahn said. 
There is a fundamental shift occurring in how people watch TV, and that's a shift toward streaming, Greenfield said. While he maintains earnings-per-share estimates that are below consensus, he said earnings aren't necessarily the driver for Netflix, because the company continues to reinvest its U.S. profits into its global expansion plan.
The average investor should be looking to buy portfolio protection via put options, said Joseph Terranova, senior managing director for Virtus Investment Partners. There's nothing wrong with being cautious, he said. 
Jon Najarian, co-founder of optionmonster.com and trademonster.com, agreed, saying anyone who's unwilling to do a little hedging in their portfolio during uncertain times is "an idiot." Volatility is very low right now, which makes it extremely cheap to buy protection, he said. 
But it also depends on what type of investor one is, according to Stephen Weiss, founder and managing partner of Short Hills Capital Partners LLC. For instance, a long-term investor shouldn't really worry about Greece's debt situation, even if it does roil the markets in the short-term, he said. 
So far, auto sales are strong, housing is coming back and the economy is on track. That's good news to Weiss, who likes U.S., European and Japanese stocks. He said he's also taking a closer look at Indian equities. 
Speaking of housing, Lennar (LEN) - Get Report reported strong earnings results, added Pete Najarian, co-founder of optionmonster.com and trademonster.com. He said he still likes financial stocks such as Goldman Sachs (GS) - Get Report, Citigroup (C) - Get Report and JP Morgan (JPM) - Get Report. Banks will continue benefiting from higher interest rates, M&A deals and new IPOs, he said.
This article is commentary by an independent contributor. At the time of publication, the author held no positions in the stocks mentioned.