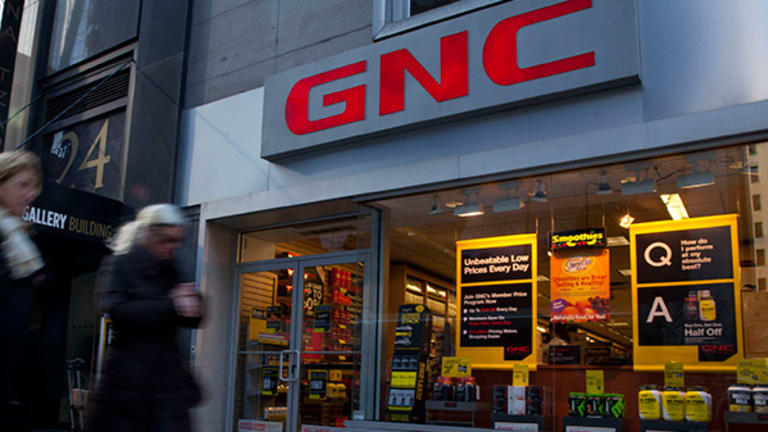 How GNC Could Triple Its Stock Price Overnight Using This Math
You'd probably say it's impossible for GNC to triple overnight. But before you cast off what I have to say, take a look at the math behind my madness.
NEW YORK (TheStreet) -- What if I told you that there's a way for GNC (GNC) -- the leading vitamins, minerals and supplement chain -- to triple its stock price overnight? That with one sweeping decision, the company could transform its business from a fizzling franchise to one of the greatest retail winners of the last decade?
You'd probably say that's impossible. You might even call me a sensationalist. But before you cast off what I have to say, take a look at the math behind my madness.
A few months ago, I wrote that GNC was languishing behind its main competitorVitamin Shoppe (VSI) . I just couldn't get behind the direction the then-CEO Joe Fortunato was taking the company. I was concerned by its inconsistency: As much as GNC bloomed in 2013 (the company doubled its stock price and delivered record sales), it wilted in 2014 as decelerating sales trends and botched execution dropped the stock nearly 40% for the year to date.
But the story has changed yet again. Green shoots have returned. In August, the company replaced Fortunato with Mike Archbold, a man who brings a decorated history of executive success at multiple retail chains, including Barnes & Nobles (BKS) , Saks Fifth Avenue (SKS) , AutoZone (AZO) , Vitamin Shoppe and Talbots (TLB) . Great move.
Mike, allow me a moment to speak to you directly. Now that you have settled in as GNC's CEO, let me wish you the best of success-- and share a tip that will triple your stock price overnight. Here's the secret: it's all about GNC's store ownership structure.
See, unlike most retail companies, GNC has a blended store ownership model in which about half of its 6,529 stores are franchised, with the remaining half owned and operated by the company. In a franchise model, the parent company ("franchisor") licenses the management and operation of its stores to a designated "franchisee," collecting royalties, fees and product sales in return. A franchise model is mutually beneficial.
For the franchisor, the primary benefit is the ability to use other people's money to expand the brand more rapidly than it could on its own. The fees and royalties are used to fund operations, market, advertise and build the brand, and improve the quality of the products. For franchisees, the benefits include leveraging the selling power of a known brand as well as the company's scale, operations, and best practices to keep down costs and maximize productivity.
With this in mind, let's crack into the numbers.

A deep dive into the company's financials (along with a little bit of number crunching) reveals an astonishing fact: GNC makes the same amount of money at its franchise stores as it does at its company-owned stores. As you can see in the figure below, GNC's EBIT (earnings before interest and taxes) per store over the past four years is generally the same if not higher at the franchise level than the company-owned level. In fact, over the next two years the profitability is expected to be substantially (20%+) higher at its franchises.
Did you get that? Profit is the same -- franchise or company-owned. There is no reason for GNC to own its own stores. All company store ownership does is tie up cash.
So here is the "one sweeping decision" that will triple GNC's stock price -- i.e. send it to the $100 range from its current price near $39.
GNC needs to sell and re-franchise all its remaining company-owned stores to private equity buyers. These buyers are flush with capital and hungry for bargains in a dried-up marketplace, so I have no doubt they will snap these stores up.
Since previous refranchising deals (mostly in the restaurant space -- Dunkin' Donuts (DNKN) , McDonald's (MCD) , Domino's (DPZ) and Yum! Brands' (YUM) Taco Bell come to mind) have sold for a six to eight times the Ebitda multiple, or one to two times sales, I'm being conservative and assuming that GNC sells off the 3,423 stores that it owns for between one-half to one time average annual sales, or $275,000 to $550,000 per store. The sales need to be done swiftly, so I'm willing to assume GNC sells these at a massive discount and gets them off the books. Selling all of the stores will yield approximately $1.5 billion in hard cash.
Now stay with me. By franchising all of its stores, GNC would eliminate its rent expense while slashing capital expenses, overhead and general and administrative expense. With a leaner, meaner business model, the company's leverage would come down from four times currently (adjusted debt/Ebitar) to two times (debt/Ebitda). The company could then lever up two to three turns to four to five times without compromising its credit rating and in so doing raise another $1 billion to $1.5 billion in cash.
After making these two moves, and accounting for a tick up in interest expense, the company is left with $2.5 billion (this is the low end of my assumptions) in incremental cash to play with without compromising any profitability. With a $3.3 billion market cap, GNC could take that cash and buyback roughly 75% of its shares. That would take next year's EPS (earnings per share) from $3.20 (current consensus) to over $8.
So where would the stock trade? Another big benefit of re-franchising all of your stores is the multiple appreciation that follows. Take a look at Figure 2. This is a table of all public retail companies that have franchise models. You can see that they all trade near or above 20 times 2015 EPS. This is because investors are willing to pay a premium for the stable, consistent, and visible earnings model that franchises provide.

On the flip side, GNC's valuation is currently getting docked for the swings in profitability experienced at company owned stores. So, with an all-franchise model, I see GNC shares trading up from 12 times currently to over 20 times. Its fundamentals are no different from the rest of the cohorts listed in the table, so there's no reason the multiple it receives should be any different either.
To tie everything up, if GNC decides to re-franchise, I see shares eventually trading upwards of $150 (about 20 times 2015 EPS of $8.03), nearly a fivefold spike from where it's trading today (around $39).
Since neither the sales nor buybacks would take place overnight, I recognize that it will take some time to the stock to grow into that valuation. However, assuming the CEO is able to explain the strategy in an effective and detailed manner, I see no reason why the market would not immediately trade shares up to nearly $100. I mean, heck, that doesn't even require a multiple expansion, just an earnings adjustment given the projected buyback levels.
My claims might seem lofty, but the numbers speak for themselves. Mr. Archbold -- tear down those stores! With one decision you will delight your shareholders and cement your legacy, all in your first six months on the job.